Naan bread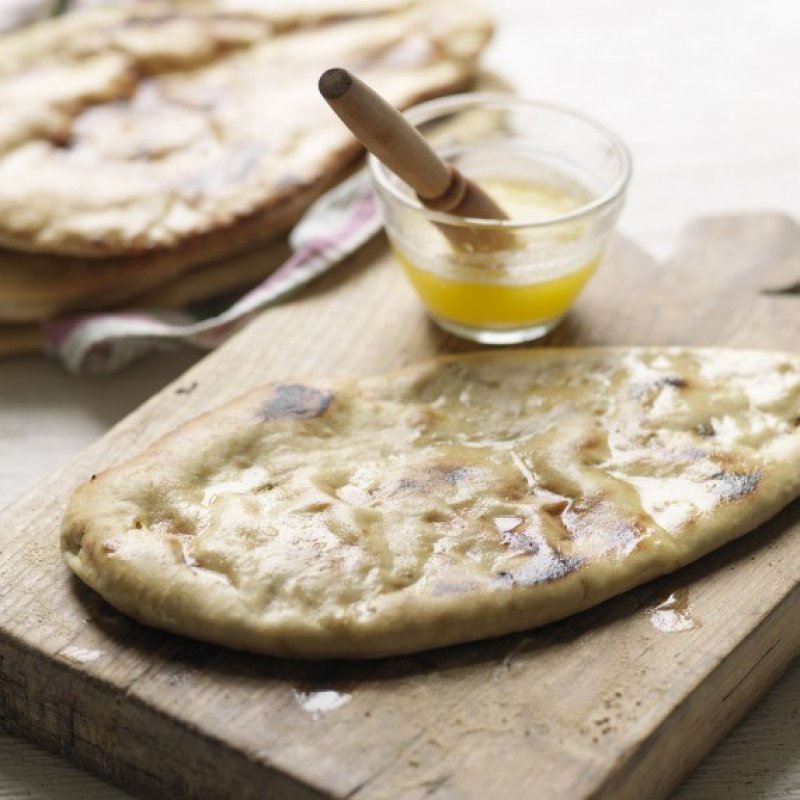 Info
PT2H
Serves

Makes 8-10
Prep time

1 to 2 hours
Cooking time

10 to 30 minutes
Ingredients
500g / 1lb 2oz strong white bread flour, plus extra for dusting
2 tsp dried yeast
2 tsp poppy seeds
2 tsp fennel seeds
1/2 tsp salt
1/2 tsp baking powder
1 free-range egg, beaten
2 tsp olive oil, plus extra for glazing
200ml / 7fl oz plain yoghurt
300ml / 10fl oz whole milk, warmed
Method
Mix the flour, yeast, poppy and fennel seeds, salt and baking powder in a large bowl until well combined.

Add the egg, olive oil and yoghurt and stir with a plastic spatula until well combined.

Add two thirds of the warm milk to the dough mixture and stir until well combined. Gradually add the remaining milk as necessary until the dough is smooth and soft (you may not need all the milk).

Using floured hands, knead the dough on a clean, floured work surface for 20-25 minutes, or until soft and elastic. Put the dough into a bowl, cover with a clean damp tea towel and set aside in a warm, draught-free place for one hour until the dough has doubled in size.

Meanwhile, preheat the oven to 250C/500F/Gas 9.

When the dough has risen, divide it into 8-10 parts. Using your hands, stretch and flatten each of the naans until they are thin and even, then transfer to a baking sheet. Brush each naan with olive oil.

Transfer the naan breads to the oven and bake for 7-10 minutes, or until pale golden-brown but still soft inside.

Serve on a side plate alongside the aloo gobi.