Smoked Tofu and Vegetable Hash
Smoked tofu is a wonderful product to tempt the dedicated meat eater. We think of it as vegetarian smoky bacon! Top this fry-up with an egg and you've got a proper feast for a Sunday morning.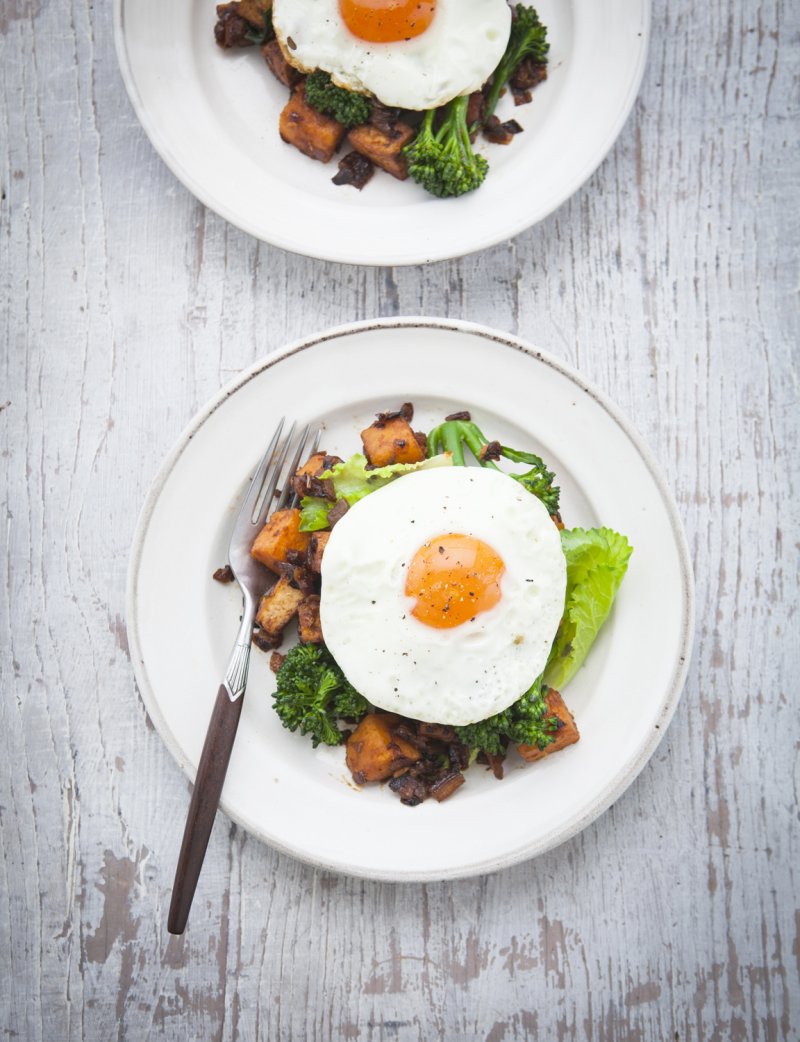 Info
PT45M
Serves

4
Prep time

10
Cooking time

30
Calories

342 per serving
Ingredients
1 tbsp olive oil
1 large red onion, finely chopped
2 sweet potatoes, (about 400g peeled weight) diced
200g broccoli, roughly chopped
200g spring greens, shredded
200g smoked tofu, finely diced
1 garlic clove, finely chopped
1 tsp mushroom ketchup
1 tbsp tomato ketchup or purée
200ml vegetable stock or water
4 eggs
1 tsp white wine vinegar (for poaching eggs) or low-cal oil spray (for frying)
sea salt
Method
Heat the olive oil in a large frying pan and add the red onion. Cook it over a medium heat until it's translucent, softened and starting to brown.

Meanwhile, bring a large saucepan of water to the boil. Add salt, then the diced sweet potatoes. Bring the water back to the boil, then simmer the sweet potatoes for 2 minutes. Add the broccoli and spring greens and cook for another 2 minutes. Drain the vegetables thoroughly.

Add the sweet potato, broccoli, spring greens, smoked tofu and garlic to the frying pan with the onion. Whisk the mushroom ketchup and tomato ketchup or purée with the stock or water, then pour this over the vegetables. Cook for 5 minutes, or until most of the liquid has been absorbed, stirring regularly. Pat everything down fairly evenly, turn up the heat a little and allow a crust to form on the bottom. Stir, scraping up any brown bits from the bottom of the pan, then pat the mixture down again and leave it for another 10 minutes. Stir thoroughly.

While the hash is cooking, poach the eggs or fry them. Serve the hash topped with the eggs.