Salmon Coulibiac
This dish is a whole fish stuffed with prawns wrapped in puff pastry. A spectacular centrepiece for any party, this is great served hot or cold. It's surprisingly straightforward to make – nothing difficult about it all.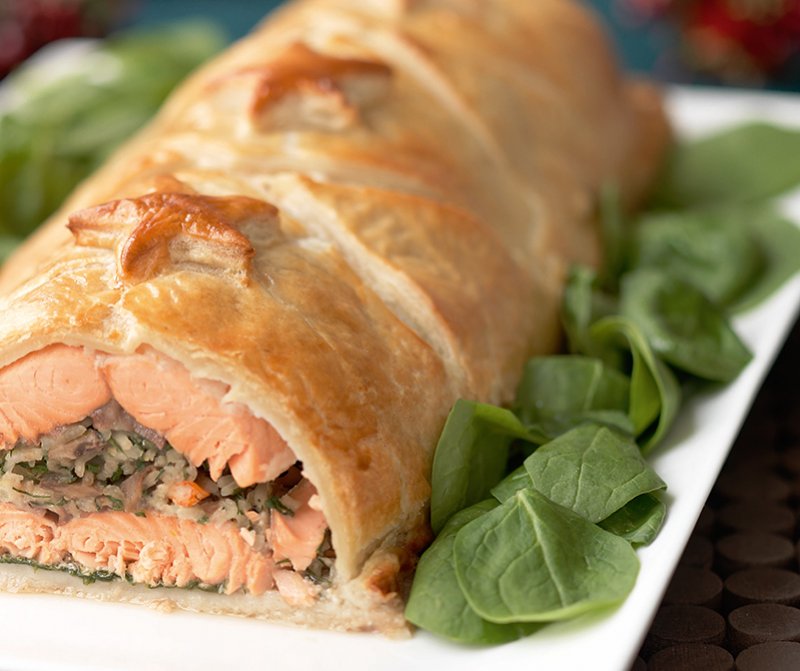 Info
PT2H
Serves

6-8
Prep time

Less then 30 minutes
Cooking time

30 minutes to 1 hour
Ingredients
For the filling
100g / 3.5oz long grain rice, rinsed
1/2 fish stock cube
1 free-range egg, beaten
200g / 7oz small prawns, boiled and peeled
1 tbsp chopped fresh dill
1 tbsp chopped fresh flatleaf parsley
1 tbsp chopped fresh chives
50g / 2oz mushrooms, chopped
1 lemon, zest only, plus 1 tsp lemon juice
salt and freshly ground black pepper
For the coulibiac
2 blocks ready-made puff pastry
100g / 3.5oz baby spinach leaves
1 x 400g centre-cut salmon fillet, cut in half lengthways, skin removed, pin bones removed
1 free-range egg, beaten, for glazing
Method
Preheat the oven to 180C/350F/Gas 4.

For the filling, place the rice and the crumbled stock cube into a saucepan and cook the rice according to the packet instructions. Drain well and cool.

Mix the cooled rice, beaten egg, cooked prawns, dill, parsley, chives, mushrooms, lemon zest and juice in a mixing bowl until well combined. Season to taste with salt and freshly ground black pepper.

To assemble the coulibiac, roll one of the blocks of puff pastry out to a rectangle 4cm/1?in bigger all round then the salmon fillets. Roll out the second block to make a rectangle 5cm/2in larger than the first one. (You may not need to use all the pastry.) Sprinkle half of the spinach leaves over the smaller sheet of puff pastry, leaving a 2cm/?in gap around the edge of the pastry. Place one of the salmon fillets on top of the spinach leaves, then spread the filling mixture over the salmon. Place the second salmon fillet on top of the filling mixture to make a 'sandwich'. Cover the salmon with the remaining spinach leaves.

Brush the edges of the puff pastry with beaten egg and cover the salmon filling with the second, larger, sheet of puff pastry. Seal the edges of the pastry parcel together with your fingers, trimming off any excess. Carefully transfer the salmon coulibiac to a greased baking tray.

Using a knife, cut one or two small holes in the top of the salmon coulibiac, then brush all over with the remaining beaten egg. Transfer the salmon coulibiac to the oven and bake for 25-30 minutes, or until the pastry is crisp and golden-brown.