Noodle Salad
Nothing potty about this noodle salad and it's a great one to prepare at home to take to work for lunch. Full of flavour and goodness, it will keep you going and cheer up your lunch break. Look for firm or extra firm tofu, which will usually be in the chiller cabinet.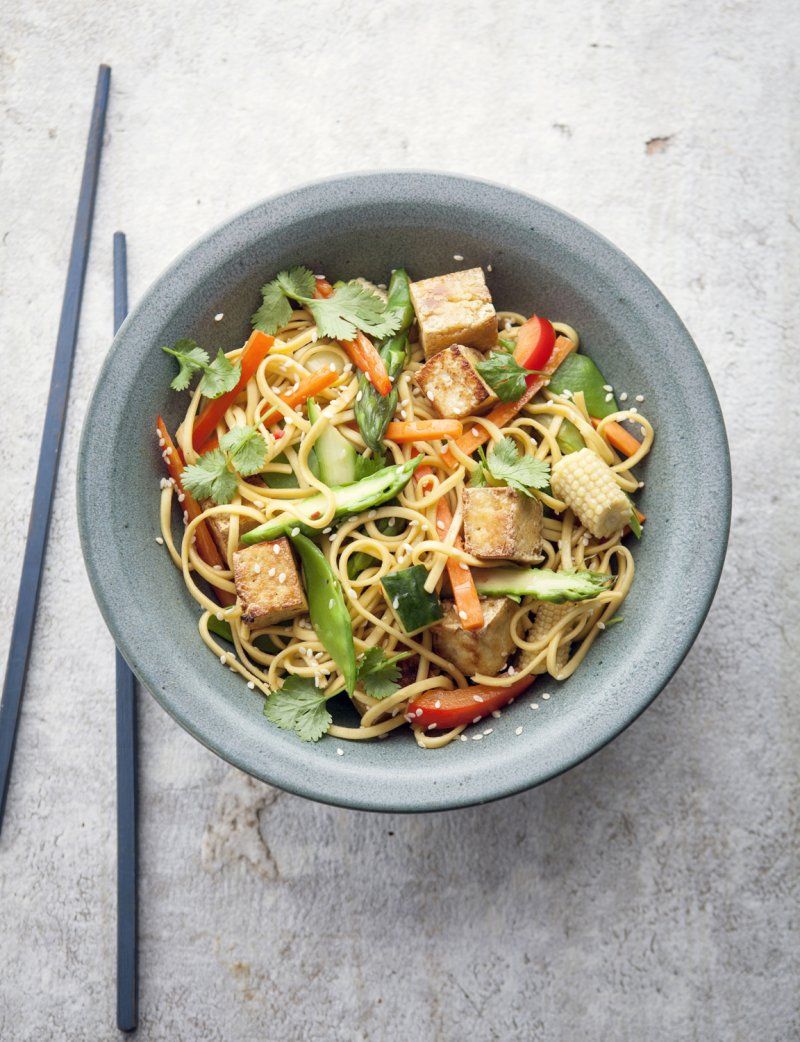 Info
PT45M
Serves

4
Prep time

20 minutes
Cooking time

15 minutes
Calories

226 per serving
Ingredients
1 tsp vegetable oil
200g block of firm or extra firm tofu, pressed (see method)
100g mangetout
100g baby corn
100g asparagus
1 red pepper
1⁄2 cucumber
1 carrot 100g egg noodles
1 tsp sesame seeds a few coriander leaves
Dressing
2 tbsp light soy sauce
1 garlic clove, finely chopped
15g fresh root ginger, grated
1 chilli, finely chopped
1 tsp rice vinegar
1⁄2 tsp honey
a few drops of sesame oil
sea salt and black pepper
Method
Heat the oil in a frying pan. Cut the pressed tofu into cubes and fry them in the oil until golden-brown on all sides. Remove the cubes from the pan and leave them to cool.


Top and tail the mangetout and cut them into diagonal slices. Cut the corn into chunks and the asparagus into diagonal slices. Bring a pan of water to the boil and blanch them all for a minute, then drain and set aside.

Deseed and dice the pepper, cut the cucumber into small chunks and the carrot into thin sticks. Cook the noodles according to the packet instructions, then refresh them under cold running water.

To make the dressing, whisk all the ingredients together in a bowl and season with salt and pepper. Toss the noodles in the dressing, then add all the vegetables and the fried tofu. Sprinkle with the sesame seeds and coriander. Mix gently to combine, then divide the salad into 4 bowls or pack a portion into your lunch box. This salad will keep for a couple of days in the fridge

Preparing tofu:

To get the best results from tofu, drain it and press it before using. This firms up the texture by reducing the liquid content. Simply put the tofu between some sheets of kitchen paper. Cover it with a tray or plate and weigh it down with a couple of cans of tomatoes or beans. Leave the tofu for at least half an hour. Alternatively, put it in the fridge and leave it for several hours and it will continue to flatten and give out liquid.