Goat's Cheese, Peach and Radicchio Salad
This salad is a reworking of one of our old favourites. Griddling radicchio really does make a big difference, reducing its bitterness and bringing a nice sweetness to the salad, so get your griddle out and enjoy. The rest is just an assembly job and the finished dish puts a smile on your face.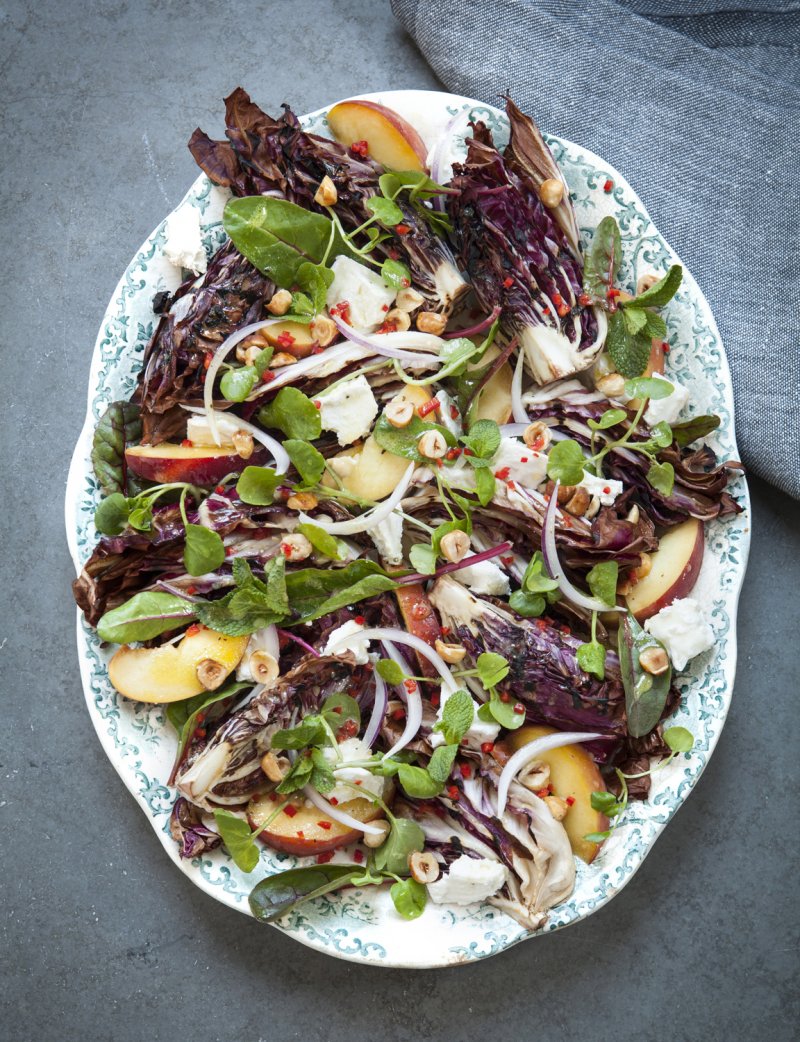 Info
PT45M
Serves

4
Prep time

15 minutes
Cooking time

20 minutes
Calories

177 per serving
Ingredients
½ red onion, cut into very thin slices
4 heads of radicchio, trimmed
1 tbsp hazelnuts
handful of green salad leaves, such as watercress and rocket
2 peaches, cut into thin wedges
100g fresh goat's cheese, crumbled or broken into fairly small chunks
½ –1 red chilli, finely chopped
a few mint leaves
Dressing
1 tbsp olive oil
½ tsp mustard
¼ tsp honey
1 tsp cider vinegar
sea salt and black pepper
Method
Put the slices of onion into a bowl of iced, salted water. Leave them until you are ready to assemble the salad, then drain them thoroughly. This gives them a milder flavour.

Preheat a griddle until it's too hot to hold your hand over. Cut each radicchio into quarters lengthways, making sure the leaves are still attached to the base. Set aside any leaves that do fall off. Grill the radicchio for 2–3 minutes on each side until they're slightly wilted and have deep char lines across them.

Toast the hazelnuts in a dry frying pan for a few moments then roughly chop them.

Whisk all the dressing ingredients together with a tablespoon of water and season with salt and pepper. If the dressing is too thick, add a little more water.

To assemble the salad, spread the green leaves on a platter or divide them between 4 bowls. Top them with the drained red onion slices, peach wedges and the griddled radicchio.

Drizzle over the dressing and toss very lightly, without turning everything too much, then sprinkle over the goat's cheese, hazelnuts, chilli and mint leaves. Serve at once.