Aubergine (Brinjal) Pickle
This is the richest, stickiest chutney and it's sweet, spicy and hot. A great all-rounder to have in your fridge, this is good with cold cuts as well as curry.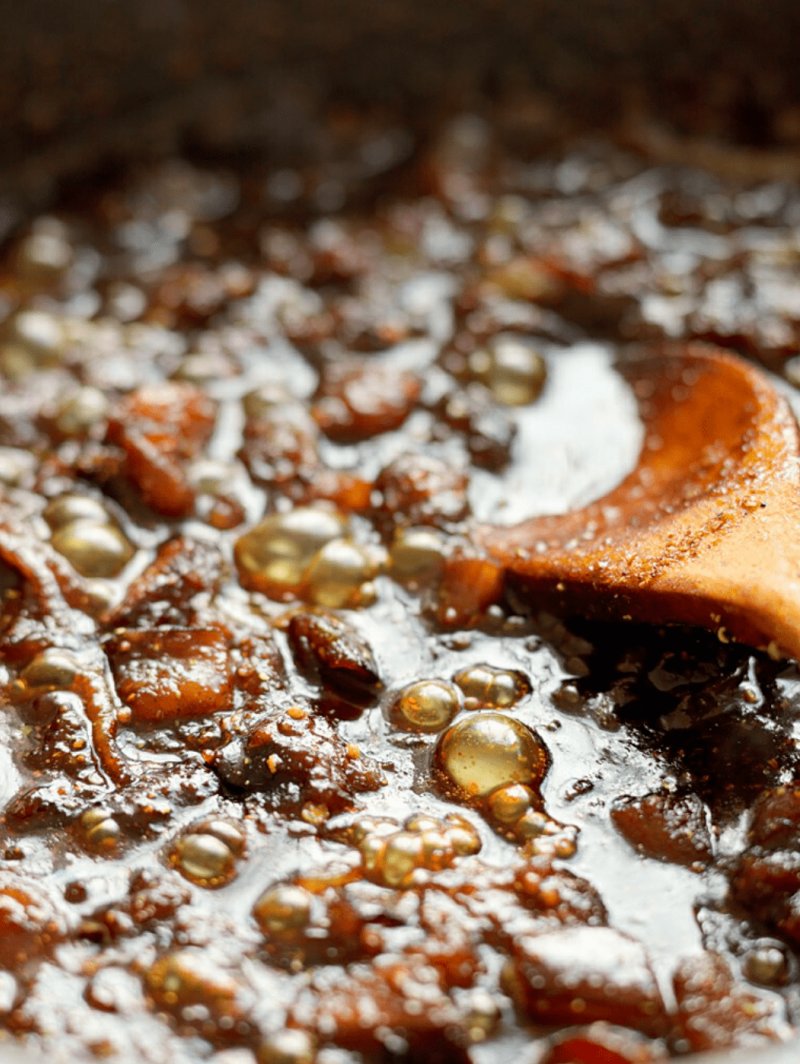 Info
PT2H
Serves

Makes 2 x 500ml jars
Prep time

30 minutes
Cooking time

Around 90 minutes
Ingredients
For the pickle
2 large aubergines (about 600g)
4 tsp fine sea salt
7 tbsp sunflower oil
2 medium onions, halved and sliced
25g chunk of fresh root ginger, peeled and finely grated
4 garlic cloves, crushed
2 tsp cumin seeds
2 tsp fenugreek seeds
2 tsp yellow mustard seeds
1 heaped tsp coriander seeds
8 curry leaves
¼ of a cinnamon stick
1 long dried red chilli or 3 dried extra-hot chillies (bird's-eye)
1 tsp ground turmeric
250g soft dark brown sugar
300ml malt vinegar
Method
Trim the aubergines and cut them into rough 2cm chunks. Spread these out on a tray lined with kitchen paper and sprinkle with 2 teaspoons of the salt. Leave for 30 minutes, then rinse the chunks in a colander under running water and drain them well. Heat 2 tablespoons of the oil in a large non-stick frying pan and fry the aubergines in 2 batches over a high heat for 2–3 minutes until lightly browned but not softened. Add another 2 tablespoons of oil between each batch as the aubergines will soak it up. Tip the aubergines into a large saucepan as soon as it is golden.


Heat another tablespoon of oil in the same frying pan and fry the onions for 6–8 minutes until lightly browned, stirring regularly. Add the ginger and garlic and cook for 2 minutes more, while stirring, then add everything to the pan with the aubergines.


Place a small frying pan over a medium heat and add the cumin seeds, fenugreek, 1 teaspoon of the mustard seeds and the coriander seeds. Toast for 1–2 minutes until you can smell the spicy aromas, then take the pan off the heat and add the curry leaves, cinnamon and chilli. Toss all the spices together and leave to cool for 5 minutes. Grind them to a powder in a spice grinder.


Heat the remaining 2 tablespoons of oil in the same pan used to toast the spices. Lightly crush the reserved teaspoon of mustard seeds in a pestle and mortar and add them to the pan. Cook for a few seconds, stirring constantly. Immediately add the freshly powdered spices and ground turmeric. Cook for 1 minute, stirring constantly over a low heat.


Scrape all the spices into the pan with the aubergines and onions. You may need to use a rubber spatula to ensure you get every last bit. Add the sugar, vinegar and remaining 2 teaspoons of salt. Bring to a simmer over a low heat and cook for 1 hour, uncovered, stirring regularly with a wooden spoon until thick. The pickle should bubble gently during this time, but don't let it go mad. Meanwhile, sterilise your jars.


Spoon the hot pickle into the warm jars and leave to cool before covering with lids. Store this pickle in the fridge and try to keep it for at least a month before opening. Eat within 3 months.