Wedding Cake
The Hairy Bikers take on a 3-tier wedding cake without the stress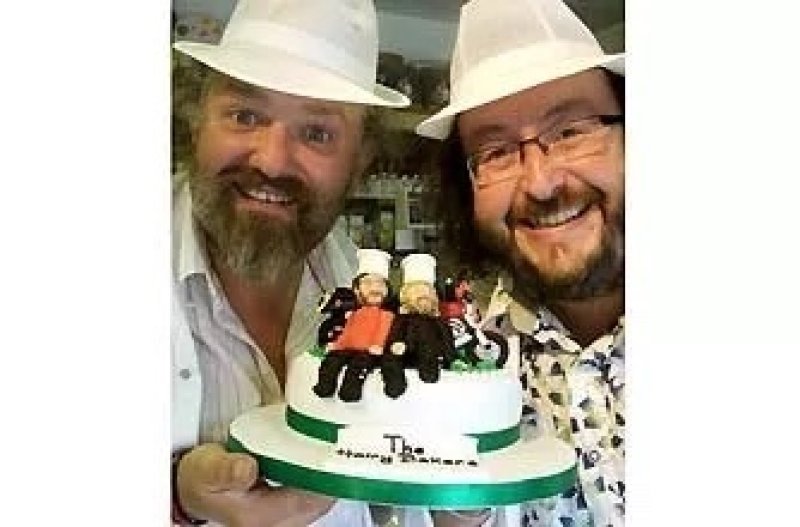 Info
PT1H
Serves

Makes 3 tiers serving around 30 people
Prep time

Less then 30 minutes
Cooking time

Over 2 hours
Ingredients
Cake Tin Sizes
One 20cm/8in, one 25cm/10in and one 30cm/12in
For the cake
1.4kg / 3lb 2oz plain flour
3.2kg / 7lb sultanas
1.5kg / 3lb 5oz raisins
100g / 3.5oz dates, chopped
20g / 1/2oz bicarbonate of soda
2 tsp salt
2 tsp mixed spice powder
600ml / 1 pint 1fl oz barley malt syrup
900g / 2lb brown rice syrup, or normal golden syrup
20 free-range eggs, beaten
750ml / 1.5 pints sunflower oil, plus extra for greasing
250g / 9oz carrot, grated
2 oranges, zest only
3 lemons, zest only
100g / 3.5oz dried pineapple, rehydrated in 150ml / 5fl oz cold water, chopped
2 tsp cardamom seeds
Method
Preheat the oven to 140C/275F/Gas Mk 1. Brush the three cake tins with sunflower oil.

Sift the flour into a very large bowl, add the sultanas, raisins, chopped dates, bicarbonate of soda, salt and mixed spice and stir well to combine.

Add the barley malt syrup and brown rice syrup and stir well to combine.

Stir the beaten eggs into the mixture, then add the sunflower oil and stir well to combine.

Add the grated carrot, orange zest and lemon zest and stir well to combine.

Add the chopped pineapple and cardomon seeds and mix well.

Spoon the mixture into the three baking tins, until the mixture reaches no more than three-quarters of the way up the tins.

Wrap each tin in greaseproof paper and secure each with string. Cut one 20cm/8in, one 25cm/10in and one 30cm/12in disc of greaseproof paper and cover each tin with the corresponding-sized disc.

Transfer the cakes to the oven and bake for 3-4 hours, checking occasionally, or until a skewer comes out clean when inserted into the centre of each cake.

Set the cakes aside to rest for two days.