Vindaloo Sausage Rolls
The sausage roll but not as you know it – these are sausage rolls with attitude. The spicy paste makes these into something fabulously spicy and intensely savoury that will really impress and delight your friends.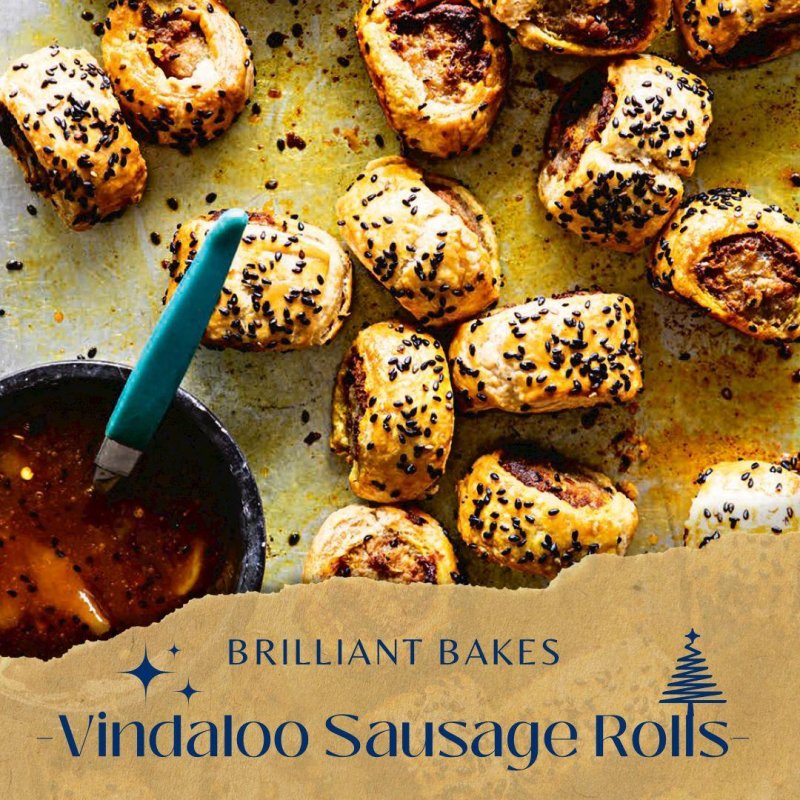 Info
PT45M
Serves

Makes 24
Prep time

around 30 minutes
Cooking time

25 minutes
Ingredients
500g sausage meat
a few coriander sprigs, finely chopped
1 x 320g pack of ready-rolled puff pastry
pinch of turmeric
1 egg, beaten
1 tsp nigella seeds
Vindaloo paste
1 onion (see method)
15g root ginger, peeled and roughly chopped
3 garlic cloves, roughly chopped
3–4 red chillies, deseeded and roughly chopped
1 tbsp olive oil
1 tsp ground cumin
1 tsp turmeric
1 tsp ground coriander
1 tsp medium chilli powder
1⁄2 tsp ground fenugreek
1⁄2 tsp ground cinnamon
2 tbsp tomato purée
1 tbsp malt vinegar
2 tsp jaggery or light brown soft sugar
salt
Method
First make the vindaloo paste. Cut the onion in half. Roughly chop half of it, then put it in a food processor with the ginger, garlic and chillies and purée to form a smooth paste, adding a little water if necessary.

Finely chop the remaining onion half. Heat the olive oil in a frying pan, add the chopped onion and fry until translucent. Add the spices and stir for another couple of minutes, then add the onion paste and the tomato purée. Stir for a few minutes – the aim is to cook the mixture a little, so it reduces until it's thick and starting to separate. Add the malt vinegar and sugar. Season with plenty of salt and cook for another couple of minutes or so to dissolve the sugar. Remove from the heat and leave to cool.

Break up the sausage meat and mix in the coriander. Preheat the oven to 180°C/Fan 160°C/Gas 4.

Unroll the puff pastry and cut it in half, lengthways. Thickly spread the vindaloo paste down the centre of each piece of puff pastry. Leave a centimetre of border along each long side, but make sure you go right to the edge of the short sides.

Divide the sausage meat into 2 pieces and shape them into logs the same length as the pastry. Place each log along one of the long edges on each piece of pastry.

Whisk the turmeric into the beaten egg. Brush the exposed edge of the pastry with egg, then roll up and make sure the edges are sealed. Cut each roll into 12 pieces.

Place the sausage rolls on a couple of baking sheets, then brush with the remaining egg and sprinkle with the nigella seeds. Bake for about 25 minutes until the pastry is crisp and the filling is cooked through. Good hot or cold.