Victoria sponge with berries and spiced cream
The Hairy Bikers put their spin on a great British baking tradition.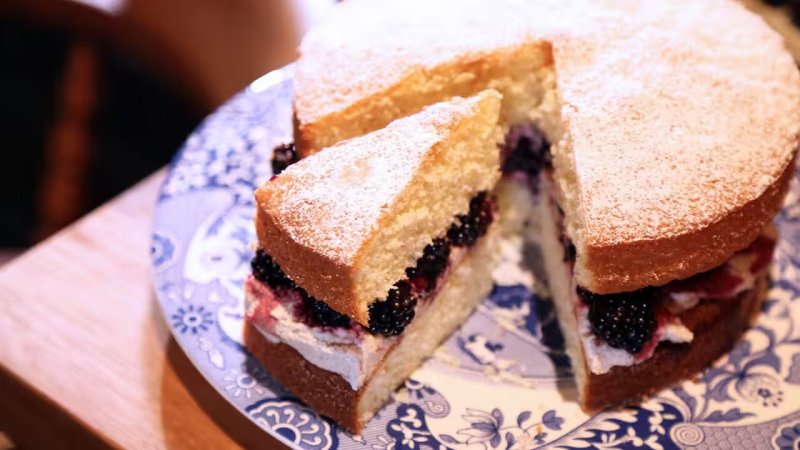 Info
PT45M
Serves

6 people
Prep time

20 minutes
Cooking time

20 minutes
Ingredients
Sponge cakes
225 g butter, softened
225 g caster sugar
4 eggs
225 g self-raising flour
1½ tbsp (30 ml) lemon juice
Icing sugar or caster sugar to dust, optional
Blackberries
1 punnet blackberries
3 tsp caster sugar
3 tsp crème de mure or crème de cassis (optional)
Cream
250 ml double or whipping cream
1½ tbsp icing sugar
½ tsp ground cardamom
¼ tsp ground allspice
¼ tsp ground cinnamon
¼ tsp ground mace
Method
Preheat the oven to 180°C. Butter and line 2 x 20-21cm sandwich tins.

Using a hand-held electric beater or a stand mixer, cream the butter and sugar together until very light and fluffy – it should be almost mousse-like. This should take a good 5 minutes.

Add the eggs one at a time with a tablespoon of the flour, mixing lightly between each addition, then add the remaining flour. Add as much lemon juice as necessary to give a dropping consistency, then divide between 2 tins. Bake in the oven for 20-25 minutes until the sponge has shrunk away from the sides slightly, is springy to touch and a very light golden brown. Leave to cool in the tins for at least 10 minutes, then turn out onto a cooling rack.

For the filling, put the blackberries in a bowl and sprinkle over the caster sugar and liqueur, if using. Leave to marinade for a short while – they will give out some juices.

Whip the cream then fold in the icing sugar and spices – the cream needs to be just beyond the soft peak stage – then pile this onto one of the cooled sponges. Top with the blackberries and pour over any juices. Place the remaining sponge on top. Dust with icing sugar or caster sugar and serve.