Veggie Enchiladas
If you grow your own tomatoes and end up with some green ones in the autumn this is a great way to use them. Tomatillos are good here too, if you can find any. Otherwise, the cucumber works really well and adds a hit of savoury to the pepper sauce. As for the chillies, jalapeños are good for this and quite mild, but if you prefer to blow your socks off, try adding a bird's-eye chilli. Look for corn tortillas rather than flour ones, as they are more robust and won't go soggy.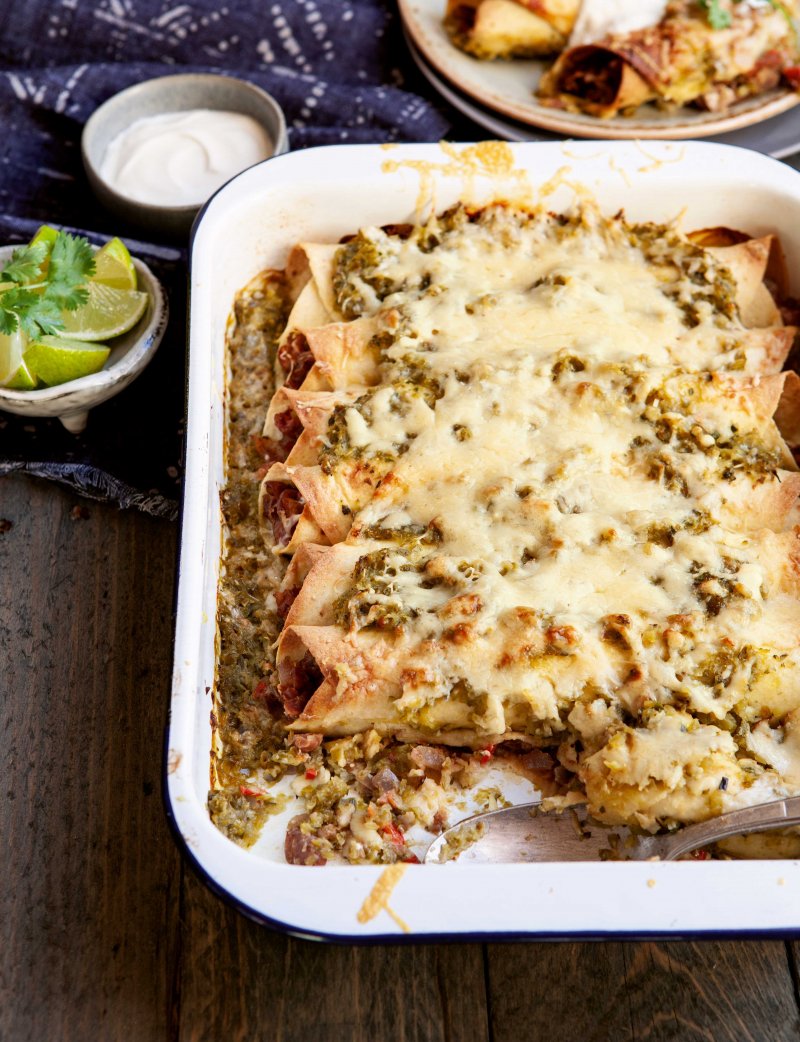 Ingredients
Sauce
3 green peppers, cut in half
6 jalapeos or mild green chillies, left whole
6 garlic cloves, unpeeled
bunch of spring onions, trimmed
2 tbsp olive oil
zest and juice of 1 lime
100g cucumber (or 100g tomatillos or green tomatoes)
bunch of coriander
sea salt and black pepper
Filling
1 tbsp olive oil
2 red onions, finely chopped
1 red pepper, deseeded and finely diced
2 garlic cloves, finely chopped
400g can of pinto beans or red kidney beans, drained
1 tsp dried oregano
1 tsp ground cumin
½ tsp ground cinnamon
½ tsp ground allspice
To assemble
8 corn tortillas
200g soured cream
150g vegetarian Cheddar cheese, grated
To serve
lime wedges
coriander leaves
any leftover soured cream
Method
Preheat the oven to 220°C/Fan 200°C/Gas 7. For the sauce, place the peppers, chillies, garlic and spring onions on a large baking tray and drizzle them with oil. If using tomatillos or green tomatoes, add them too. Roast for 20 minutes, then start checking for doneness. The vegetables will cook at different rates – you want them collapsing down a little and charring. The spring onions will take the shortest time. When all the vegetables are charred in places, remove from the oven.

Reduce the oven temperature to 200°C/Fan 180°C/Gas 6. Put the green peppers in a bowl and cover with a plate. Leave to steam until cool enough to handle, then remove the skins. Remove the seeds from the chillies and squish the flesh out of the garlic. Roughly chop the spring onions.

Put all the vegetables into a food processor with the remaining sauce ingredients and plenty of seasoning. Pulse until you have a coarse, fairly liquid sauce. Set aside.

To make the filling, heat the oil in a sauté pan and add the onions and red peppers. Cook gently over a medium heat until the onions are soft and starting to take on some colour. Add the remaining filling ingredients along with 50ml of water and plenty of seasoning. Simmer until piping hot, then gently mash the beans so some of them break down. Remove from the heat.

To assemble, put a small ladleful of the green sauce in the base of an ovenproof dish. Lightly toast each tortilla on a dry frying pan, then add a tablespoon of the filling. Top with a teaspoon of soured cream, then roll up and place in the dish. Repeat with all the tortillas, making sure they don't quite touch, then pour over the remaining green sauce. Sprinkle over the cheese, then bake in the oven for about 30 minutes until the tortillas have browned round the edges and the cheese is bubbling.

Serve with any remaining soured cream, lime wedges and some fresh coriander.