Veal & Olive Stew
They have excellent veal in Corsica and this classic recipe is our homage to the veal farmer we met high in the hills on the island. We reckoned his was the best veal we'd ever tasted, but this recipe is also great made with British rose veal. The Corsicans often serve this stew over pasta but some new potatoes would be nice too.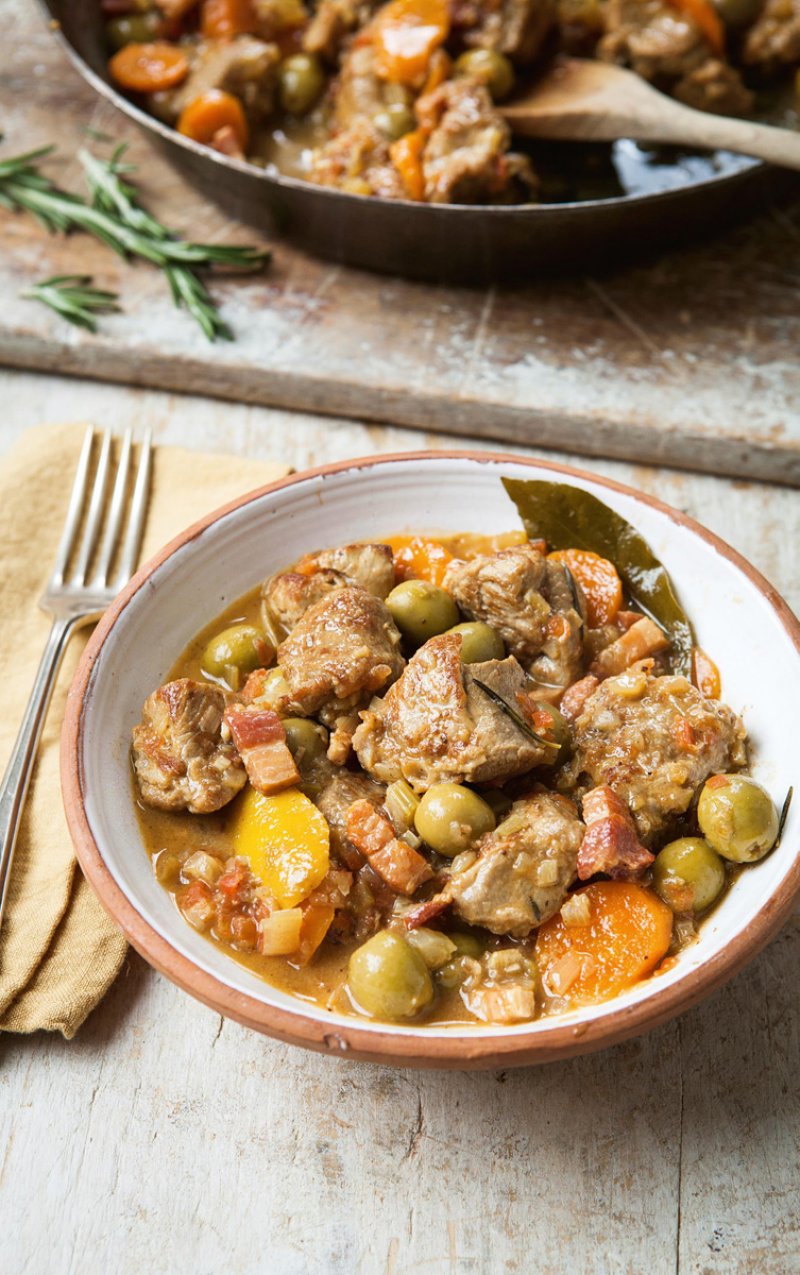 Ingredients
1kg rose veal shoulder, cut into 4cm chunks
1 tbsp plain flour
3 tbsp olive oil
100g pancetta or streaky bacon lardons
2 onions, finely chopped
2 celery sticks, finely chopped
3 carrots, thinly sliced
4 garlic cloves, finely chopped
500ml white wine
100ml chicken stock
1 piece of pared lemon zest
2 bay leaves
1 large sprig of thyme
2 sprigs of rosemary
200g fresh tomatoes, peeled and finely chopped or puréed
50g green olives
salt and black pepper
Method
Dust the veal pieces with flour and season them with salt and pepper. Heat a tablespoon of the olive oil in a large frying pan and sear the veal on both sides. Do this in a couple of batches, using another tablespoon of olive oil for the second batch. Set the veal aside.


Heat the remaining tablespoon of olive oil in a large flameproof casserole dish. Add the pancetta or bacon and fry it over a medium to high heat until crisp and brown. Some of the fat should also have rendered out. Add the onions, celery and carrots, then reduce the heat a little. Fry the vegetables gently for about 10 minutes, until they have taken on some colour and softened slightly.

Add the garlic and cook for a further couple of minutes, then add the veal to the casserole dish. Deglaze the frying pan with some of the wine and pour this over the veal, then add the rest of the wine to the casserole, along with the chicken stock. Add the lemon zest and herbs, then season with salt and pepper. Bring to the boil, then turn the heat down and put the lid on the dish. Simmer for about 45 minutes.

Add the tomatoes and olives and cook the stew for another half an hour, uncovered, to reduce the sauce a little. Serve with pasta, Corsican-style, or with new potatoes.