Turkey and ham Christmas casserole
This is a great way to use up any leftover turkey and ham at Christmas, or you can substitute chicken at any other time of year. The topping is made from stuffing ingredients and turns out beautifully crunchy and tasty – of course, many of us think the stuffing is the best part of Christmas dinner. A fab festive feast.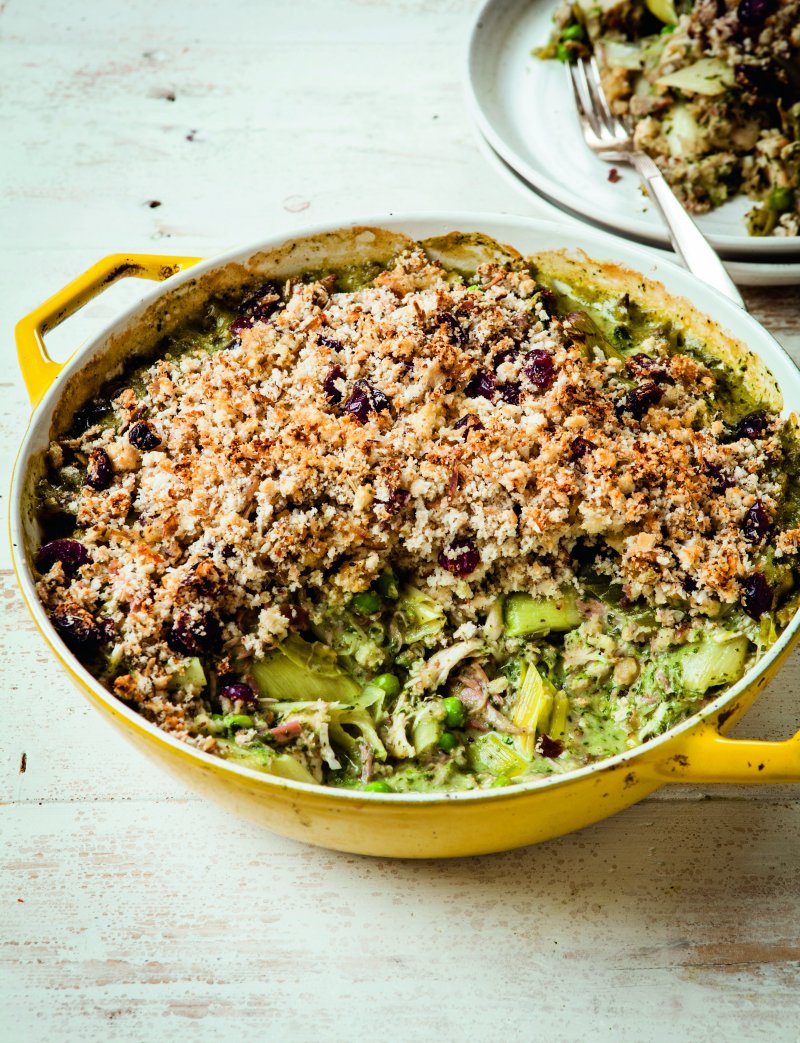 Ingredients
50g butter
3 leeks, cut into rounds
30g plain flour
100ml white wine
500ml chicken stock
100ml double cream
400g cooked turkey (or chicken), diced
150g ham, diced
2 tarragon sprigs, leaves finely chopped
100g peas, defrosted
6 cubes of frozen spinach, defrosted
salt and black pepper
Stuffing crust
100g breadcrumbs
1 small onion, grated
100g chestnuts, grated
50g dried cranberries, soaked in warm water (optional)
2 tsp dried sage
small bunch of parsley, finely chopped
large knob of butter
Method
First make the filling. Heat the butter in a large flameproof casserole dish. When it has melted, add the leeks with plenty of seasoning and turn down the heat.

Cover the dish with a lid and leave the leeks to cook gently until tender. Stir regularly and try not to let them take on any colour.

Stir the flour into the dish to form a roux around the leeks. Add the wine and stir vigorously – it will thicken considerably. Gradually add the stock, stirring constantly, until you have incorporated it all, then add the cream. Fold in the turkey or chicken, ham, tarragon and peas. Squeeze any excess water from the spinach, then stir the spinach into the dish. Taste for seasoning and add salt and pepper as needed.

To make the topping, mix the breadcrumbs, onion, chestnuts, drained cranberries and the herbs, then season with plenty of salt and pepper. Sprinkle this mixture over the top of the filling, then dot with butter.

Bake in the oven for 25–30 minutes until the filling is bubbling and breaking through the crisp, golden-brown topping.