Tonkatsu pork
Breaded pork comes with a sauce made from tomato ketchup and the fire of ginger and mustard in this easy Japanese recipe.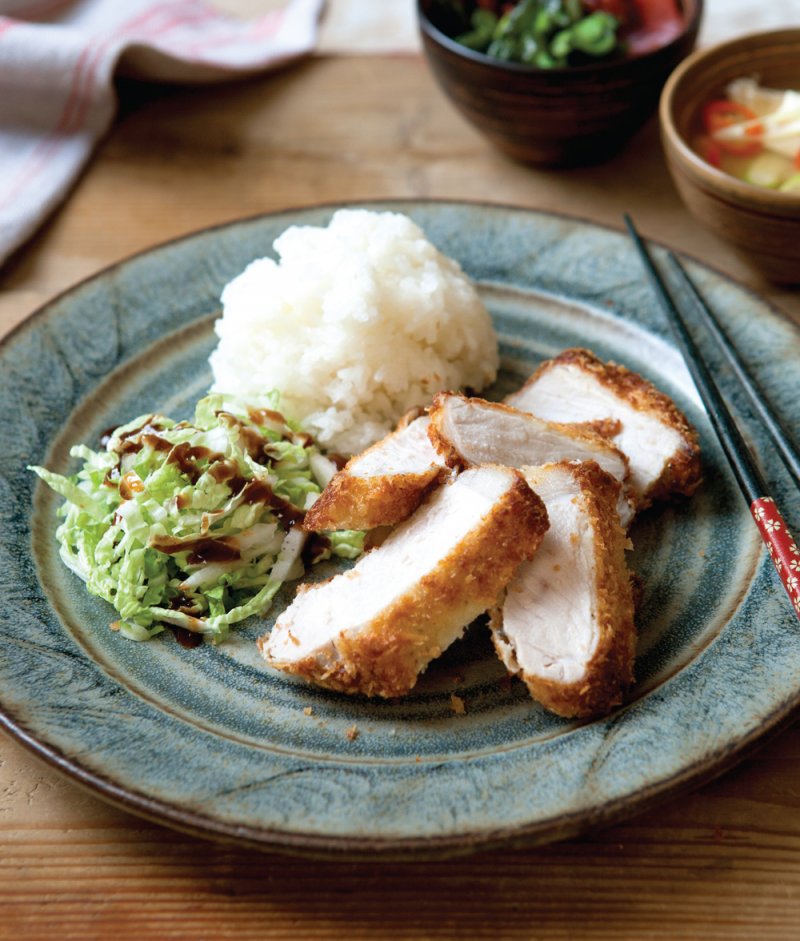 Ingredients
2 eggs, beaten
4 tbsp flour
75g panko breadcrumbs
4 thick pork loin steaks
vegetable oil or groundnut oil, for frying
1⁄2 Chinese cabbage, finely shredded
flaked sea salt
freshly ground black pepper
For the Tonkatsu sauce:
125g ketchup (you can get Japanese ketchup but any kind will do)
2 tbsp Japanese (or English) Worcestershire sauce
2 tbsp dark soy sauce
1 garlic clove, finely grated
1 tsp finely grated fresh root ginger
1 tsp Japanese (or Dijon) mustard
1 tbsp mirin
1 tbsp sugar
Method
First make the sauce. Add all the ingredients to a small saucepan and stir well. Bring to a gentle simmer and cook for 5 minutes until the garlic and ginger are both soft and the sauce has thickened slightly – it needs to have a good pouring consistency. When the sauce is ready, strain it through a fine sieve into a bowl, cover with cling film and set aside. The sauce is served at room temperature so don't put it in the fridge.

Now for the pork. Beat the eggs and put them in a shallow dish. Spread the flour in a separate dish and season well with salt and black pepper, then put the breadcrumbs in a third shallow dish.

Take one of the pork steaks, dredge it with seasoned flour, then dip it into the egg and lastly coat with breadcrumbs. Repeat with the remaining steaks and put them on a plate, ready to cook. You can prepare these in advance and leave them in the fridge if you like.

Pour enough oil into a large non-stick frying pan to shallow fry the steaks and place the pan over a medium heat. Add the steaks and fry until golden brown on both sides. They will probably take about 4 minutes on each side but check that they are cooked through before serving. Be careful when turning the steaks so you don't splash hot fat and if necessary, cook the steaks in a couple of batches so you don't overcrowd the pan.

Put the cooked steaks on a serving dish with the shredded cabbage, then drizzle over some sauce. Serve with more sauce on the side and if you want a whole Japanese feast, add some miso soup, rice and Japanese pickles.