Tom Yum Soup
This is vegan, and quite a simple one, despite all the ingredients. We have still left in roasting the shallots and chillies, but it will work without, so there is an option to skip straight to making the paste if you prefer.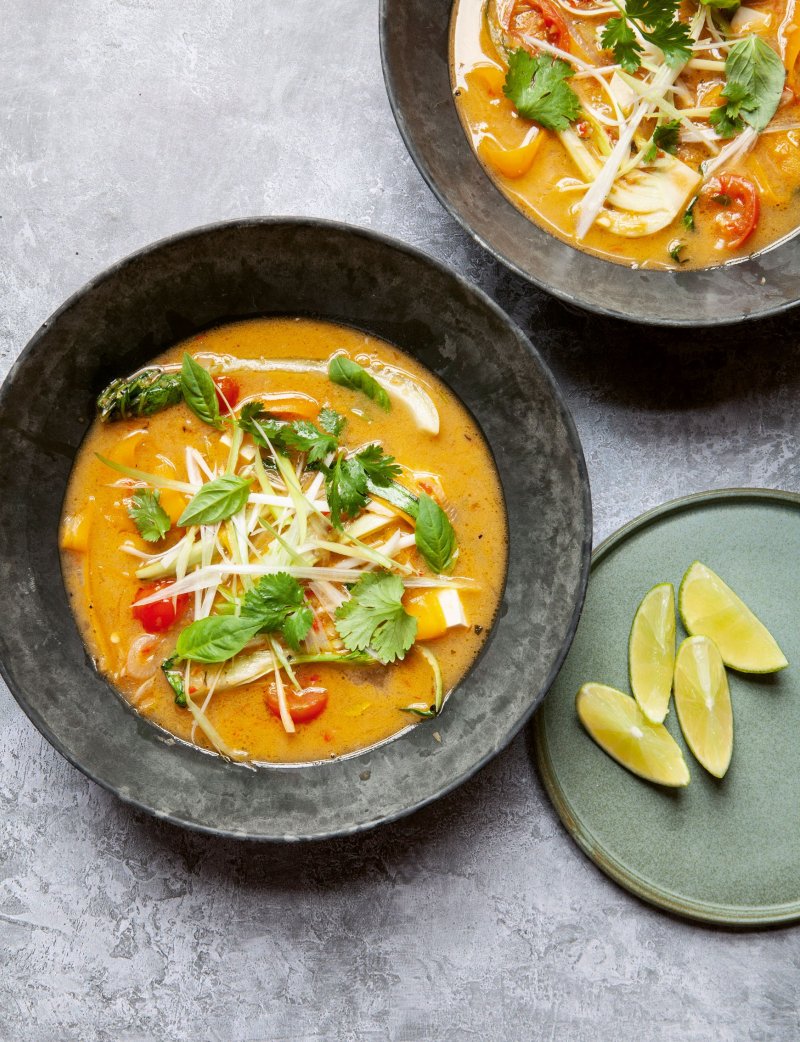 Ingredients
For the paste
2 shallots, peeled
2 hot dried chillies
2-4 fresh red chillies, depending on how hot they are (and how hot you like it)
4 cloves garlic, roughly chopped
25g piece galangal or ginger, roughly chopped
2 lemongrass stalks, roughly chopped
Zest of 1 lime
6 lime leaves
For the broth
1 tbsp coconut oil
1 onion, finely sliced
1 lemongrass stalk, left whole and bruised
1 litre stock made from Knorr Kaffir lime and ginger stock pots
200ml coconut milk
2 tbsp soy sauce
Juice of 1 lime
1 tsp light soft brown sugar
1 carrot, cut into ribbons
4 heads of bok choi or similar, thinly cut lengthways
12 cherry tomatoes, halved
4 lime leaves, very finely shredded (no larger than ½ mm)
1 bunch coriander, stems and leaves separated, stems finely chopped
1 block silken tofu, carefully cut into cubes and brought to room temperature
4 spring onions, cut in half, lengthways and finely shredded (no larger than 1mm)
A small bunch of Thai or regular basil
To serve
Method
First make the paste. Put the shallots, dried chillies and fresh chillies into a frying pan and dry fry for several minutes until they have started to blacken and smell very aromatic. Remove from the heat and leave to cool.

Put them in a food processor with all the remaining paste ingredients and blitz to a bright red paste. The best way to do this is to pulse and scrape down regularly – if it is proving resistant, add a couple of tablespoons of water.

Heat the coconut oil in a large saucepan or casserole and add the onion, fry for a few minutes on a medium heat until a light golden brown, then add the paste. Fry for a few minutes, then add stock and the lemongrass. Bring to the boil and simmer for 5 minutes.

Add the coconut milk, soy sauce, lime juice and sugar. Stir to combine and to dissolve the sugar, then add the carrot, bok choi, cherry tomatoes, lime leaves and coriander stems. Check for seasoning and add salt and pepper as necessary, then simmer until the vegetables are tender. Taste again and add more seasoning, lime juice and sugar as necessary.

Divide the tofu between 4 large bowls. Ladle over the broth then garnish with the spring onions, coriander leaves and basil leaves. Serve with lime wedges and chilli oil to make it extra hot.