Tofu, aubergine and lotus root stew
We got the inspiration for this dish from the Buddhist vegetarian cookery of Japan. It's a celebration of Kyoto's tofu culture. The Japanese aubergines used in the dish are longer and thinner.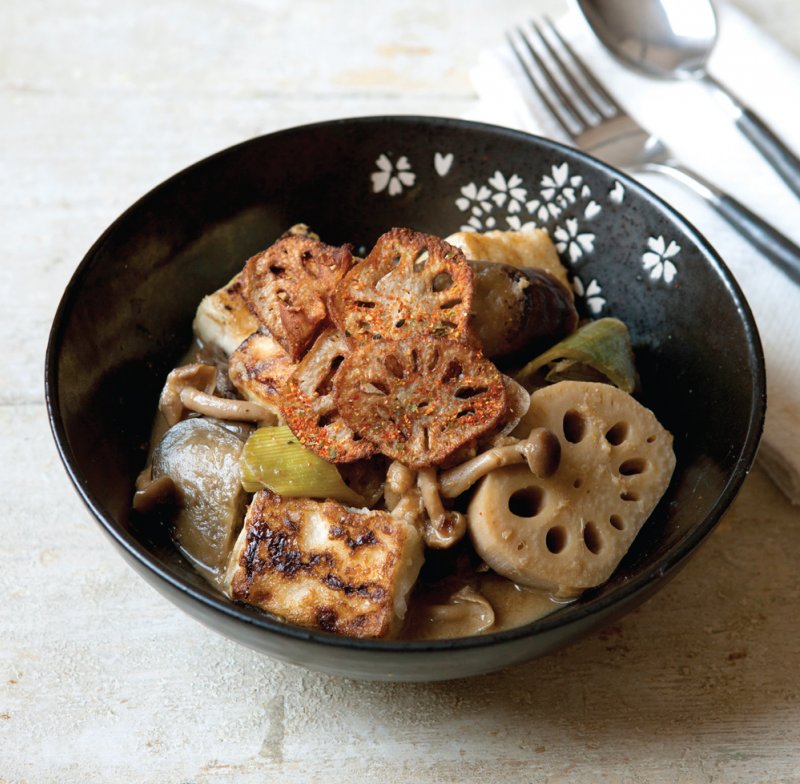 Info
PT45M
Serves

4
Prep time

less than 30 minutes
Cooking time

30 minutes to 1 hour
Ingredients
1 lotus root (about 400g)
vegetable oil
shichimi (Japanese 7-spice seasoning) 4 tbsp rice flour or cornflour
375g firm tofu, cut into 2.5cm squares
2 tbsp sesame oil
1 medium onion, finely chopped
2 medium leeks, trimmed and cut into 1cm diagonal slice
2 Japanese aubergines, sliced into 2cm discs
4 garlic cloves, finely grated
30g fresh root ginger
2 heaped tbsp miso paste
150g brown shimeji mushrooms, trimmed
4 tbsp mirin
5 tbsp soy sauce
300ml just-boiled water
flaked sea salt
Method
Start by preparing the lotus root. Bring a large pan of water to the boil. Peel the lotus root, cut off a third and set it aside. Add the rest of the lotus root to the pan. Turn the heat down and cook the root for 30 minutes at a very gentle simmer. Make sure you cook the root straight after peeling, as it will darken quickly. If preparing it in advance, put the lotus root in water with a little vinegar. Canned root does not need preparing in this way and can be added straight to the stew

Cut the uncooked piece of lotus root into very thin slices on a mandolin or with a sharp knife and use it to make crisps. Half fill a large saucepan with oil and heat it to 170–180°C. If you don't have a cooking thermometer, check that the oil is hot enough by adding a small cube of bread. It should turn crisp and golden and float to the top in a few seconds. Don't overheat the oil and never leave hot oil unattended.

Fry the lotus root slices in a few batches, cooking each batch for about 5 minutes or until golden brown. Drain them on kitchen paper and season with shichimi and salt

Sprinkle the rice flour on a plate and dip the pieces of tofu into it to coat them. Pour about 5 tablespoons of vegetable oil into a wok and heat, then fry the tofu until lightly golden and slightly crispy and puffy – this will take about 8 minutes. Drain the tofu on kitchen paper and keep warm. You may need to cook the tofu in batches so you don't overcrowd the pan.

Wipe the wok with a little kitchen paper – no need to wash it – then add 2 tablespoons of sesame oil and 2 tablespoons of vegetable oil and place it on a medium heat. Fry the onion for a few minutes until soft, then add the leeks and cook until soft and just slightly golden. Add the sliced aubergine and cook for a further 6 minutes or until soft, tossing the ingredients in the wok occasionally.

Add the garlic and ginger and fry again for a further couple of minutes, stirring continuously so the garlic doesn't burn.

Cut the cooked (or canned) lotus root into slices of less than 1cm and add them to the onion and aubergine mixture. Now add the miso paste and fry for a minute, then the shimeji mushrooms, mirin, soy sauce and the justboiled water. Bring the liquid back to the boil, and carefully fold in the tofu.

Spoon the stew into serving bowls and top with the lotus root crisps.