Thai Tofu Salad
There are no calories in flavour and this salad is packed with great tastes. Tofu is a great flavour carrier and so it's just right for adding protein and texture to this satisfying vegan recipe. It makes a good light lunch or can be piled into a lunchbox for a meal on the go. By the way, if you have tamarind concentrate rather than purée, just use a teaspoonful and dilute it.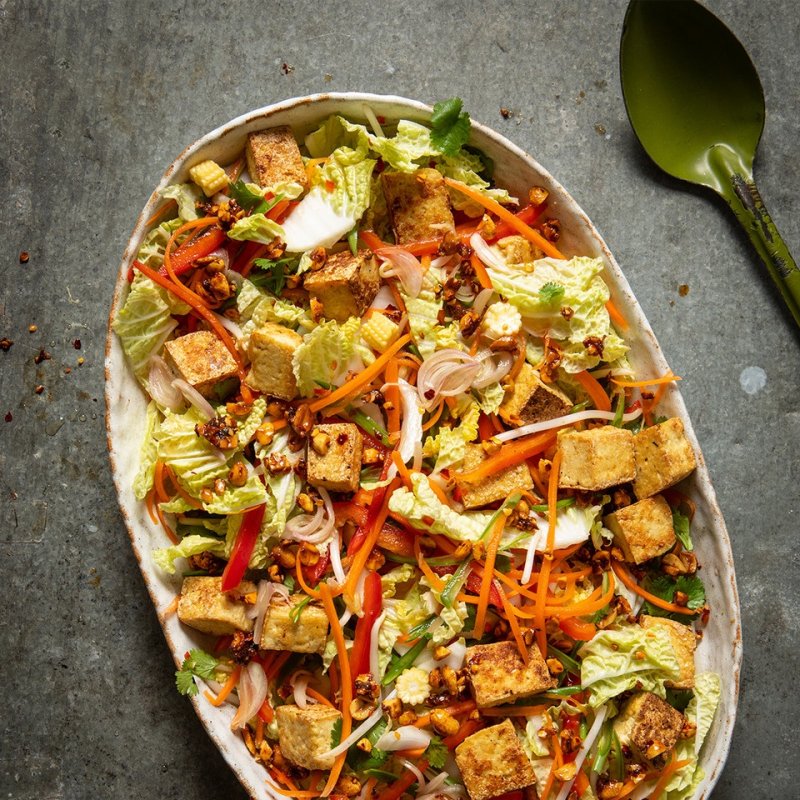 Info
PT20M
Serves

4
Prep time

15
Cooking time

15 minutes
Calories

231 per serving
Ingredients
1 tsp vegetable oil
1 block of extra-firm tofu (280g is about right), diced
1/2 Chinese lettuce/cabbage shredded
1 large carrot, cut into matchsticks
1/2 red pepper, cut into matchsticks
100g mangetout, trimmed and shredded
100g baby corn, cut into rounds
50g bean sprouts
1 red chilli, finely chopped
leaves from a small bunch of coriander
leaves from a small bunch of Thai basil, roughly torn (optional)
Dressing
2 tbsp fish sauce
1 tbsp tamarind purée
1 tbsp palm sugar or light soft brown sugar
juice of one lime
1 shallot finely sliced
sea salt and black pepper
Peanut garnish
1 tsp vegetable oil
1 tsp palm sugar
2 tbsp lightly crushed peanuts
large pinch of chilli flakes or powder
Method
First make the dressing. Whisk all the ingredients together until the sugar has completely dissolved. Taste and adjust the seasoning to get the flavour you like.

Next make the garnish. Heat the oil in a wok or a small frying pan. Add the remaining garnish ingredients along with a pinch of salt and then cook until the peanuts are well toasted. They should look glossy and browned. Tip them onto some kitchen paper to drain - they should be crisp and sticky by the time they have cooled.

For the tofu, heat the oil in a wok or frying pan. When the oil is smoking, add the tofu and stir-fry until it is lightly browned. Remove the tofu from the wok and toss it in a tablespoon of the dressing.

Put the prepared vegetables and the bean sprouts in a large bowl or platter and toss them lightly to combine. Drizzle over the remaining dressing, top with the tofu and sprinkle with the chilli, herbs and the peanut garnish.