Thai jungle curry
Get all the ingredients cut and prepared for this authentic curry and then it's just a matter of mixing together the chilli paste and getting it all in the pan.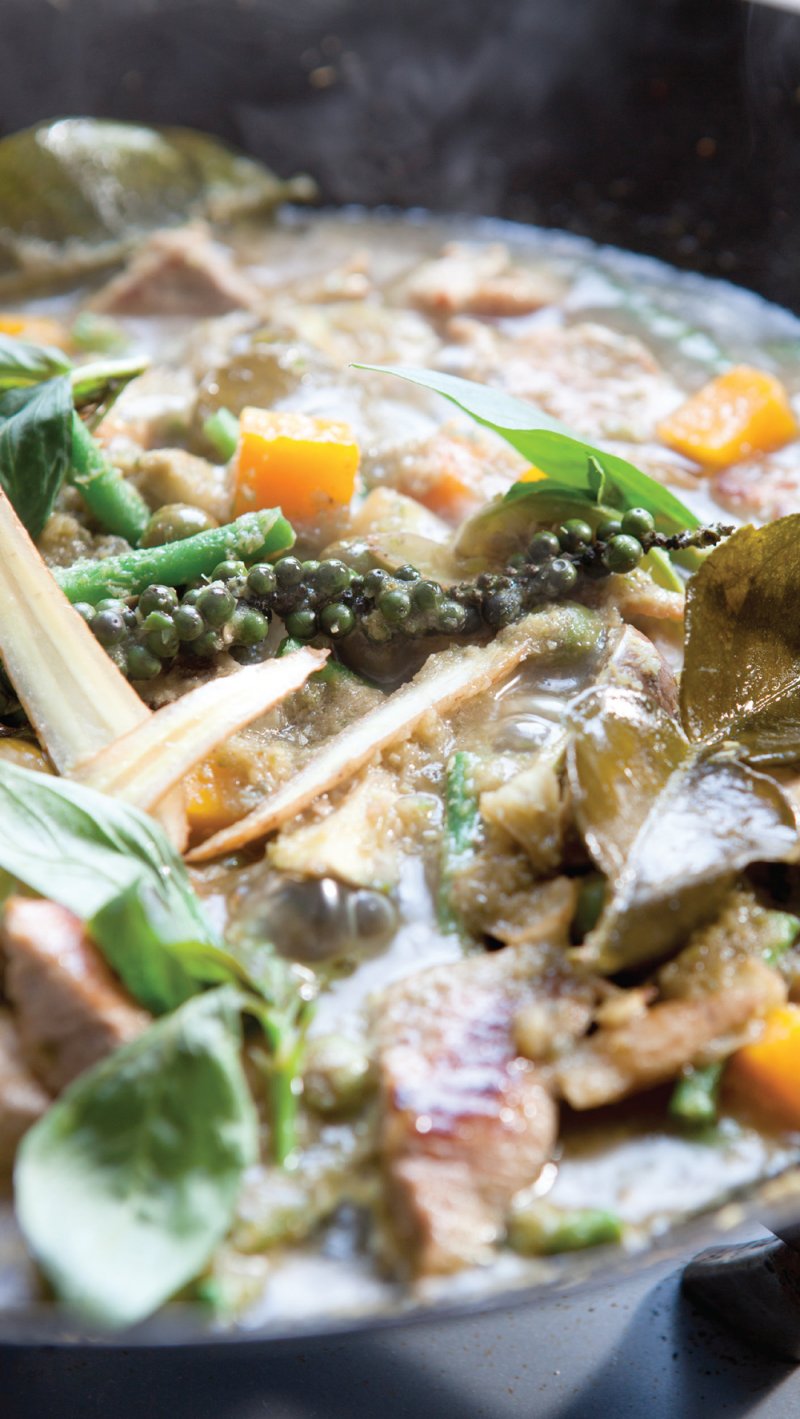 Ingredients
3 tbsp vegetable oil
500g pork tenderloin, cut into thin (5mm) medallions
5 Thai green aubergines, cut into quarters
400g chicken stock, heated
2 red bird's-eye chillies, pierced
2 tbsp Thai fish sauce
4 kaffir lime leaves
25g krachai, thinly sliced lengthways
1 tbsp palm sugar, grated
400g butternut squash, cut into 1cm cubes
40g pea aubergines
1 stem of fresh green peppercorns or 1/2 tbsp sweet brined green peppercorns from a jar (optional)
7 snake beans, cut into 2.5cm lengths
handful of holy basil, leaves torn
For the paste:
6 Thai shallots (or 1–2 banana shallots), finely chopped
3 large garlic cloves, finely chopped
25g galangal, peeled and coarsely grated
5 Thai green chillies, deseeded and finely chopped
6 coriander roots, washed and chopped
1/2 tsp Thai shrimp paste
3 kaffir lime leaves, finely chopped
1 tsp white peppercorns, crushed
To serve:
Method
To make the jungle curry paste, put all the ingredients for the paste in a small blender with 2 tablespoons of water and blitz. Alternatively, finely chop them all, then pound to a paste with the water in a pestle and mortar. It's up to you.

Place a large wok on the heat, add the vegetable oil, then add the curry paste. Fry for 3–4 minutes, stirring occasionally. Add the pieces of pork and stir-fry to seal the meat on both sides.

Add the green aubergines, hot stock, chillies and fish sauce. Bring to the boil, then reduce the heat to a simmer and continue to cook for about 5 minutes. Next add the lime leaves, krachai, palm sugar, butternut squash, pea aubergines and fresh green peppercorns. Cook for a further 10 minutes or until the butternut squash and green aubergines are just about done – green aubergines are firmer than the purple ones we usually get in Britain.

Finally add the chopped snake beans and simmer for 4 minutes. Stir both types of basil leaves through the curry and serve with rice.