Thai beef stir fry
This spicy Thai beef stir fry is served with a crisp fried egg on top and a flavour-packed dipping sauce on the side.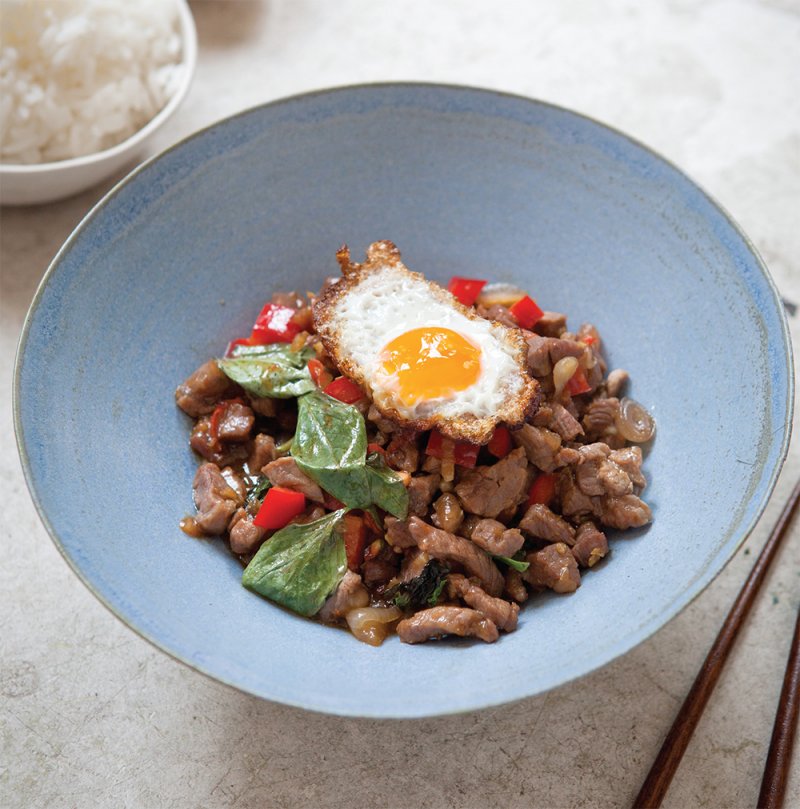 Ingredients
For the beef:
4 bird's-eye chillies, deseeded and roughly chopped
4 garlic cloves, roughly chopped
1⁄2 tsp flaked sea salt
vegetable oil
10 Thai shallots (or 3 banana shallots), finely sliced
700g sirloin or rib of beef, coarsely chopped
1 small red pepper, deseeded and finely diced
4 eggs
2 tbsp Thai fish sauce
1 tbsp oyster sauce
2 tbsp soy sauce
1 1⁄2 tbsp palm sugar
a good handful of Thai basil and a smaller handful of holy basil
freshly cooked rice, for serving
For the sauce:
4 coriander roots, finely chopped
2 garlic cloves, finely chopped
5 chillies, deseeded and finely chopped
1 tbsp oyster sauce
1 tbsp rice vinegar
2 tbsp soy sauce
2 tbsp Thai fish sauce
juice of 1⁄2 lime
Method
First make the sauce. Put the coriander roots, garlic and chillies in a pestle and mortar and crush them lightly. Add the remaining sauce ingredients and give them all a good pound to infuse the flavours, then tip the sauce into a small serving bowl. Don't wash the pestle and mortar – you want the residue of lovely flavours for the next stage.

Add the bird's-eye chillies, garlic and sea salt to the pestle and mortar and pound to form a paste.

Place a wok on a medium heat and when it's hot, add 3 tablespoons of vegetable oil. Stir-fry the sliced shallots for 3–4 minutes until golden. Turn down the heat, add the chilli and garlic paste and cook for about a minute or until lightly brown. Keep stirring so the garlic doesn't burn.

Whack up the heat, add the beef and the finely diced red pepper and cook for 4–5 minutes or until the beef is nearly done.

Meanwhile, heat a large frying pan with 2 tablespoons of vegetable oil. Fry the eggs until the edges of the whites are crispy but the yolks are still runny.

To the wok, add the fish sauce, oyster sauce, soy sauce and palm sugar and mix thoroughly. Lastly, add the basil leaves and fold them through the cooked beef. Spoon the beef into bowls and top with a fried egg, then serve at once with some rice and sauce on the side.