Sweet potato brownies
These brownies are packed with caramelised sweet potato for a sweet, fudgy texture.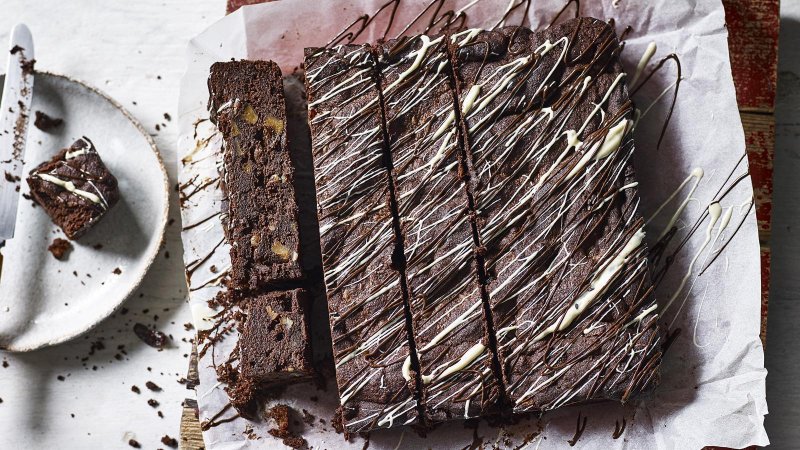 Info
PT2H
Serves

12 - 15
Prep time

less than 30 mins
Cooking time

1 to 2 hours
Ingredients
For the brownies
1–2 sweet potatoes (makes 150g/5½oz sweet potato mash)
1 tsp vanilla extract
200g/7oz dark chocolate, minimum 70% cocoa solids
200g/7oz butter
200g/7oz caster sugar
3 large free-range eggs
60g/2¼oz plain flour
60g/2¼oz cocoa powder
½ tsp baking powder
½ tsp sea salt
75g/2¾oz pecans, roughly chopped
100g/3½oz chocolate chips or dark chocolate, roughly chopped
50g/1¾oz dark chocolate, melted, to decorate
50g/1¾oz white chocolate, melted, to decorate
For the caramelised sweet potato
1 sweet potato, peeled and chopped into 2cm/1in
1 tbsp butter
1 tbsp maple syrup
salt
For the soaked raisins
100g/3½oz raisins
100ml/3½fl oz bourbon whisky
Method
To make the brownies, preheat the oven to 200C/180C Fan/Gas 6. Prick the potatoes with a sharp knife and roast for 40–45 minutes until tender. Leave to cool and then peel and mash until smooth. Weigh out 150g/5½oz of the mash, mix it with the vanilla and set aside in a large mixing bowl.

Meanwhile, to make the caramelised sweet potato, put all of the ingredients in a lidded pan, with a splash of water. Add a generous pinch of salt and place over a medium heat. Cook until the butter has melted and then cover and cook gently for 5 minutes until the sweet potatoes are al dente. Remove the lid and turn up the heat. Cook, stirring regularly, until the liquid has reduced and the sweet potatoes are looking sticky and caramelised. Set aside to cool.

To make the soaked raisins, put the raisins in a saucepan with the bourbon. Bring to the boil, turn down the heat and leave to simmer until the raisins are plump and most of the liquid has been absorbed. Set aside to cool.

To make the brownies, line a 23cm/9in square tin with baking paper and preheat the oven again to 200C/180C Fan/Gas 6.

Put the chocolate in a glass bowl and set it over a simmering saucepan of water, making sure the bowl does not touch the water. Leave to melt, stirring every so often. When it has melted, remove and allow to cool a little.

Beat the butter and sugar together in a stand mixer until soft, fluffy and aerated. Beat in the eggs, one at a time. Set aside.

Mix the flour, cocoa, baking powder, and salt together in another bowl, add the pecans and chocolate drops, mix well, and set aside.

Mix the butter, sugar, and egg mixture into the reserved sweet potato mash. Fold in the slightly cooled melted chocolate. Then stir in the dry mixture and the raisins soaked in bourbon. Add the maple candied sweet potatoes and fold in gently.

Scrape into the prepared tin and bake for around 30 minutes, until the top has set and is looking dry. A skewer should come out sticky, not clean or covered in wet batter. Leave to cool then drizzle with the melted dark and white chocolate. Cut into squares and serve (or keep until the next day when they will taste at their best).