Sweet and spicy sticky tofu
A retro favourite revisited! Sweet and sour sauce with tofu makes a mouthwatering quick and easy vegan supper.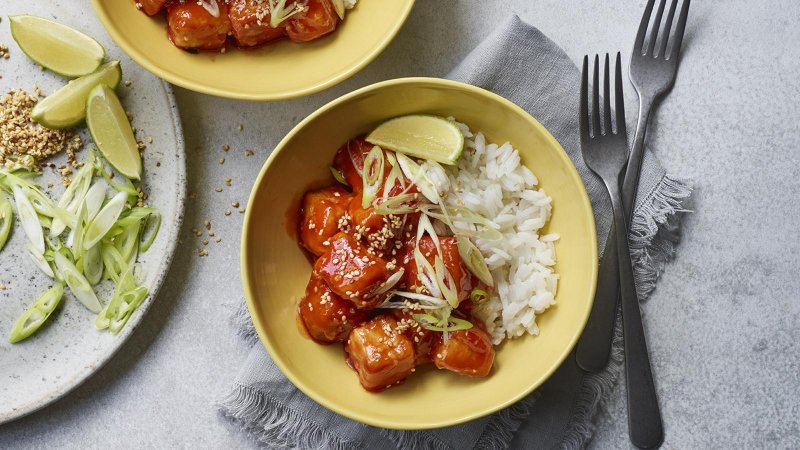 Info
PT20M
Serves

2
Prep time

less than 30 minutes
Cooking time

10 - 30 minutes
Ingredients
1 block (approximately 300g/10½oz) firm tofu, drained and pressed for 10 minutes
6 tsp cornflour
2 tbsp soy sauce
2 tbsp vegetable oil, plus extra for shallow frying
For the sweet and sour sauce
2 tsp cornflour
2 tsp vegetable oil
2 garlic cloves, finely chopped
1 tsp grated fresh root ginger, or more, to taste
½ tsp dried chilli flakes or 1 tsp sriracha chilli sauce, to taste
2 tbsp tomato purée
4 tbsp sugar
1 tbsp soy sauce
1 tbsp rice vinegar
To serve
spring onions, chopped
sesame seeds
lime wedges
cooked rice
Method
To make the sweet and sour sauce, mix the cornflour and 120ml/4fl oz water in a small bowl and set aside.

Heat the oil in a small saucepan over a medium heat. Add the garlic, ginger and chilli flakes and fry for a few seconds until fragrant. Then whisk in the remaining sauce ingredients and the cornflour mixture and bring to the boil. Cook for a minute until thickened, then remove from the heat and set aside.

Cut the tofu into 2cm/¾in cubes. Place the cornflour, soy sauce and oil in a bowl and mix well to create a batter. Add the tofu cubes and stir until coated in the batter.

Heat some oil in a frying pan over a medium–high heat. Add the tofu and cook for about 3 minutes on each side, until golden brown and crispy all over.

Add the sweet and sour sauce, stir to coat the tofu, and cook over a low–medium heat for about 1–2 minutes until hot.

Serve immediately, garnished with spring onions and sesame seeds, with lime wedges on the side, and rice.