Stuffed Roast Pork
Known as porchetta in Italy, this pork dish has become a much-loved classic in Britain and a great alternative to turkey for a festive meal. Boning, butterflying and stuffing the pork like this means that the flavours go all through the meat, especially if you leave it to marinate in the fridge for a couple of days. A crackling good dish!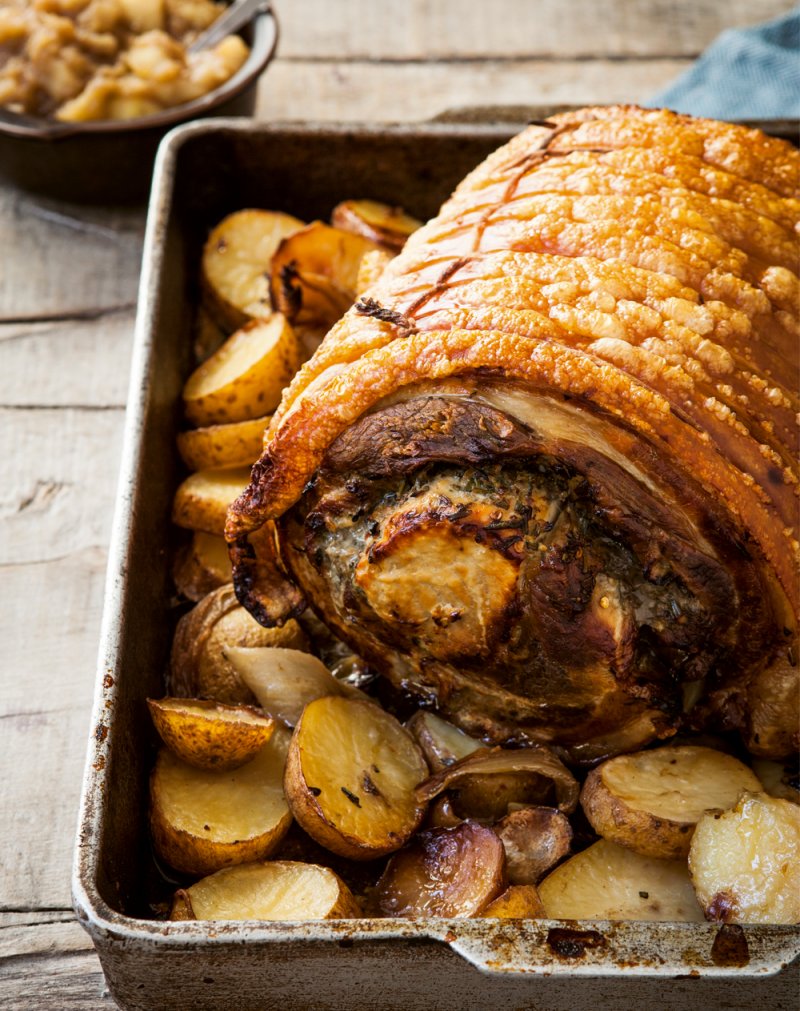 Info
Serves

6
Cooking time

Roast for 4.5 hours
Ingredients
3kg piece of boned belly pork attached to the loin, butterflied and rind scored
1.5kg potatoes, such as Maris Pipers, thickly sliced
1 onion, thickly sliced
100ml white wine or cider
100ml chicken stock or water
sea salt and black pepper
Filling
3 tbsp finely chopped rosemary
1 thyme sprig, leaves only, finely chopped
1 garlic bulb, cloves peeled and crushed
1 tbsp fennel seeds, crushed
1 tsp chilli flakes
zest of 1 lemon
50ml wine
Method
For the filling, either put all the ingredients in a small food processor and blend until well combined – the mixture doesn't have to be completely smooth – or pound with a pestle and mortar. Season with salt and pepper.

Lay the pork out, skin-side down, and rub the filling over the meat. Roll it up as tightly as you can and secure at intervals with butcher's string.

If you have time, leave the pork in the fridge, uncovered or loosely wrapped in kitchen paper, overnight – or even better, for 2 nights. This gives the flavours time to permeate the meat and allows the skin to dry out.


An hour before you are ready to start cooking the pork, remove it from the fridge so it can come up to room temperature. Preheat the oven to 150°C/Fan 130°C/Gas 2.


Arrange the potatoes and onion slices on the base of a large roasting tin and season with salt. Pour over the white wine or cider and the stock or water.

Make sure the rind of the pork is dry and season it with salt. Place the pork on top of the potatoes and onions. Cover it with foil and put in the oven. Roast for 4 hours until the pork is cooked through. Check with a meat thermometer if you have one – the internal temperature should read 68°C.

Turn the oven up to its highest setting and cook for a further half an hour to crisp up the skin. Remove from the oven and transfer the meat and potatoes to separate serving dishes. Leave the meat to rest for half an hour, uncovered, but keep the potatoes warm.