Steak Diane
This is quite a retro dish, but none the worse for that. We don't know who Diane was, but she must have been quite something to have such a luscious sauce named after her! This tastes amazing and is quick to make – a real treat for you and your loved one.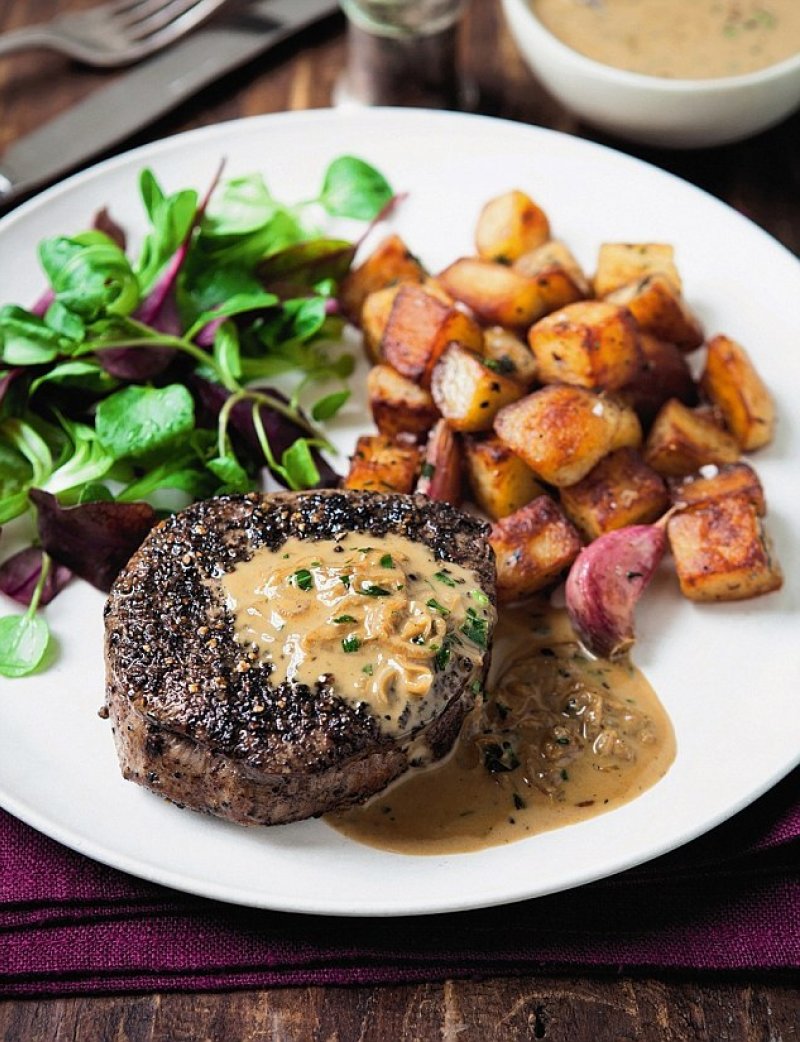 Info
PT20M
Serves

2
Prep time

20 minutes
Cooking time

Less than 10 minutes
Ingredients
2tbsp whole black peppercorns
Flaked sea salt
2 x 175g (6oz) fillet steaks
25g (1oz) butter
1tsp vegetable oil
2 shallots (or 1 long banana shallot), thinly sliced
3tbsp brandy
1tsp Worcestershire sauce
1tsp Dijon mustard
200ml (7fl oz) beef stock
3tbsp double cream
1tbsp finely chopped fresh tarragon leaves (optional)
Method
Crush the peppercorns in a pestle and mortar, then mix them with half a teaspoon of sea salt. Put the steaks on a board and season them well on both sides with the pepper and salt mixture until they're lightly but evenly crusted.

Melt the butter with the oil in a large nonstick frying pan and fry the steaks over a medium-high heat for 2-2½ minutes on each side for rare meat. Cook for 1-2 minutes longer on each side if you prefer your steaks medium rare and up to 3 minutes longer for medium, depending on thickness. Remove the steaks from the pan and set them aside to rest while you make the sauce.

Add the shallots to the frying pan and cook for 2-3 minutes, stirring, until they're softened and lightly browned. Pour the brandy into the pan and let it sizzle for a few seconds.

With great care, light a match and carefully ignite the brandy, standing well back from the flame in the pan. (If you prefer not to do this, let the brandy simmer for 15 seconds more in the pan before adding the other ingredients.) When the flames have disappeared, add the Worcestershire sauce and mustard to the pan, stirring continuously.

Pour in the stock and bring to the boil, then cook for 1-2 minutes, or until the liquid has reduced by nearly half, stirring regularly.

Stir in the double cream and bring the sauce back to a simmer, stirring. Add any juices from the resting steaks, then continue to simmer and stir until the sauce is thick enough to lightly coat the back of your spoon. Season to taste and stir in the tarragon, if using. Serve the steaks with the sauce, some sautéed potatoes and a green salad. What could be better?