Spicy bean and vegetable stew
Big flavours for a big pie, this hotpot pie has a topping of sliced potatoes over a scrumptious array of vegetables, beans and spices; a feast for all – vegetarian or not.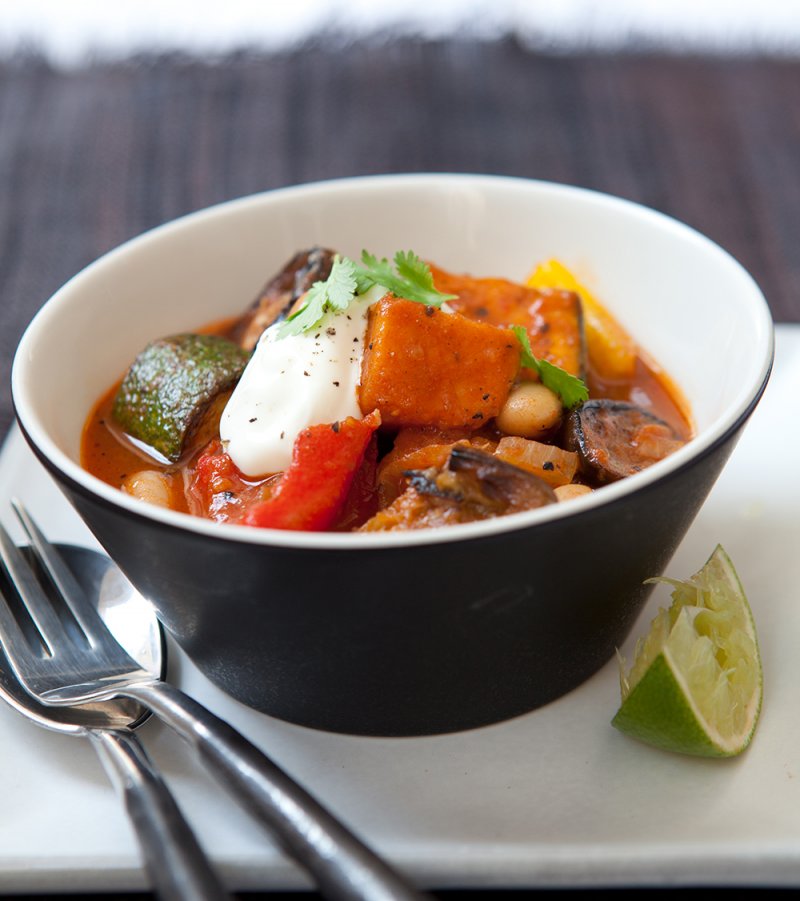 Info
PT45M
Serves

5
Prep time

15 minutes
Cooking time

25 minutes
Calories

299 per serving
Ingredients
1 tbsp olive oil
1 small aubergine (about 250g), cut into 3cm dice
2 medium onions, halved and finely sliced
1 yellow pepper, deseeded and cut into 3cm dice
1 red pepper, deseeded and cut into 3cm dice
1 medium sweet potato (300g), peeled and cut into 2cm dice
1 tsp ground coriander
½–1 tsp hot chilli powder
½ tsp smoked paprika (hot)
400g can of chopped tomatoes
400g can of cannellini beans, rinsed and drained
600ml cold water
1 large courgette, halved lengthways and cut into 1.5cm slices
2 tsp cornflour
2 tsp cold water
freshly squeezed juice of ½ lime
4 tbsp half-fat crème fraiche
flaked sea salt
fresh coriander leaves, to garnish (optional)
lime wedges, for squeezing
Method
Heat the oil in a large, deep non-stick frying pan, saucepan or sauté pan. Stir-fry the aubergine over a high heat for 3 minutes until nicely browned. Add the onions to the pan and cook for 2 minutes, stirring often. Scatter the peppers and sweet potato into the pan and stir-fry with the aubergine and onions for another 4 minutes. Sprinkle over the spices and cook for 1 minute, stirring constantly.

Add the chopped tomatoes and beans and stir in the 600ml of water. Season with a good pinch of salt, bring to a simmer and cook for 10 minutes, stirring occasionally. Add the courgette, return to a simmer and cook for a further 10 minutes, stirring regularly.

Mix the cornflour with the 2 teaspoons of water to make a thin paste and stir this into the bean mixture. Cook for 5 minutes or until the sweet potato is just tender and the sauce is thick. Stir regularly, especially towards the end of the cooking time to prevent the sauce sticking. If it does start to stick, add a splash of water.

Remove the pan from the heat, stir in the lime juice and serve the stew topped with half-fat crème fraiche and scattered with fresh coriander leaves if you like. Add lime wedges for squeezing.