Smoky macaroni cheese
The Hairy Bikers give their macaroni cheese a smoky twist with chipotle paste and smoked cheddar.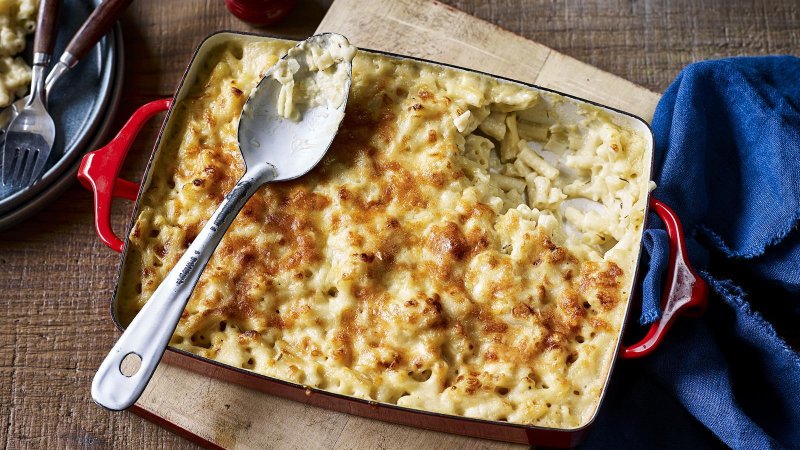 Info
PT61M
Serves

6 - 8 people
Prep time

less than 30 minutes
Cooking time

30 mins to 1 hour
Ingredients
For the infused milk
750ml/1¼ pint milk
1 bay leaf
½ onion
3 cloves
1 tsp allspice berries
For the pasta
500g/1lb 2oz macaroni
salt
For the sauce
75g/2¾oz butter
1 onion, finely diced
2 garlic cloves, crushed
1 tsp dried thyme
75g/2¾oz plain flour
100ml/3½fl oz white wine
250ml/9fl oz chicken or ham hock stock
1 tbsp chipotle paste
200g/7oz smoked cheddar, grated
200g/7oz mature cheddar, grated
Method
For the infused milk, pour the milk into a saucepan and add the bay leaf, onion, cloves and allspice. Bring almost to the boil then remove from the heat and leave to infuse and cool.

Bring a large saucepan of salted water to the boil. Add the macaroni and cook for 6–7 minutes, or until just shy of al dente. Drain.

Meanwhile, make the sauce. Heat the butter in a large saucepan. Add the onion and cook until soft and translucent. Turn up the heat and let the onion brown a little. Add the garlic and thyme and cook for a further 2 minutes. Stir in the flour until you have a roux (it will be lumpy because of the onion). Pour in the wine. Stir to form a thick paste and gradually add the milk, stirring between each addition, until it is all incorporated and there is a smooth béchamel sauce. Pour in the chicken stock and stir in the chipotle paste.

Preheat the oven to 220C/200C Fan/Gas 7.

Mix the smoked and mature cheddars together in a small bowl and add two thirds of the cheese to the sauce. Stir until the cheese is melted into the sauce and then add the macaroni. Stir to combine and transfer to a large baking dish. Sprinkle with the remaining cheese and bake for 30–35 minutes, until piping hot, browned and bubbling. Serve in warmed bowls.