Slow-roast shoulder of Lamb
Don't be alarmed by the cooking time. There's actually very little work to do here and once the lamb is in the oven you can just leave it to look after itself while you relax. After all those hours in the oven the lamb will be very relaxed too – meltingly soft, tender meat. Fabulous.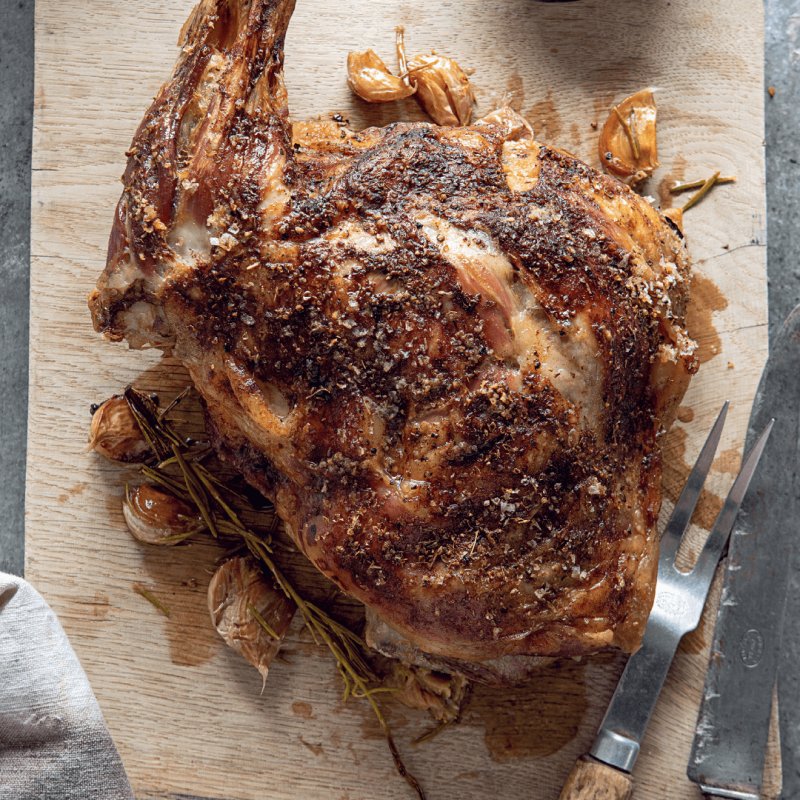 Ingredients
1 x 1.5–2kg lamb shoulder, on the bone
1 tbsp olive oil
1 tsp dried oregano
ó tsp cinnamon
2 red onions, sliced into wedges
1 lemon, sliced
1 garlic bulb, separated into unpeeled cloves
3 or 4 rosemary sprigs
2 oregano sprigs
3 bay leaves
250ml white wine
2 tbsp capers
2 tbsp chopped green olives
up to 1 tsp honey (optional)
sea salt and black pepper
To serve (optional)
roast new potatoes with garlic and rosemary (see p.270) of Everyday Winners
Method
Preheat the oven to 220°C/Fan 200°C/Gas 7.

Rub the skin of the lamb shoulder with olive oil. Sprinkle over the oregano and cinnamon and season with plenty of salt and pepper.

Spread the onions, lemon, garlic and herbs over the base of a large roasting tin, placing the garlic in the centre to make sure it is covered by the lamb. Put the lamb shoulder on top. Pour the white wine and 100ml of water around the meat.

Roast for 20 minutes to give the lamb a chance to develop a crust, then turn the heat down to 150°C/Fan 130°C/Gas 2. Roast for 21/2–4 hours, depending on the size of your joint. Start checking after 21/2 hours – when the lamb is ready the bone will feel loose and the meat will be very soft and tender.

Remove the tin from the oven and place the lamb on a warmed serving platter. Cover with foil. Strain the contents of the roasting dish and add the onions and lemon slices to the platter. Push everything else – including the garlic – through a sieve, then cool until the fat settles on top – this won't take long. Transfer the strained juices to a saucepan and place over a medium heat to warm through. Taste for seasoning and add salt and pepper. Stir in the capers and olives and add the honey if the sauce is too astringent. Serve the lamb with the sauce at the table and some roasted new potatoes.