Slow-roast pork with root vegetables
British pork is a national treasure and we think we breed some of the best pigs in the world in this country. Pork shoulder is ideal for slow-roasting, as the fat content keeps the meat moist. We cook it until the meat is falling off the bone - no need to carve this joint! One of the nicest of all Sunday dinners.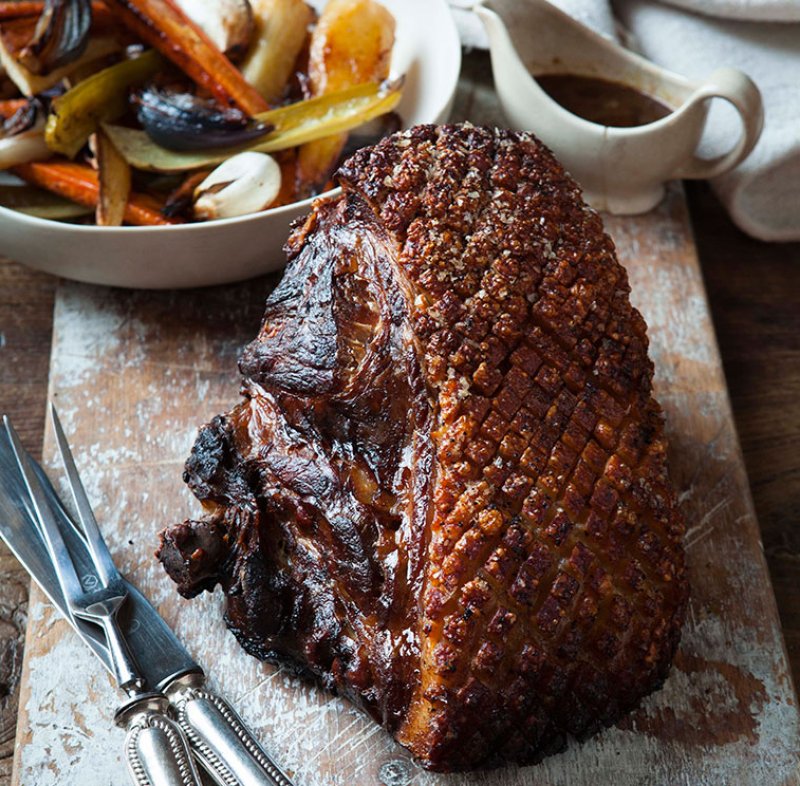 Info
PT2H
Serves

4
Cooking time

Over 4 hours
Ingredients
2kg pork shoulder (bone in), in one piece with scored skin
1 tbsp vegetable oil
2 red onions, cut into wedges
3 carrots, peeled and cut in half lengthways
3 parsnips, peeled, and cut into thick batons
2 celery sticks, cut into lengths
1/2 head of garlic cloves, left unpeeled
a few sprigs of thyme
1 tbsp plain flour
200ml white wine or vermouth
400ml chicken stock
flaked sea salt
fresh ground black pepper
Method
Preheat the oven to 220°C/Fan 200°C/Gas 7.

Rub the pork with the vegetable oil and sprinkle it with salt. Place it in a large roasting tin and roast in the preheated oven for half an hour. Turn the oven down to 160°C/Fan 140°C/Gas 3, cover the tin and the pork with foil, then roast for another 4 ½ hours.

Take the tin out of the oven and set the pork aside on a board. Drain off most of the fat in the bottom of the roasting tin, leaving about 2-3 tablespoons. Add all the vegetables, then stir to coat them with the juices in the pan. Make sure the celery and onion are placed quite centrally as these work best under the pork. Tuck in the garlic and thyme, then put the pork back on top. Put the pork back in the oven for another hour, this time uncovered. By this time the vegetables should be lovely and tender.

Take the tin out of the oven and transfer the pork and the vegetables to serving platters. Cover the pork with foil and leave it to rest. Keep the vegetables warm.

Put the roasting tin over a low heat. Sprinkle over the flour, then stir well to scrape up any caramelised bits on the bottom of the tin. Pour in the white wine or vermouth, stirring constantly, and allow it to reduce, then add the chicken stock. Simmer until you have a fairly thin but rich gravy, then taste for seasoning and add salt and pepper if needed. Pour the gravy into a warm jug and serve it with the pork and vegetables.