Skinny samosas with mango salsa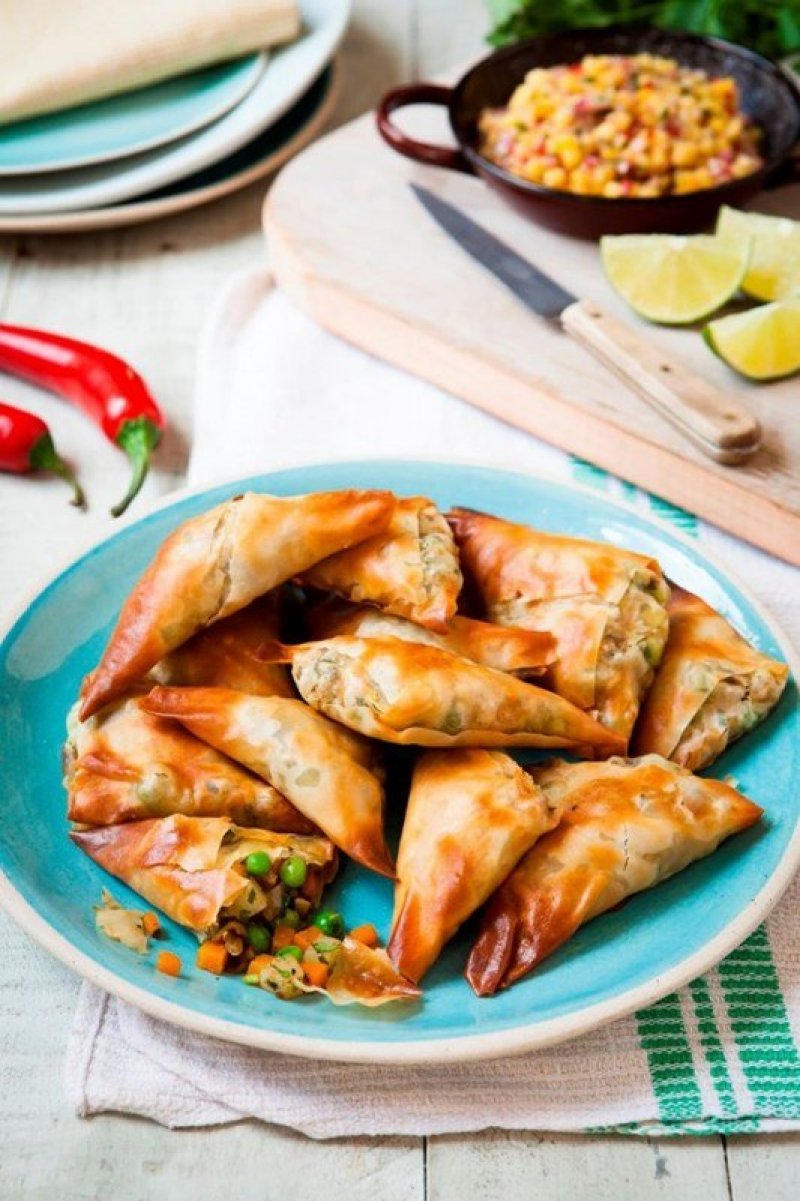 Info
PT20M
Serves

12
Prep time

5 minutes
Cooking time

10 - 15 minutes or until golden
Calories

127 per serving
Ingredients
For the samosas
For the filling
½ a potato, peeled and diced
½ carrot, peeled and diced
½ onion finely chopped
55 g frozen peas
1 tsp cumin
1 tsp ground cumin
2 cloves of garlic (chopped)
2 tsp curry powder
1 tbsp chopped fresh coriander
Salt to season
For the mango salsa
1 mango, peeled and finely diced
¼ red onion, finely chopped
½ red chilli, seeds removed, finely chopped
Juice of 1 lime
1 tsp olive oil
Chopped coriander
Salt and pepper
Method
To make the filling, cook the diced potato and carrot in a saucepan of boiling water for 5 minutes. Add the peas and cook for a further minute. Drain.


Fry the garlic, onion and spices in 1 tsp olive oil in a frying pan, add the potato, carrot and peas coriander and salt and mash the mixture together slightly.


Preheat the oven to 200°C (400°F, gas mark 6). Taking one sheet of filo pastry at a time (keeping the other covered to stop it from drying out), cut it lengthways into 6 strips. Brush them with a little of the oil.


Lay one of the pastry strips lengthways in front of you and put a rounded tbsp of the filling in the middle of the end nearest to you. Pick up one end corner and fold it diagonally over the filling to make a triangular shape, flattening the filling slightly. Continue folding the strip over in a triangular shape until you come almost to the end. Trim off excess pastry from the end. Repeat with the remaining filo pastry and filling to make 12 triangles in all.

Place the filo triangles on a non-stick baking sheet, brush the tops with the remaining oil. Bake for 10–15 minutes or until golden.

Now on to the mango salsa (38 calories per serving). Mix all the ingredients together in a bowl, season to taste and divide into ramekins for dipping!