Shashlik kebab with sour cream dip and plum sauce
Shashlik is a Russian version of shish kebab. If you don't like pork use lamb or beef - give the meat enough time to marinate and cook it quickly over a high heat.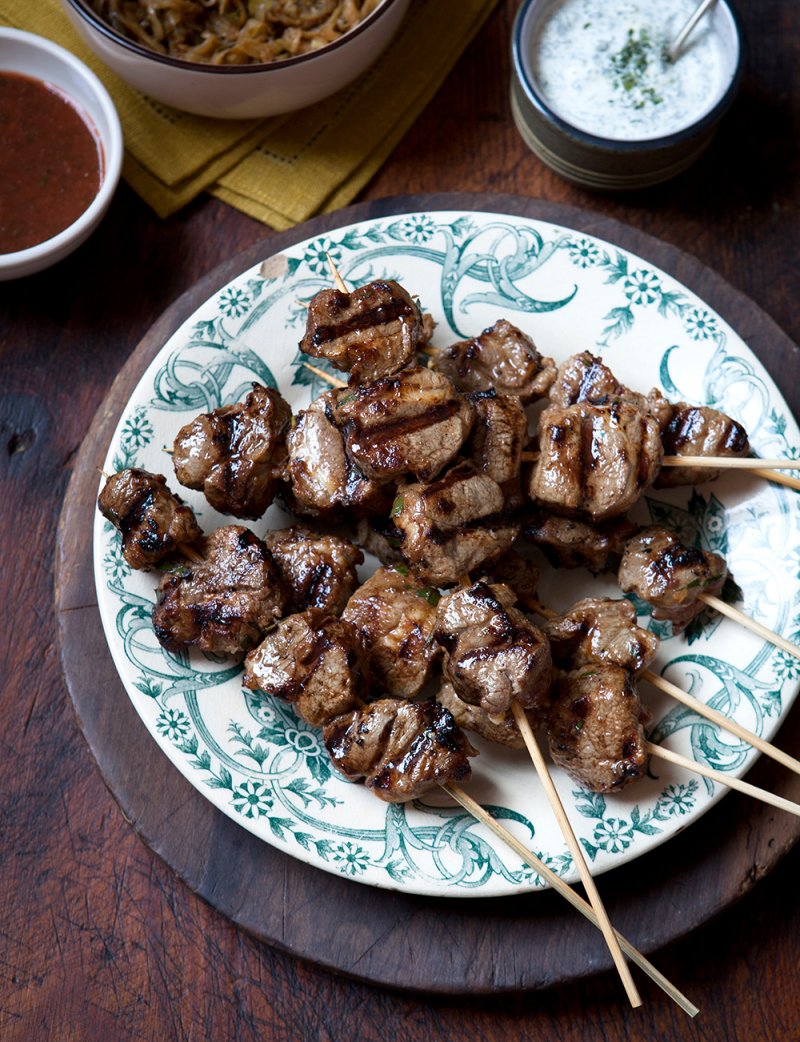 Info
PT2H
Serves

4 - 6
Prep time

over 2 hours
Cooking time

10 - 30 minutes
Ingredients
For the kebabs
1 tbsp olive or vegetable oil
100ml/3½fl oz white wine
1 tbsp cider vinegar
1 onion, sliced
4 large garlic cloves, crushed
3 bay leaves, crumbled
1 tsp paprika
4 cloves
¼ tsp cinnamon
1kg/2lb 4oz pork, cubed
For the sour cream dip
200g/7oz sour cream
handful finely chopped dill
handful finely chopped coriander
handful finely chopped parsley
1 tsp cider vinegar
pinch sugar
For the plum sauce
300g/10½oz ripe plums, stoned and diced
1 tbsp sugar
1 tsp cider vinegar
1 red chilli, seeds removed, chopped or 1 tsp ground chilli
2 tbsp finely chopped coriander
2 tbsp finely chopped dill
salt and freshly ground black pepper
Method
Mix all the marinade ingredients together in a large bowl and add the pork. Make sure the pork is well covered, cover with clingfilm and transfer to the fridge. Leave to marinate for at least 3-4 hours or overnight.


Thread the meat onto 6 long metal skewers. Cook on a barbecue or very hot griddle pan for 5-6 minutes until cooked through.

For the sour cream dip, mix all of the ingredients together in a bowl.

For the plum sauce, cover the plums with water and simmer until the plums are soft. Strain, reserving 75ml/3fl oz of the cooking water,. Put the plums, reserved liquid, sugar, cider vinegar and chilli in a blender. Blend to form a smooth purée.

Sieve the plums, season with salt and pepper. Add more vinegar if needed. Stir in the dill and coriander.

Serve the kebabs alongside the two dips with a salad and flatbreads on the side.