Scotch Egg
We cooked these in Manchester as our answer to the famous Manchester egg. We had the idea to do this when in bars in Scotland, drinkers would take a pickled egg, mash it into a bag of cheese and onion crisps and wash this mess down with a pint… terrible as it sounds we have turned it into culinary keeper.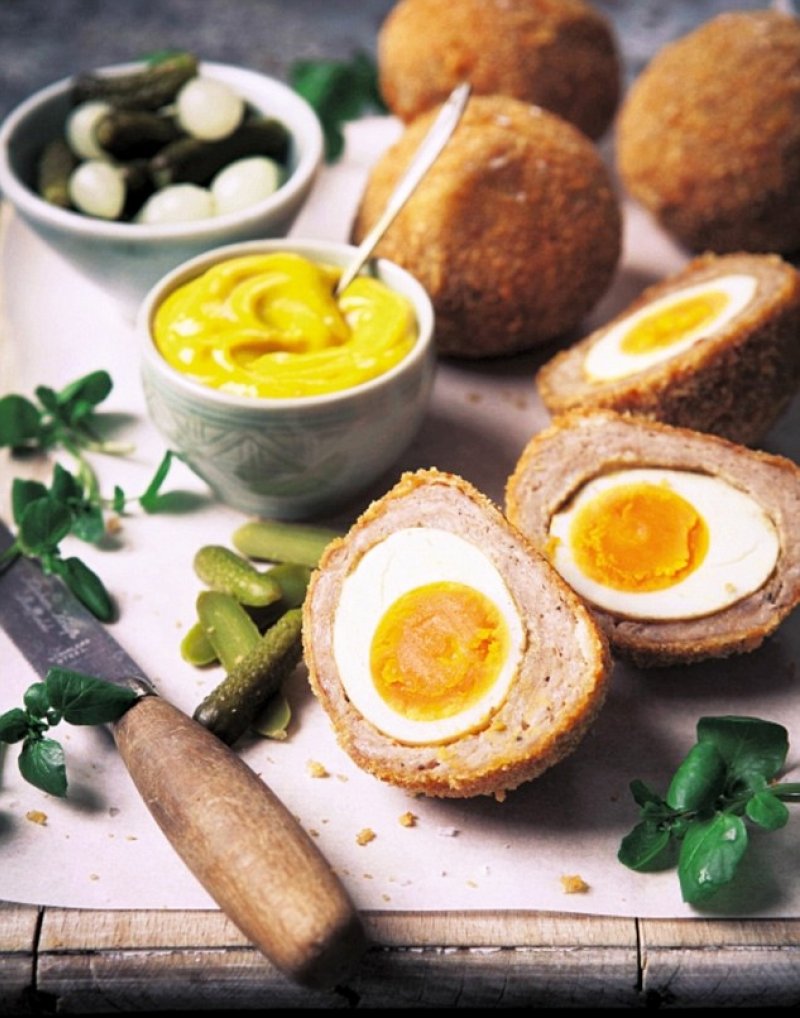 Info
PT20M
Serves

6 Scotch Eggs
Prep time

Less than 30 minutes
Cooking time

10 - 30 minutes
Ingredients
6 pickled eggs
2 tbsp celery salt
60g/2oz plain flour, seasoned with salt and pepper
600g/1lb 5oz Cumberland sausages, sausagemeat removed from the skins
100g/3½oz Japanese panko breadcrumbs
1 x 30g packet cheese and onion crisps, crushed
2 free-range eggs, beaten
vegetable oil, for deep-frying
Method
Take a pickled egg and roll it in celery salt, then seasoned flour.

Divide the sausage meat into six portions. Roll each portion into a patty big enough to wrap around an egg. Wrap the sausage meat around the eggs and roll into a ball shape.

Mix the breadcrumbs with the crisps. Dust the sausage-coated egg in flour, dip in beaten egg and then roll in the breadcrumb mixture.

Heat the oil in a deep-fat fryer or a deep-sided, heavy-bottomed pan to 160C, or until a breadcrumb sizzles and turns golden-brown when dropped into it. (CAUTION: hot oil can be dangerous. Do not over-fill the pan or leave unattended).

Fry the eggs for about 8-10 minutes until golden-brown. Alternatively, shallow fry, turning occasionally, until cooked through.