Savoury mince pies
We both remember eating little pies like these as kids – very plain but tasty, with nice flaky pastry. They make an ideal family supper.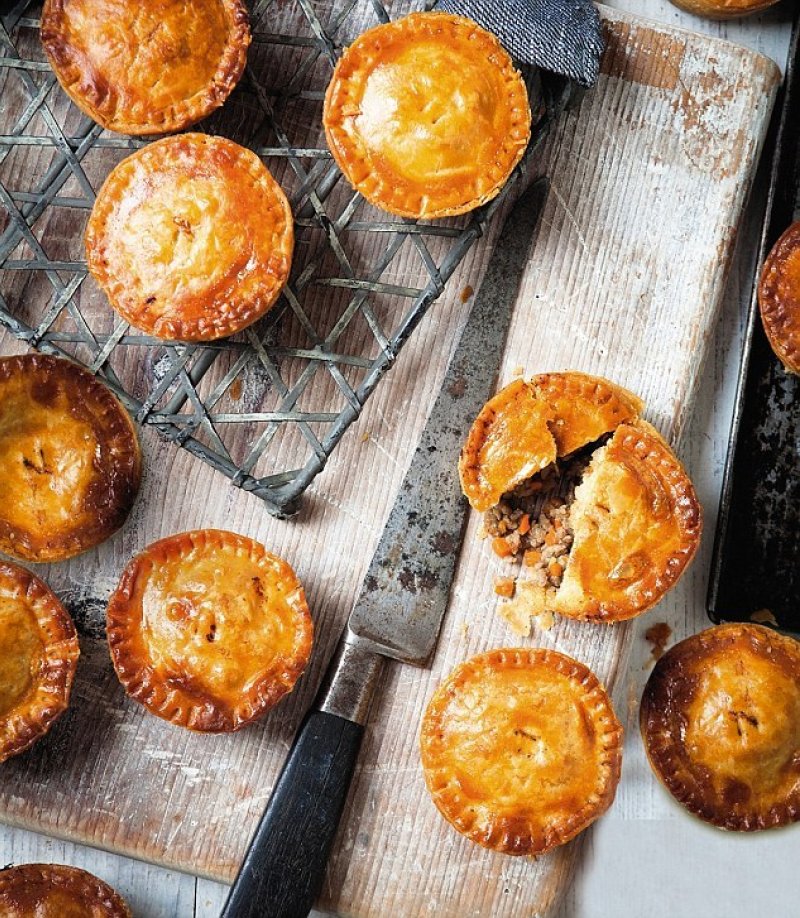 Ingredients
1tbsp vegetable oil
1 onion, finely chopped
1 carrot, finely diced
300g (10½oz) minced beef
1tbsp flour
250ml (9fl oz) beef stock
1tbsp tomato purée or ketchup
A dash of Worcestershire sauce
1 egg, beaten, for glazing
Flaked sea salt
Freshly ground black pepper
For the pastry
250g (9oz) plain flour
A pinch of salt
100g (3½oz) cold butter, diced
50g (1¾oz) cold lard or vegetable shortening, diced
1 egg, beaten
Method
To make the pastry, put the flour in a bowl and season with a pinch of salt. Rub in the butter and lard or vegetable shortening with your fingers, then add the egg. Cut this in with a knife, then add just enough chilled water to make a dough – about 2tbsp. Lightly knead until it comes together into a dough, then shape into a ball and wrap in clingfilm. Chill for half an hour while you make the filling.

Fry the onion and carrot in the oil on a gentle heat until soft and starting to brown. Turn up the heat and add the beef. Brown the meat, then sprinkle in the flour and stir to mix it in.

Add the beef stock, tomato purée or ketchup and Worcestershire sauce and season. Simmer, stirring regularly, until the gravy has thickened. Remove the pan from the heat and leave to cool. Preheat the oven to 200°C/fan 180°C/gas 6.

Divide the pastry into 2 pieces, one slightly larger than the other. Roll out the larger piece on a floured surface, and cut out 12 circles about 9cm (3½in) in diameter. Use these to line a 12-hole fairy cake tin. Press the pastry circles down gently to make sure they fit the holes.

Add a heaped dessertspoon of filling to each pie case, leaving room for it to expand slightly. Roll out the other piece of pastry and cut out slightly smaller rounds. Brush the border of the filled pastry with water, then press the top piece on, creating a slight dome. Press the edges together and crimp if you like. Cut 2 small slits in the top of each pie and brush with beaten egg. Bake for 20-25 minutes, until crisp, golden and slightly risen.