Sausage picnic pie
This is the perfect pie to take along for a picnic tea or to grace a high tea table. Pork and apple are always a happy combo and the apple mixture acts as a sort of instant chutney, adding a nice tang to contrast with the rich sausage meat.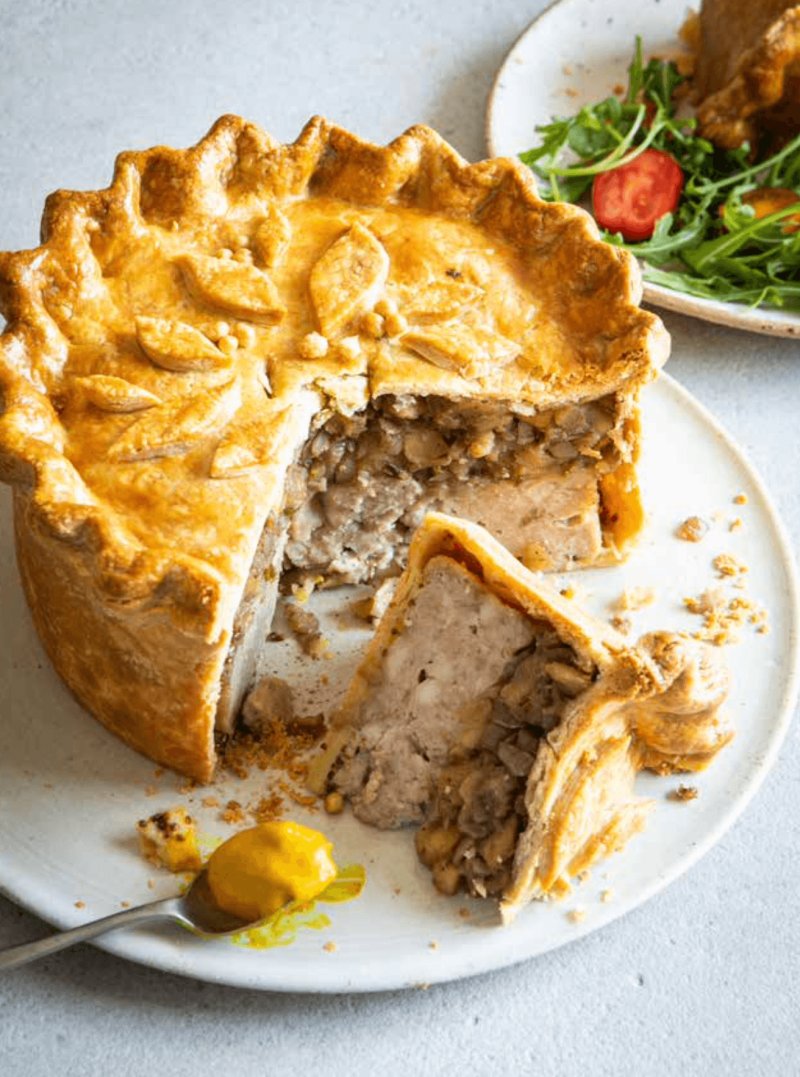 Info
PT45M
Serves

4 - 6 people
Prep time

less than 15 minutes
Cooking time

around 50 minutes
Ingredients
For the pastry
300g plain flour, plus extra for dusting
1⁄2 tsp baking powder
pinch of salt
75g butter, chilled and diced 75g suet or lard, chilled
1 egg, beaten
ice-cold water
For the filing
1 tbsp olive oil
1 onion, finely chopped leaves from 1 thyme sprig 5 or 6 sage leaves, finely
chopped
2 eating apples, peeled, cored
and diced
50ml cider or apple juice
or water
1 tbsp cider vinegar
1 tbsp demerara sugar
1⁄2 tsp ground allspice
1 tbsp wholegrain mustard 600g sausage meat
1 egg, beaten
Method
First, make the pastry. Put the flour and baking powder in a bowl and add a generous pinch of salt. Add the butter and the suet or lard and rub them into the flour until the mixture resembles fine breadcrumbs. Add the egg and just enough cold water to make a firm dough.

Dust your work surface with flour. Take three-quarters of the pastry and roll it out to fit a round, deep 16cm tin. Don't worry if the pastry breaks or cracks when you fit it in – simply press it well into the corners and make repairs with any trimmings. Add any unused trimmings to the pastry reserved for the lid. Chill the pastry in the fridge until you are ready to bake.

Heat the olive oil in a frying pan and add the onion. Fry over a low to medium heat until the onion is translucent but still has a little bite to it. Stir in the thyme, sage, and apples and continue to cook for another 3 or 4 minutes. Add the cider, apple juice, or water, together with the cider vinegar, sugar, and allspice. Stir to combine and then bring the mixture to the boil. Simmer until most of the liquid has evaporated and the texture is verging on jammy.

Preheat the oven to 180°C/Fan 160°C/Gas 4.

To assemble, spread the pastry base with the mustard. Top with the sausage meat, pressing it down to compact it, then spread the apple mixture on top. Roll out the remaining pastry and use it to make a lid. Brush the edges with beaten egg and crimp them together. Brush the top of the pie with egg and cut a couple of vents in the centre to release steam.

Place the tin on a baking tray and bake for about 45 minutes until the crust is golden brown and the filling is piping hot. Good hot or cold.