Sardinian Minestrone
The centenarians in Sardinia make their minestrone with loads of lard, but we think this is a nicer version. Minestrone is a much-loved soup all over Italy and it is so good served with this pesto-style dressing. In Sardinia they often use a kind of pasta called fregola in their minestrone, but you could also use broken-up spaghetti or any small pasta if you prefer. If you do have a bit of Parmesan rind in the fridge, sling it into the pot. Even if it looks dry, it'll add flavour.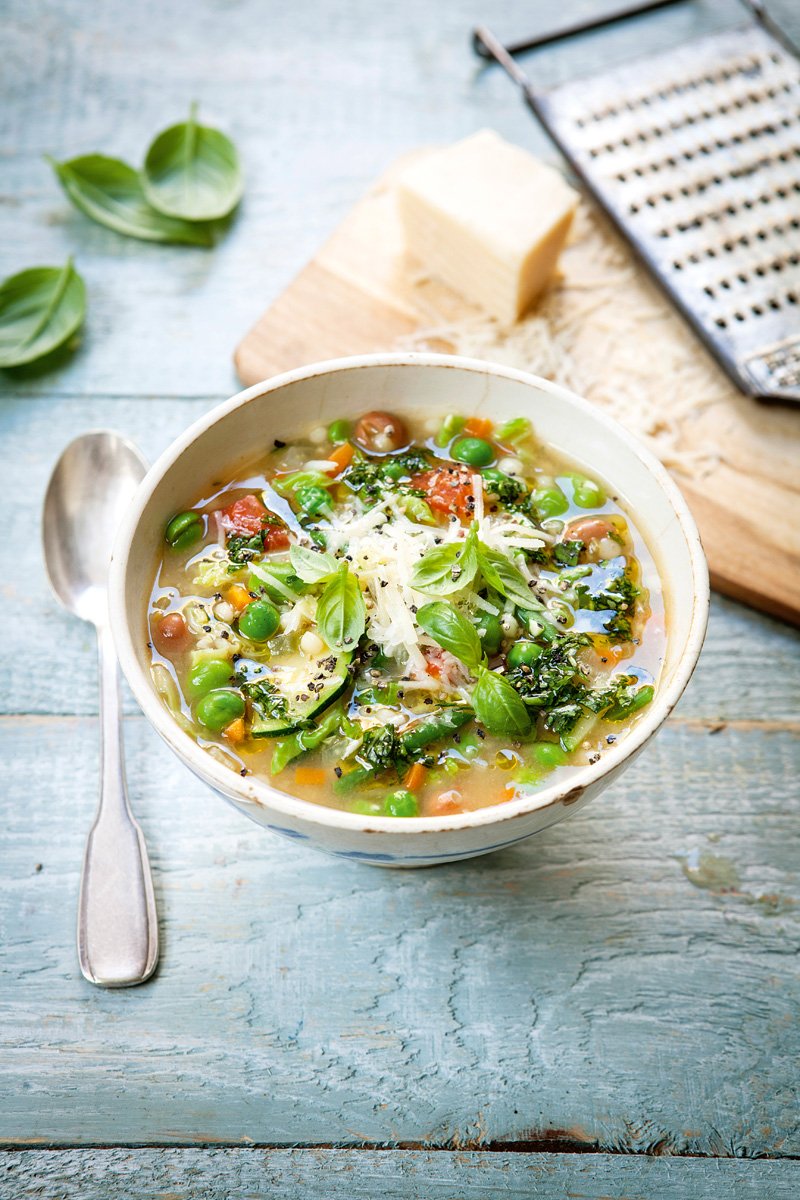 Ingredients
2 tbsp olive oil
1 onion, finely chopped
1 carrot, finely diced
1 celery stick, finely diced
1 fennel bulb, diced
2 garlic cloves, finely chopped
150g fregola or pasta
400g can of borlotti beans, drained
800ml vegetable or chicken stock or water
2 bay leaves
1 sprig of thyme
1 sprig of rosemary
1 piece of Parmesan cheese rind (optional)
300g broad beans, podded
2 tomatoes, peeled and chopped
½ small green cabbage
150g green beans, trimmed and halved
2 courgettes, thinly sliced into rounds
100g peas (podded weight, or frozen are fine)
squeeze of lemon (optional)
salt and black pepper
Dressing
small bunch of basil
few sprigs of parsley
50ml olive oil
25g Parmesan, grated
Method
Heat the oil in a large saucepan. Add the onion, carrot, celery and fennel and cook them gently until softened and starting to colour – this will take 10–15 minutes. Add the garlic and cook for another minute or two, then stir in the fregola and borlotti beans.

Pour over the stock or water and add the herbs and Parmesan rind, if using. Season well with salt and pepper. Bring the soup to the boil, then turn the heat down slightly until it is somewhere between a simmer and a boil and cook for 15 minutes.

Meanwhile, add the broad beans to a small pan of boiling water and blanch them for a minute, then drain. Rinse them in cold water then peel off the skins and set aside.

Add the tomatoes to the soup and cook for another 5 minutes, then add the cabbage, green beans, courgettes and blanched and skinned broad beans. Cover the pan and simmer for a further 5 minutes or until the green vegetables are tender, then add the peas and simmer for another minute or so. Check the seasoning and add more salt and pepper and a squeeze of lemon if you like.


To make the dressing, finely chop the herbs and mix them with the oil – alternatively blitz them together in a blender. Serve the soup with the basil sauce and some grated Parmesan to sprinkle over at the table.