Ribbon beef tartare
Buy top-notch beef for this spicy Korean-style beef tartare served with sliced pear and the garnish of a raw quails' egg. Trust us on this one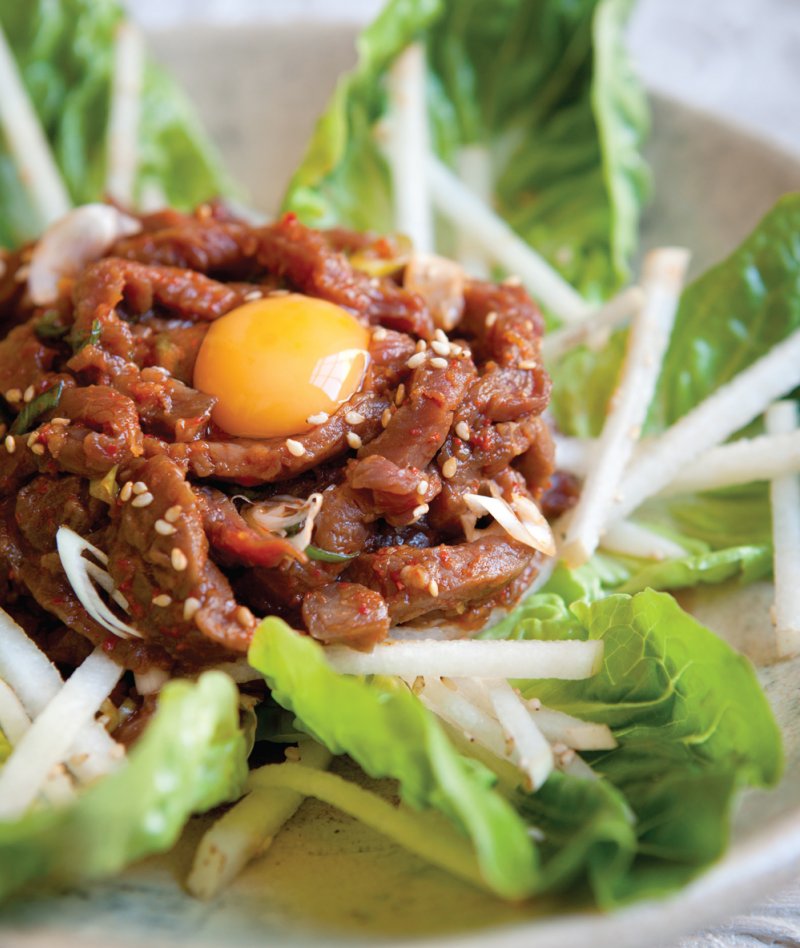 Ingredients
500g beef fillet
4 garlic cloves
15g fresh root ginger
4 slices of onion
4 spring onions
4 tbsp soy sauce
1 1⁄2 tbsp sesame oil
2 tsp sugar
1 Asian (nashi) pear
2 baby gem lettuces
4 quail eggs
Method
Trim away any sinew from the beef, then slice the meat thinly. Pile up a few slices at a time and cut them into super-thin strips. Place the strips in a large mixing bowl.

Crush the garlic, peel and crush the ginger and crush the onion slices through a garlic press into a bowl. Alternatively, put the garlic, ginger and onion in a pestle and mortar and pound them together, then tip everything into a bowl. Finely chop the spring onion and add it to the bowl, then add the soy sauce, sesame oil, chilli powder and sugar and mix well. Add the thin strips of beef to the bowl and stir with a spoon so that all the beef is thoroughly coated with flavour.

Slice the pear into matchstick strips. Remove the leaves from the lettuces and wash and dry them well, then divide the leaves between 4 serving plates. Place some strips of pear on each leaf, then a portion of beef.

Crack the quail eggs, carefully separating the yolks and whites. Make a well in each portion of beef mixture with the back of a teaspoon and add a quail egg yolk. Sprinkle with sesame seeds and serve at once.