Red onion and beetroot tarte tatin
Who says a tarte tatin is just for pudding? With their rich sweet flavours, beets and red onions make good partners and they're lovely in a buttery tarte tatin – or upside down tart if you prefer. We use those packs of cooked beetroot which makes this little treat very easy to prepare.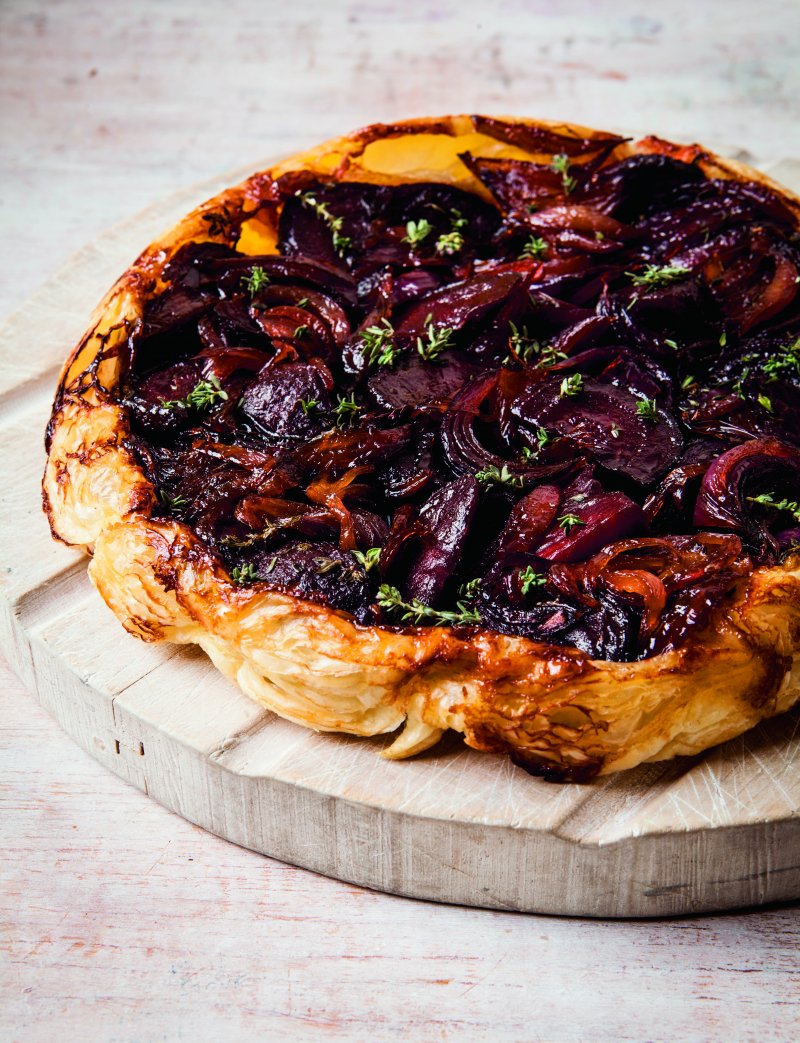 Info
PT45M
Serves

4 people
Prep time

around 15 minutes
Cooking time

around 45 minutes
Ingredients
1 x 320g all-butter puff pastry sheet
30g butter
2 red onions, sliced into thin wedges
1 tbsp light soft brown sugar
1 tbsp sherry vinegar
large thyme sprig, leaves only
400g cooked beetroots, cut into wedges (vac-packed are fine)
salt and black pepper
To serve
thyme leaves
a few slices of goats' cheese (optional)
Method
Preheat the oven to 200°C/Fan 180°C/Gas 6. Take the sheet of pastry and cut it to fit an ovenproof or cast-iron frying pan with a diameter of about 20cm.

The pastry should be the size of the edges, rather than the base, and larger rather than smaller. Chill the pastry until you are ready to cook the tarte tatin.

Heat the butter in the pan. When it has melted, add the red onions and cook over a medium to low heat until they have started to soften. Turn up the heat a little and add the sugar and vinegar. Stir to dissolve the sugar – a caramel-like sauce will form around the onions.

Sprinkle in the thyme, then add the wedges of beetroot. Season with plenty of salt and pepper, then stir to coat the beetroots with the buttery sauce. Make sure the beetroots are spread evenly across the pan in a single layer, then turn off the heat. Leave to cool to room temperature.

Cover the onions and beetroots with the pastry, tucking in the edges if it is a little big. Bake for 20–25 minutes until the pastry is puffed up. Remove the tart from the oven and leave to stand for 10 minutes, then invert it on to a large plate. Sprinkle with more thyme leaves, cut into wedges, and add a slice of cheese to each slice, if using.