Pork with wide noodles
The meat in this dish is 'velveted' which means it is marinated in a mixture that tenderises it naturally. The same method can be used with all meats. Ho fun are wide and flat - a bit like a Chinese version of pappardelle. They work perfectly for this but ordinary egg noodles are fine too.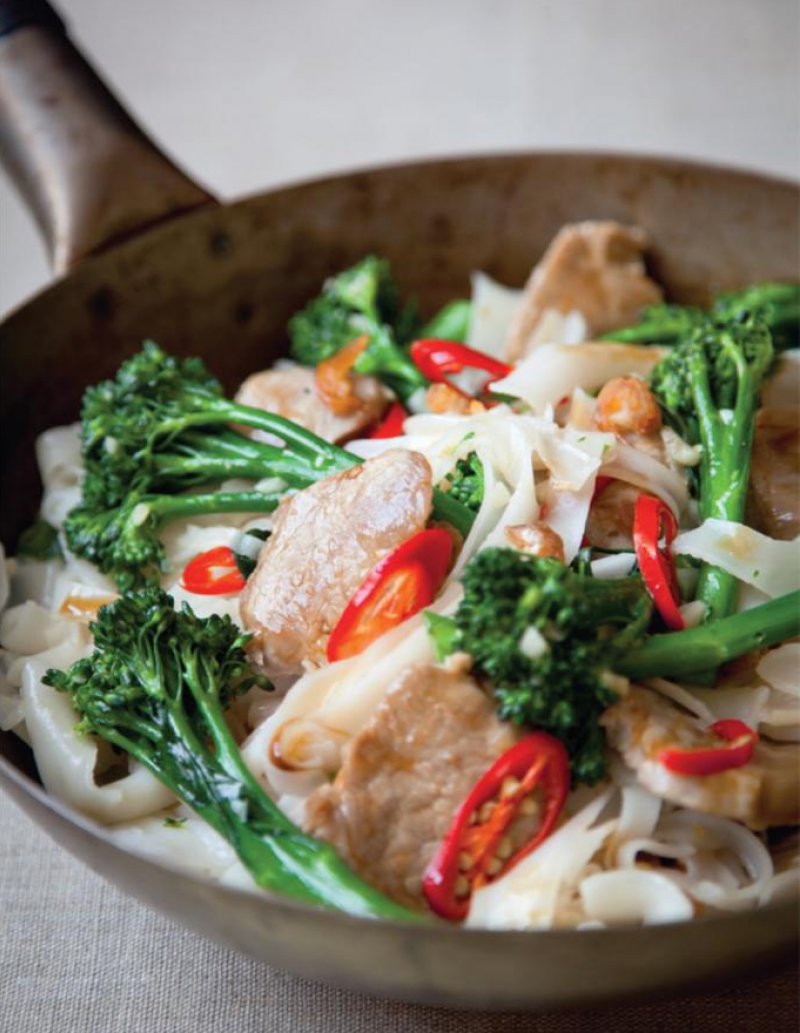 Ingredients
1 egg white
2 tbsp cornflour
2 tbsp soy sauce
450g pork tenderloin, cut into slices 1cm thick
250g tenderstem broccoli, thick stalks split lengthways
2 tbsp groundnut oil
6 garlic cloves, finely chopped
2 red chillies, deseeded and finely sliced at an angle
4 spring onions, trimmed and sliced into 2cm pieces
2 tbsp dried shrimps
500g ho fun noodles
2 tbsp oyster sauce
Method
Place the egg white, cornflour and soy sauce in a bowl. Use a small whisk or a fork to mix all the ingredients together until well combined. Tip the sliced meat into the mixture and stir it around so that all the pieces of meat are well coated. Leave the meat to marinate for at least 2 hours, but preferably 3–4 hours.

Bring a large pan of water to the boil. Add the broccoli, bring the water back to the boil and boil for 1 minute before removing it with a slotted spoon. Refresh the broccoli immediately under cold water.

Keep the water boiling while you carefully remove the egg white mixture from the pork pieces. You don't have to be too meticulous about this – just try to remove as much as you can without going mad. Drop the meat into the boiling water and cook for 1 minute before tipping it into a colander. Leave the meat to one side while you prepare the rest of the dish.

Now blanch the noodles by plunging them into a saucepan of boiling water. Leave for them 45 seconds to a minute only, then drain and set aside. Don't overcook the noodles or they will be sticky and gloopy.

Heat the groundnut oil in a wok or large pan over a high heat. Once it's hot, add the garlic, chillies, spring onions and dried shrimps. Stir-fry for a couple of minutes before adding the blanched pork and broccoli, then continue to stir-fry for a further minute. Add the blanched noodles to the pan, carefully separating them with your fingers, and add the soy sauce and oyster sauce.

Stir-fry everything together for a minute or so before serving.