Pork and prawn dim sum
These little parcels of deliciousness are becoming more and more popular in the UK and now you can make them in the comfort of your own home thanks to the Hairy Bikers. Tender pork mince and soft prawns work wonders together to make a delicious, flavour-packed filling. These little dumplings will make a great starter or party food.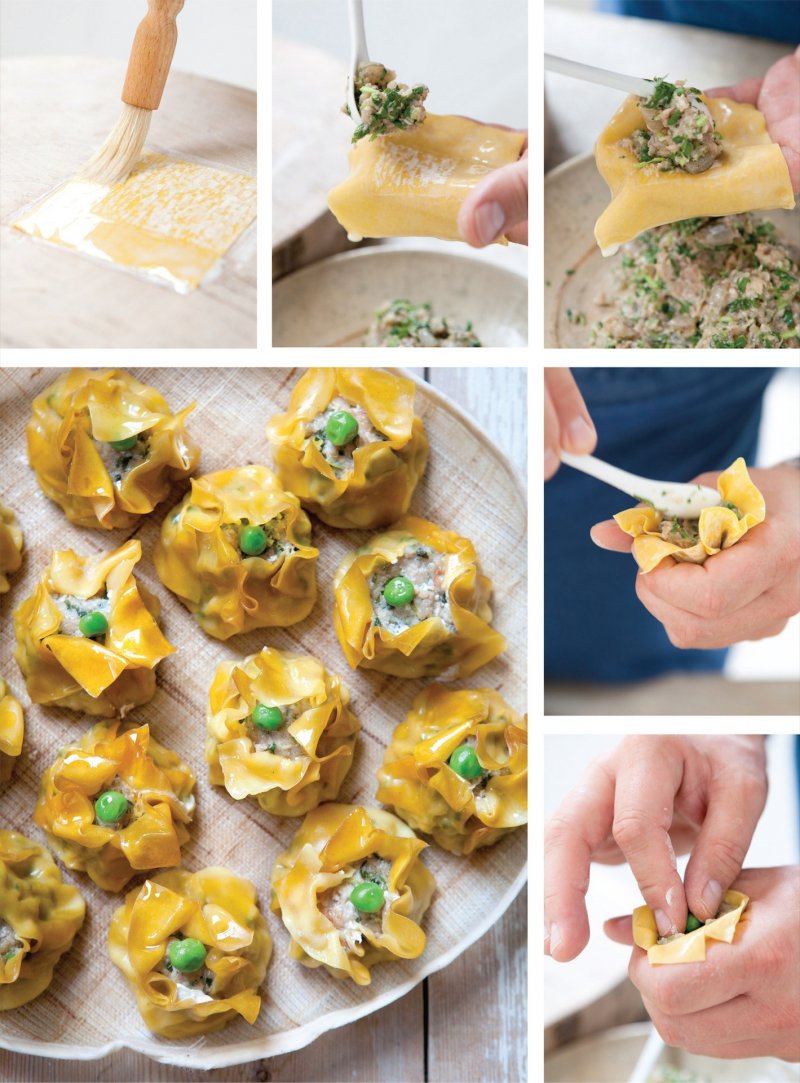 Info
PT2H
Serves

makes 18
Prep time

2 hours for marinating
Cooking time

15 minutes
Ingredients
150g raw, peeled king prawns, deveined and chopped
250g minced pork
50g fresh coriander (with root), chopped
35g fresh root ginger, finely grated
3 large garlic cloves, grated
2 fresh garlic roots or 3 spring onions, finely sliced
2tbsp sesame oil
1½ tbsp rice vinegar
1½ tbsp dark soya sauce
1tbsp cornflour, plus 1 tsp
1 tsp Sichuan peppercorns, crushed
1tsp flaked sea salt, crushed
Vegetable oil, for greasing
18 wonton wrappers
18 frozen peas, to garnish
toasted sesame oil, for drizzling
soy sauce, for dipping
Method
In a large bowl, mix together the prawns, pork, coriander, ginger, grated garlic, garlic roots or spring onions, sesame oil, rice vinegar, soy sauce, tablespoon of cornflour, peppercorns and salt. Get in there with your clean hands and mix well so that all the ingredients are thoroughly incorporated, then set aside for 2–3 hours for the flavours to develop.

When you're ready to make your dim sum, mix the remaining teaspoon of cornflour with 2 tablespoons of cold water for sealing the dim sum. Oil a stainless steel or bamboo steamer and line it with a banana leaf or baking parchment – it's important that the dim sum don't stick so prepare the steamer with care.

Take a wonton wrapper and brush around the edges with the cornflour and water mix. Make sure you brush well – don't stint on this. Place the wrapper on the palm of your hand and put a good teaspoon of the pork and prawn mixture in the centre of the wrapper, being careful not to overfill it.

Gradually and carefully fold the sides up around the filling. Cupping the dim sum between your thumb and forefinger, use a damp teaspoon to press the mixture and make a smooth top. Add a pea on top, then place the filled dim sum on the steamer and repeat until all the mixture is used up.

Place the steamer over a pan of boiling water and steam the dim sum for 15 minutes. Drizzle with toasted sesame oil and serve with a bowl of soy sauce for dipping.