Plum rice pudding
Those little pots of rice pudding you can buy in supermarkets make a nice sweet treat, but they are expensive and they contain lots of sugar. It's so much cheaper to make your own and really easy. Eat the rice pudding on its own or topped with a fruity compote. We like plums, but use any lightly stewed fruit you like – apples, pears and summer berries all work well.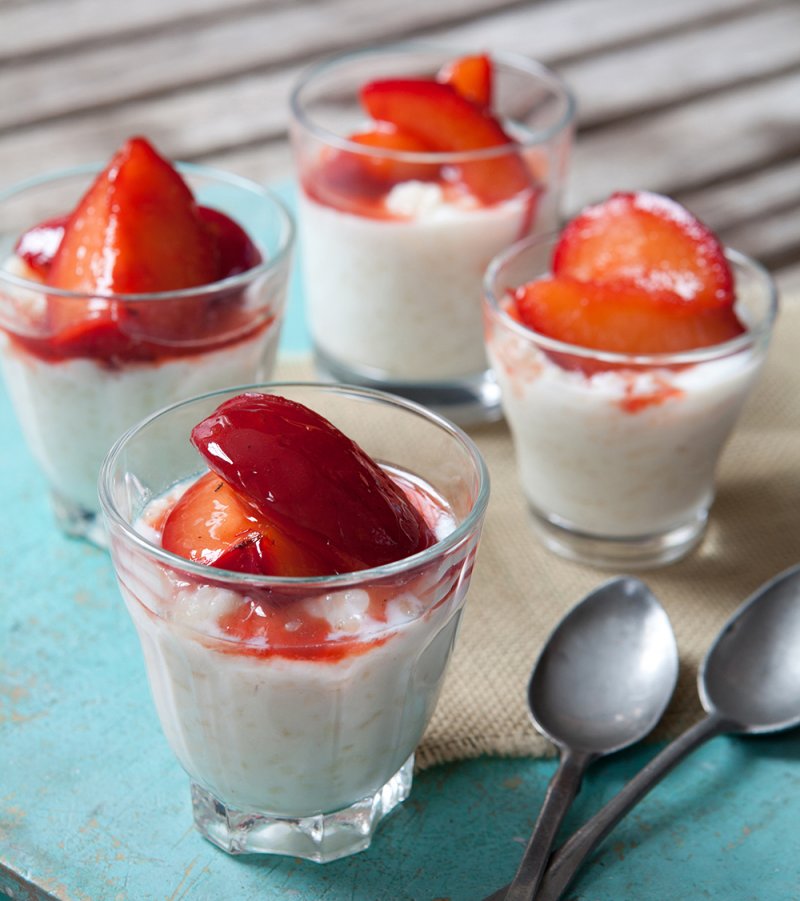 Info
Serves

4
Prep time

25 minutes
Cooking time

5 minutes
Calories

134 per serving
Ingredients
100g pudding rice
400ml semi-skimmed milk
200ml cold water
¼ tsp vanilla extract
1 tsp caster sugar (preferably golden)
For the compote
3 ripe plums, stoned and quartered
6 tbsp cold water
1 tsp caster sugar (preferably golden)
Method
Put the rice, milk, water and vanilla extract in a medium non-stick saucepan and bring to a gentle simmer over a medium heat. Cook for 16–18 minutes or until the rice is tender and the sauce is creamy, stirring regularly.

Don't forget that it will continue to thicken as it cools, so add a little extra water if serving cold. Stir frequently towards the end of the cooking time as the mixture will be thickening up. Sweeten with a little caster sugar and serve warm or chilled with or without the topping.

To make the compote topping, put the plums, water and sugar in a saucepan and bring to a gentle simmer. Cook for 5 minutes, stirring gently, until the plums are softened but still holding their shape. Add a little extra water if you need.

Spoon the rice pudding into tumblers or dessert dishes and top with the plum compote. Delicious warm or cold.