Peruvian Chicken Soup with Quinoa
Peruvian food is on trend at the moment and super delicious. Even Paddington would have given up his marmalade sandwiches for this tasty soup. When poaching the chicken it's well worth straining the broth as we suggest. This gets rid of the starchy gunk and gives you a fresher-tasting soup.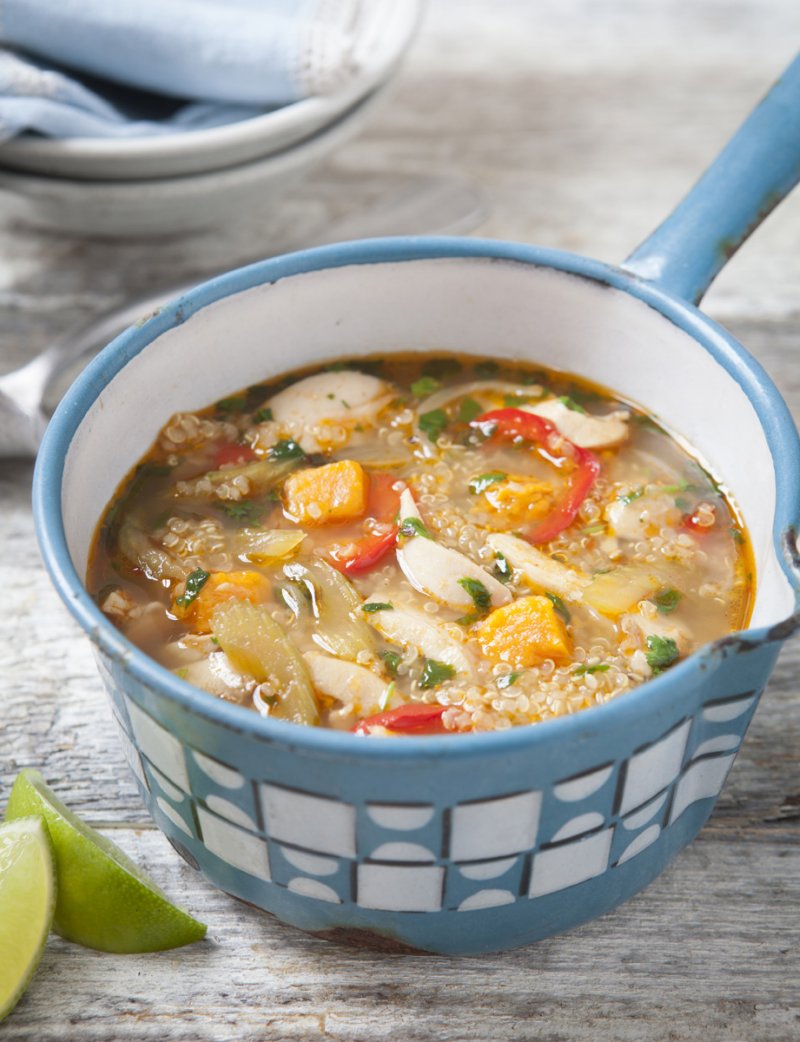 Ingredients
1.5 litres chicken stock
4 chicken thighs or 2
chicken breasts, skinon, bone in
2 tbsp olive oil
1 onion, thinly sliced
2 celery sticks, thinly sliced
1 red pepper, deseededand sliced
100g quinoa, rinsed and soaked for 5 minutes
2 garlic cloves, crushed
1 tbsp Amarillo chilli sauce, or similar mild chilli sauce
1 bay leaf
1 sprig of fresh oregano
1 large sweet potato,diced
large bunch ofcoriander, roughlychopped
lime wedges, to serve
sea salt and freshly ground black pepper
Method
Pour the chicken stock into a large saucepan and bring it to the boil, then add the chicken. Turn the heat down low and simmer gently for about 10 minutes, until the chicken is cooked through. Skim off any foam that collects on the surface, then remove the chicken and set it aside. Strain the chicken broth through a sieve lined with a double layer of muslin or cheesecloth into a bowl, then pour it back into the saucepan.

Heat the olive oil in the same pan and add the onion, celery and red pepper. Cook them over a medium heat for about 5 minutes, just to start the softening process, then add the quinoa. Continue to toast the quinoa until it starts to smell nutty, then add the garlic and chilli sauce. Cook for another minute or so.

Pour the chicken stock back into the saucepan, then add the herbs and season with salt and pepper. Bring the soup to the boil, then turn the heat down and simmer for 15 minutes. Add the sweet potato and simmer for a further 5 minutes.

Remove the skin and bone from the chicken and cut the flesh into slices. Add them to the soup and simmer for a few minutes to warm through. Taste for seasoning and add more if necessary. Remove the bay leaf and oregano, then stir in the chopped coriander. Serve in bowls with lime wedges on the side.