Mole Pueblano
Because there are so many ingredients, the skill in making this is to produce a unique flavour and not just mud. This one, arrived at after a fair bit of experimentation, is a good balance of sweet and sour. It is blacker than the devil's heart, and just as tasty. The most delicate part of the process is toasting the sesame seeds, which you must do with love and great care (indeed there is a romantic saying in Oaxaca, 'You are the sesame seeds in my mole'. I tried that down the pub and got a slap). Serve it with refried beans and tomato rice. Any leftover sauce will keep well, and would be good with a pork chop or maybe a steak. Right, let's get cracking on the culinary equivalent of War and Peace.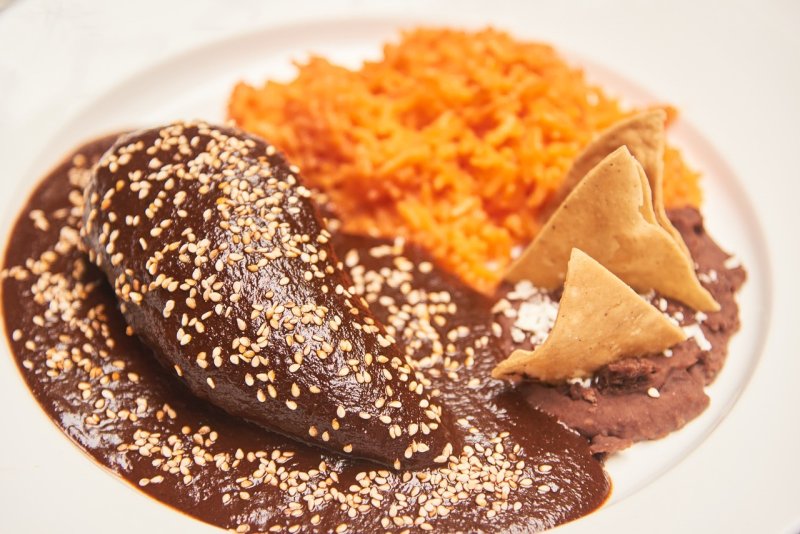 Ingredients
For the sauce
454g plum tomatoes
3 large cloves garlic
medium onion, halved
1/2 plantain or small banana, split lengthwise
1 apple (Granny Smith is good), halved and cored
3 chilcostle chillies
3 guajillo chillies
3 pasilla chillies
4 anchos negros chillies
1 chipotle chilli
3 cinnamon sticks or 1 giant Mexican one
1 tbs whole almonds
2 pecan halves
1 tbs raisins
3 black peppercorns
3 whole cloves
2 slices stale white bread, ripped into bits
100g sesame seeds, plus more for garnish
1 tortilla
2tbs sunflower oil
1/2 tsp dried oregano
1 sprig thyme
75g good-quality (70% cocoa solids) chocolate, chopped
4 chicken portions
Method
First, dry-roast the tomatoes, garlic and onion in a comal or cast-iron frying pan for about 20 minutes on the hob. Don't rush it; they need to catch and go a bit black, and the tomatoes need to roast through. Set them aside. Next dry-fry the halved apple and banana until golden, then set these aside. Next dry-fry the chillies on both sides until blistered and set aside. Finally, roast the cinnamon, almonds, pecan halves, peppercorns and cloves for a couple of minutes and set them aside.

Now is the moment to preheat your oven to 180C to roast the chicken portions (or you can poach them if you prefer). In 1.5 litres of boiling water, simmer the roasted tomatoes, onions and garlic. After 15 minutes add the fried apple and plantain, or banana, then after another 5 minutes, add the toasted chillies. Simmer for 15 minutes, then add the roasted cinnamon, almonds, pecan halves, raisins, peppercorns, cloves and stale bread, and simmer everything for 10 minutes. Meanwhile, put your chicken pieces in to roast, then toast the sesame seeds in a dry pan for 1 minute and set aside. Next set fire to the tortilla (yes, literally, until it is a black ember), then process or grind the carbonised tortilla with the sesame seeds and set aside.

Strain the contents of the saucepan, reserving the cooking liquid, and blend the tomato mixture until it is a fine paste. Heat the sunflower oil in a pan and fry off this paste, adding some of the reserved liquid to give you the consistency of brown sauce.

Add the sesame seed-tortilla mix, the oregano and thyme and the chocolate, bit by bit, stirring until it is all dissolved. Then let the mole simmer very gently for about 20 minutes.

When all is done, pour the hot mole over the warm chicken and garnish with sesame seeds.