Minted pea and feta omelette
Normally you need to be careful about adding cheese to an omelette as it can really pile on the calories. Feta has such strong taste, however, that you can get away with adding very little and still get the benefit of the fab flavour.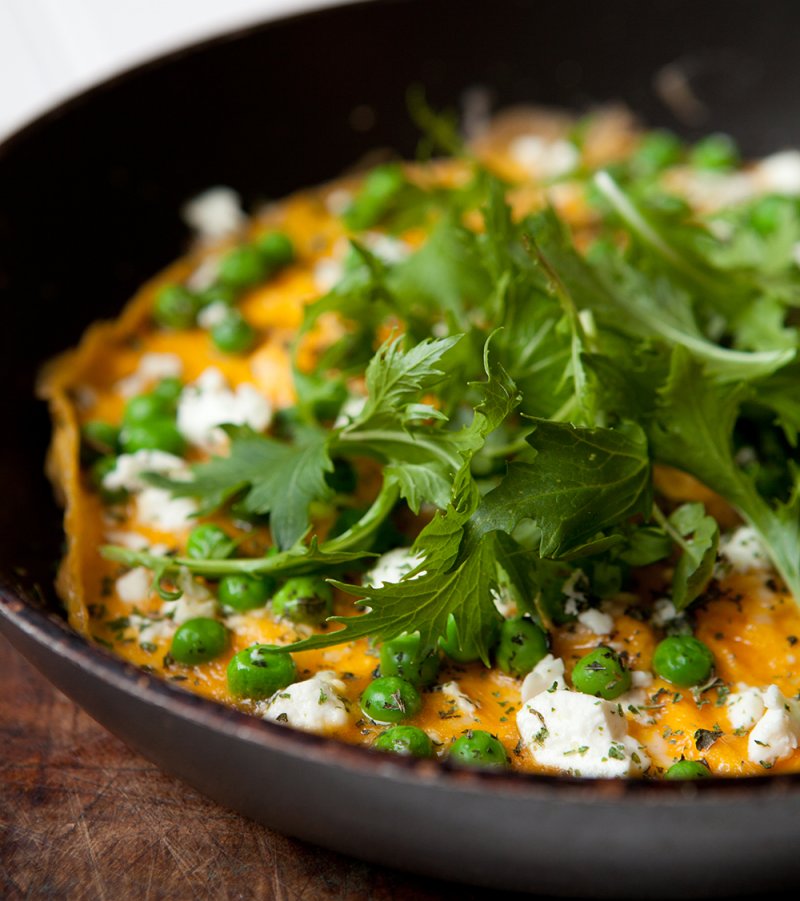 Info
PT20M
Serves

1
Prep time

5 minutes
Cooking time

7-10 minutes
Calories

382 per serving
Ingredients
30g frozen peas
40g feta cheese, drained
½ tsp dried mint
3 medium eggs
½ tsp sunflower oil, for brushing
flaked sea salt
freshly ground black pepper
Method
Put the peas in a heatproof bowl and pour over enough just-boiled water to cover. Leave for a minute, then drain the peas in a sieve and tip them back into the bowl. Crumble the feta cheese on top, sprinkle over the mint and season with lots of freshly ground black pepper.

Break the eggs into another bowl and beat them with a large metal whisk. Season with a little salt and some freshly ground black pepper. Brush a small non-stick frying pan with just enough oil to lightly coat the base and place it over a medium heat.

Pour the eggs into the frying pan. As the eggs begin to set, use a wooden spoon to draw the cooked egg towards the centre. Do this 5 or 6 times, working your way around the pan. As the cooked egg is moved, the uncooked egg will run into the gaps and begin to cook.

Scatter the peas and feta over the omelette and cook for another 3 minutes or until the eggs are just set. Carefully loosen the sides with a heatproof palette knife and slide the omelette on to a warmed plate, folding it as you do so. Serve with a large, lightly dressed salad.