Mini Toad In The Holes
We've given you toad in the hole recipes in the past and we've been trying to think how to make this awesome favourite even better. Well, we're pleased to tell you that we can. Slicing the sausage really helps maximise the flavour and we think these mini versions – you could call them tadpoles in the hole – make perfect starters or canapés if you're feeling fancy. Kids love them too. And if you're mega hungry, just eat three!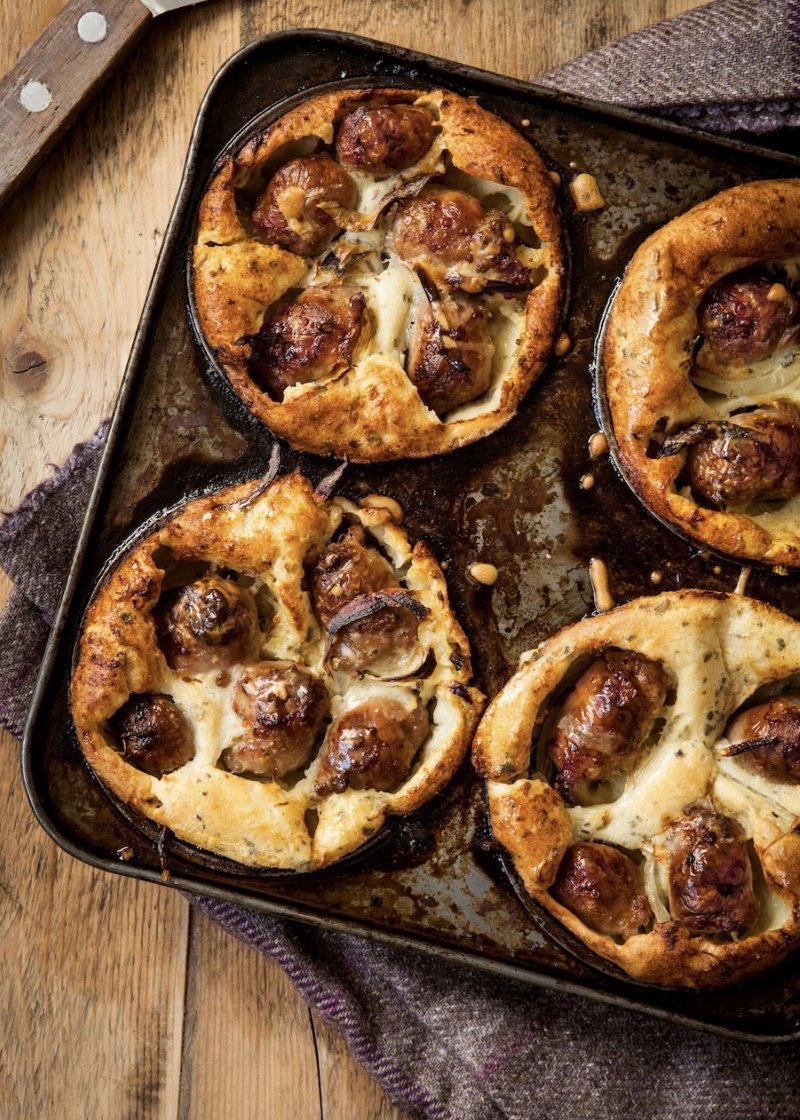 Info
Serves

Makes 8 - 12
Prep time

80 minutes
Cooking time

45 minutes
Ingredients
1 heaped tbsp lard or goose or duck fat
1 large onion
8 pork sausages - sliced
Sea salt
1 tsp dried sage
150g plain flour
2 eggs, beaten
275ml whole milk
Method
First make the batter. Put the flour into a bowl and whisk it lightly to get rid of any lumps, then add a generous pinch of salt and the dried sage. Make a well in the middle and add the eggs. Work the eggs into the flour, then gradually add the milk. Alternatively, put everything in a food processor and blitz until smooth. Leave the batter to stand for an hour.

Preheat the oven to 200°C/Fan 180°C/Gas 6. Divide the lard or goose or duck fat between 2 x 4-hole Yorkshire pudding tins or 1 x 12 hole tin. Put the tins in the oven to heat up.

Bring a small pan of water to the boil. Add a pinch of salt and the onion slices. Simmer them for 3 minutes, then drain thoroughly. Cut the sausages into rounds. Divide the onion and sausages between the tins.

Put the tins back in the oven and cook for 20 minutes, until the sausages have started to look nice and brown.

Remove the tins from the oven. Pour in the batter around the sausages and onion – there should be just enough batter to reach the top of each hole. Bake for a further 20 minutes until the Yorkshire puddings have risen and are a dark golden-brown. Serve hot straight from the oven – with some gravy if you like.