Mediterranean beef burgers
Everyone loves a burger, but our Mediterranean ones come with a Hairy twist… you can eat them whilst sticking to the diet at just 413 calories per portion. Result!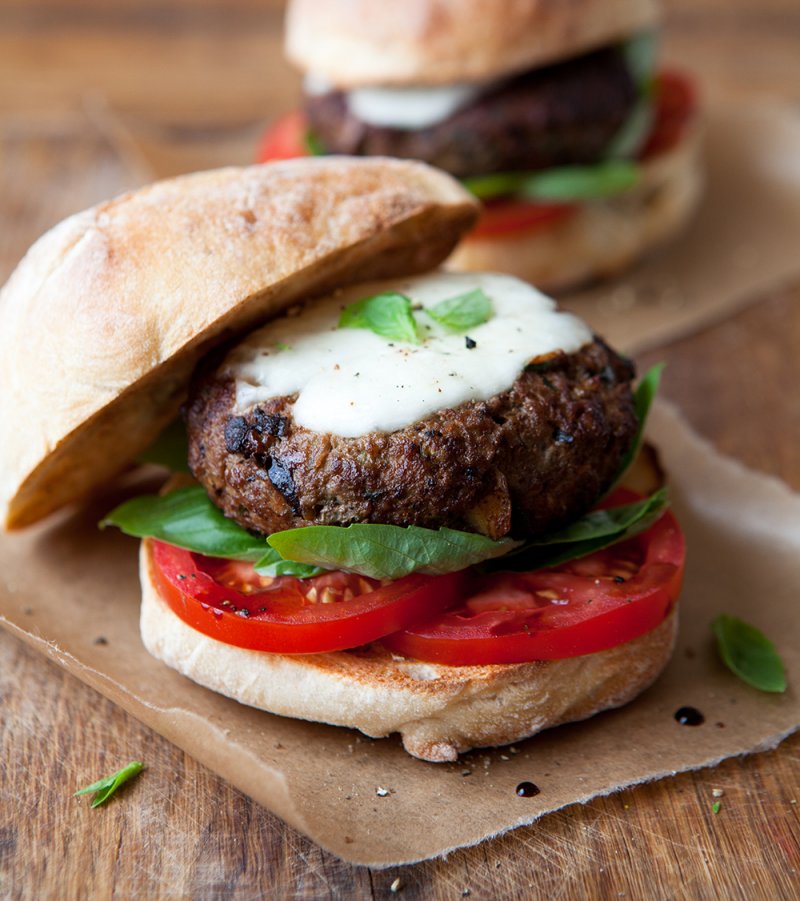 Info
PT45M
Serves

4
Prep time

15 minutes
Cooking time

18 minutes
Calories

413 per serving
Ingredients
1 small courgette
1 medium onion
400g lean beef steak mince
2 garlic cloves, peeled and crushed
1 tsp dried oregano
1 tsp dried basil
1 tbsp sun-dried tomato paste or tomato purée
1 tsp sunflower oil
4 ciabatta rolls
100g reduced-fat (light) mozzarella, well drained and cut into 4 slices
2 large ripe vine tomatoes, sliced fresh basil leaves
balsamic vinegar, for drizzling
fine sea salt
freshly ground black pepper
Method
Trim the courgette and grate it coarsely on to a board, then tip it into a large mixing bowl. Peel the onion and grate it coarsely, then add this to the bowl with the courgette. Put the minced beef, garlic, oregano, basil and tomato paste or purée into the same bowl and season well with salt and pepper. Mix with clean hands until everything is thoroughly combined.

Divide the mince mixture into 4 evenly sized balls and flatten each into a patty shape about 2cm thick. Brush the oil over a large nonstick frying pan and place over a low heat. Fry the burgers gently for about 10 minutes or until nicely browned and cooked through, turning them halfway through the cooking time. Preheat the grill to its hottest setting.

While the burgers are cooking, cut the ciabatta rolls in half horizontally and place them on a grill pan, cut side up. Cook under the preheated grill until lightly toasted. Remove from the heat and take the bread off the tray and put it to one side.

Place the hot burgers on the tray and top each one with a slice of mozzarella. Put the tray back under the grill for another 1–2 minutes or until the mozzarella has melted.

Put the bottom half of each roll on a plate and top with sliced tomatoes and basil leaves. Add a dribble of balsamic vinegar and some black pepper. Add a sizzling hot burger, top with the remaining bread and serve right away. Fantastic!