Manchester Tart Flapjack
Manchester tart was a school dinner favourite for us and we've teamed it up with a flapjack to make what we hope will be a new classic. The flapjack base has a bit of flour and egg added to give it a slightly firmer texture. Then the topping has all the delights of a classic Manchester tart – custard, raspberry jam and coconut. And don't forget the cherries. Epic!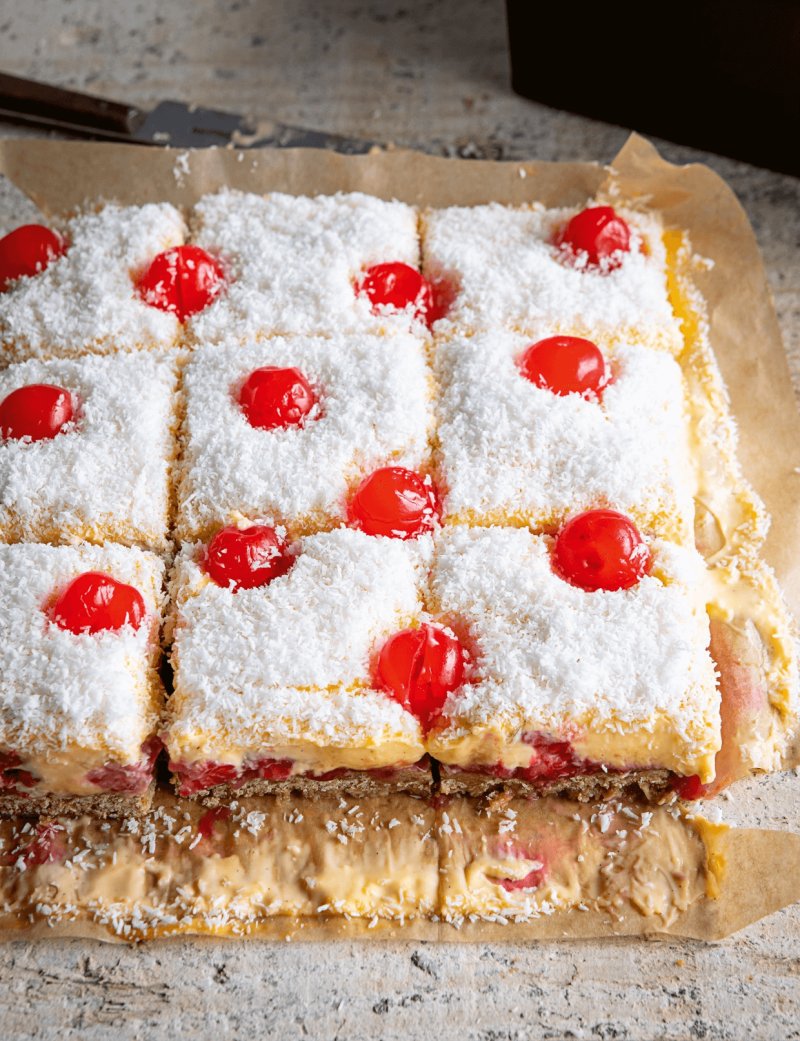 Info
Serves

9 - 12 people
Prep time

25 mins (+ chilling time)
Cooking time

About 30 minutes
Ingredients
For the base
75g butter
50g light brown soft sugar
1 tbsp (25g) golden syrup
pinch of salt
175g porridge oats
50g flour
1 egg
The custard
500ml milk
250ml double or whipping cream
vanilla pod, split
5 egg yolks
100g caster sugar
50g cornflour or custard powder
To assemble
5 tbsp raspberry jam
fresh raspberries (optional)
35g desiccated coconut
maraschino cherries
Method
Line a square brownie tin (preferably loose-based ) with baking parchment or a non-stick liner. Preheat the oven to 170°c/Fan 150°c/Gas 31⁄2.

Melt the butter, sugar, and golden syrup in a saucepan with a pinch of salt. Remove from the heat and beat in the oats, followed by the flour and the egg.

Spread the mixture over the base of the tin. it is quite sticky so it can be tricky to work with. our tip is to run your hands under cold water and use them to pat the mixture into place, making it as smooth and as even as you can. Bake in the oven for about 15 minutes until the mixture has set and is browning round the edges. remove from the oven and leave to cool.

To make the custard, heat the milk and cream together with the vanilla pod until just below boiling point. Remove from the heat and leave to cool a little. Beat the egg yolks and sugar together in a bowl until thick and creamy, then beat in the cornflour or custard powder. Pour the milk and cream mixture from a height onto the eggs, whisking as you do so, then tip everything back into the saucepan.

Stir the custard on a medium-low heat, until you notice it starting to thicken at the bottom. Whisk constantly at this point so the custard stays smooth and lump-free. It will be ready when it is starting to bubble, has thickened considerably but is still pourable. Remove from the heat and leave to cool to room temperature, whisking regularly to prevent a skin from forming. Take out the vanilla pod.

To assemble, spread the jam over the base. Dot over fresh raspberries, if using, then spread the custard over the top, smoothing it with a palette knife. Sprinkle with the coconut and decorate with one or several maraschino cherries. chill for several hours until completely set.

Remove from the fridge and take the flapjack out of the tin, then cut into squares to serve.