Leftover pie
The best cottage pies and shepherd's pies are made with leftover roast meat, not mince. In fact, the whole purpose of these pies was to eke out the leftovers. If you don't have any, use finely diced fresh meat.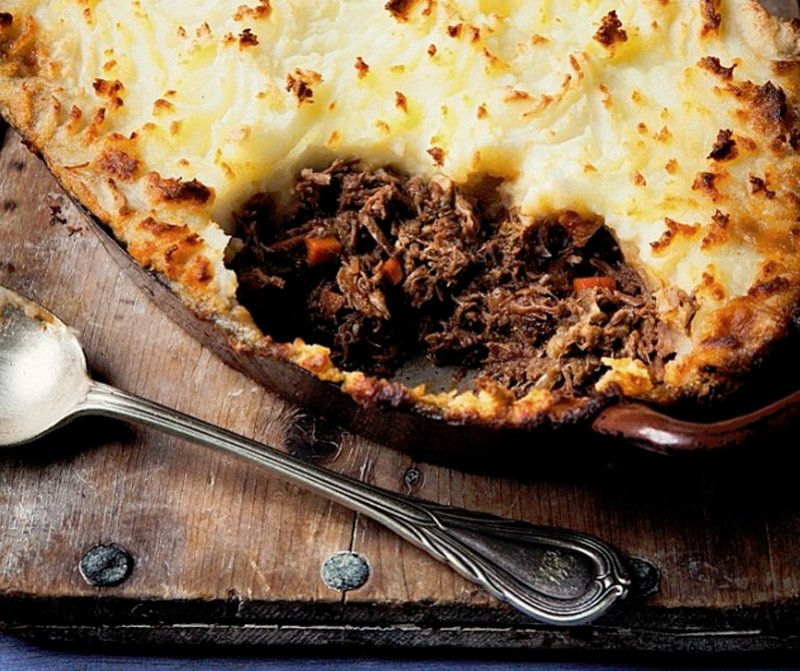 Info
PT1H
Serves

4
Cooking time

Over an hour
Ingredients
About 600g (1lb 5oz) leftover roast meat
1tbsp olive oil
1 large onion, finely diced
2 carrots, finely diced
1 celery stick, finely diced
2 garlic cloves, finely chopped
1 large sprig of rosemary, leaves finely chopped
1 sprig of thyme, leaves finely chopped
Flaked sea salt
Freshly ground black pepper
300ml (½pt) red wine
1tbsp tomato purée or ketchup
300ml (½pt) leftover gravy or stock
A dash of Worcestershire sauce
For the topping
1kg (2lb 4oz) floury potatoes, cut into chunks
A large knob of butter, plus extra for dotting on top of the pie
Method
Chop the meat into small dice. Heat the oil in a large saucepan or flameproof casserole dish. Add the onion, carrots and celery, then fry them gently on a medium heat for up to 10 minutes, until softening and just starting to colour.

Turn up the heat, add the meat and cook on a medium heat for a few minutes. Keep the stirring to a minimum until the underside is well browned, then stir until well coloured. Add the garlic and herbs and season.

Pour in the wine, let it bubble until reduced almost completely, then add the tomato purée or ketchup, gravy or stock and the Worcestershire sauce. Bring to the boil, then reduce heat and simmer for about 20 minutes. If the mixture looks in danger of drying out, add a little more stock or water.

Preheat the oven to 200°C/fan 180°C/gas 6. Put the potatoes in a large pan and cover with cold water.

Bring to the boil, then reduce heat slightly and simmer for about 20 minutes. When the potatoes are tender, drain and tip them back into the pan, then season with salt and add the butter.

Mash until smooth, adding a very little milk if they appear dry – they shouldn't be. Pour the filling into an ovenproof dish (about 30cm x 20cm x 5cm/12in x 8in x 2in).

Using a spatula, spread the potatoes over the top as evenly as possible, then rough up the surface with a fork. Dot with butter. Put the dish on a baking tray and bake the pie in the oven for 25-30 minutes until piping hot inside and browned on top. Serve with green veg.