Lamb shanks and flageolet beans
We love a lamb shank and they love flageolets – small pale green dried beans that have a fine flavour. Put them together with herbs, spices, veg and stock and you have a supper to relish – everyone has their own mini-joint. This does need a long cooking time, but it's not much trouble to prepare and it's well worth it. The shanks are done when the meat has shrunk well back from the bone.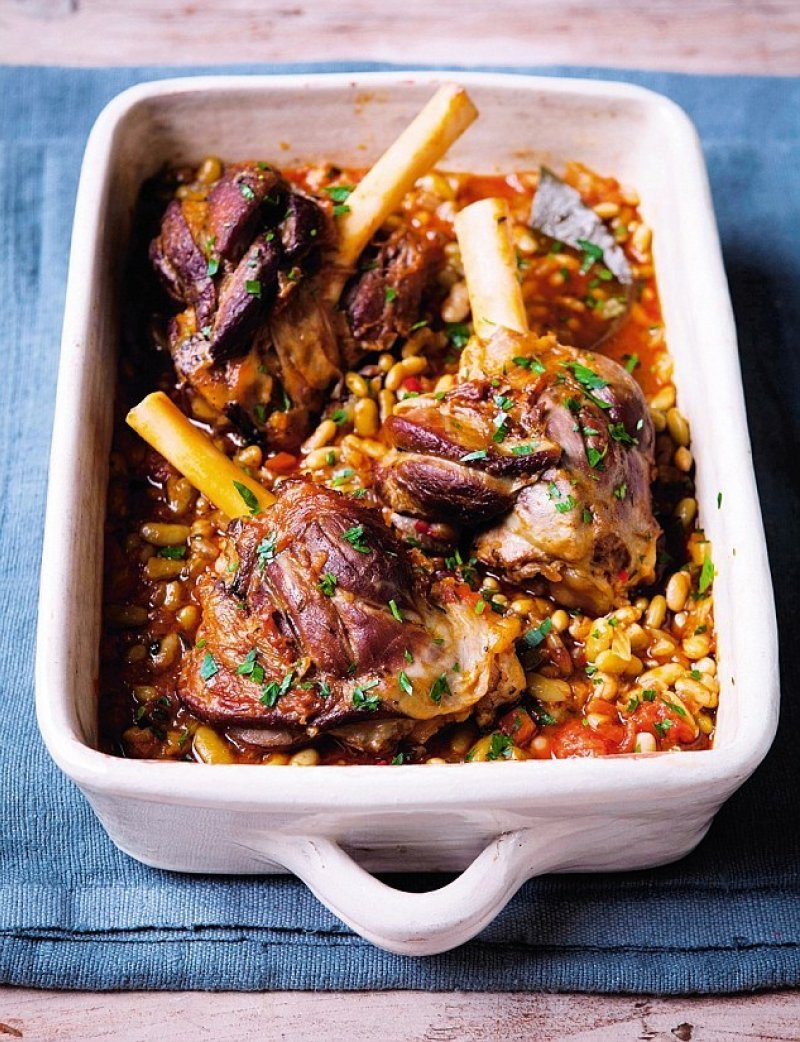 Ingredients
300g (10½oz) dried flageolet beans, soaked overnight
2tbsp olive oil
4 lamb shanks
1 large onion, finely chopped
2 carrots, finely chopped
1 fennel bulb, finely chopped
4 garlic cloves, finely chopped
A few sprigs of thyme
1 red chilli, finely chopped
1tsp sweet smoked paprika
1 bay leaf
1tbsp tomato purée
A small tin of anchovies, drained and diced
250ml (9fl oz) white wine
1ltr (1¾pt) lamb or chicken stock or water
4 ripe tomatoes, peeled and deseeded
Finely chopped parsley, to garnish
Flaked sea salt
Freshly ground black pepper
Method
If you forget to soak your beans, boil them unsoaked for 5 minutes, then leave to stand for an hour. That should give the same effect.

Put the soaked flageolet beans in a large saucepan and cover them with fresh water. Bring to the boil and cook for 10 minutes. Remove the pan from the heat and leave the beans in the water until needed.

Heat the oil in a large flameproof casserole dish, brown the lamb shanks on all sides, then remove them from the pan and set them aside. Add the onion, carrots and fennel to the dish and cook them over a medium heat for about 10 minutes until they're browning round the edges.

Add the garlic, thyme, chilli, smoked paprika and bay leaf and stir, then add the tomato purée and anchovies. Stir again, then pour in the white wine. Bring to the boil, then reduce by half.

Preheat the oven to 170°C/fan 150°C/gas 3. Return the lamb shanks to the casserole. Drain the beans and add them too, then pour over the stock or water. Bring to the boil, then put a lid on the dish and place it in the oven. Cook for 1½ hours, then add the tomatoes and season.

Cook for another 1-1½ hours until the beans and lamb are very tender. The sauce should be quite well reduced. If you want to reduce it further, boil on the hob for a few minutes. Sprinkle on the parsley before serving. This is a complete meal, but a salad to follow is nice.