Individual crab soufflés
This is fab. It has quite robust flavours but the crab has enough of its own to carry them. It should be cooked on a rocking boat, under pressure, at your own risk!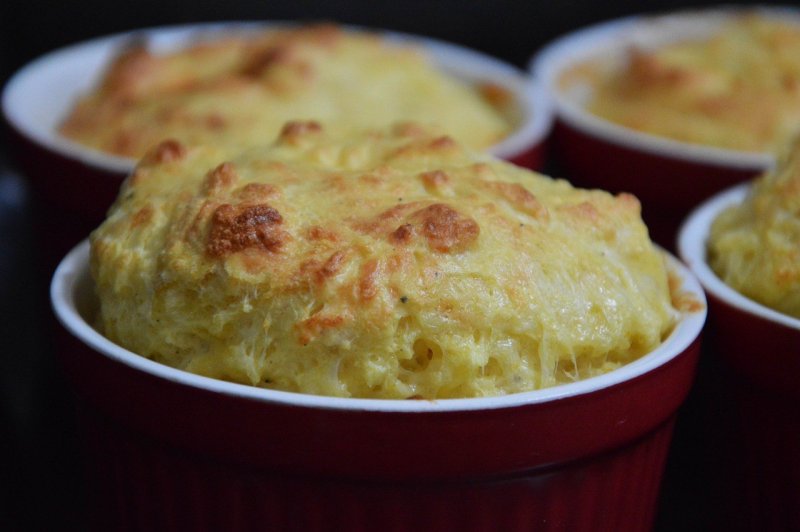 Info
PT45M
Serves

6
Prep time

Less then 30 minutes
Cooking time

10 to 30 minutes
Ingredients
Soufflés
2 tbsp parmesan cheese, grated
25g / 1oz butter, plus extra for greasing
25g / 1oz flour
285ml / 1/2pint milk
2 tsp tomato puree
1/2 tsp English mustard powder
dash of Tabasco sauce
110g / 4oz gruyere cheese, grated
salt and freshly ground black pepper
1 dressed crab, brown and white meat
3 free-range egg yolks, lightly beaten
4 free-range egg whites
Method
Preheat the oven to 180C/355F/Gas4. Butter the insides of six ramekin dishes and sprinkle with the grated parmesan cheese.

Melt the 1oz/25g of butter in a pan and mix in the flour. Cook for a minute then gradually add the milk, bit by bit, to make a white sauce.

Gently cook the sauce until thickened then add the tomato puree, mustard powder, Tabasco sauce, gruyere and seasoning. Taste and adjust the seasoning if necessary then stir in the crab meat.

Allow to cool slightly then stir in the egg yolks.

In a clean bowl whisk the egg whites until they form peaks. Add a spoonful of the egg whites to the egg yolk mixture and gently fold in using a metal spoon. Gently fold in the remainder of the egg whites.

Pour the mixture evenly into the six ramekins.

Fill a roasting tin with an inch of water, then put the ramekins into this and the whole thing into the oven for 20 minutes, or until the soufflés are fully raised to a golden loveliness.

Serve at once with salad and warm crusty bread.