Indian Shepherd's Pie
This is one we've made either vegan or vegetarian. This is because the masala mash is so good made with butter and we also wanted to give the option of putting cheese on top – it isn't essential but it really works well with everything else so we couldn't resist.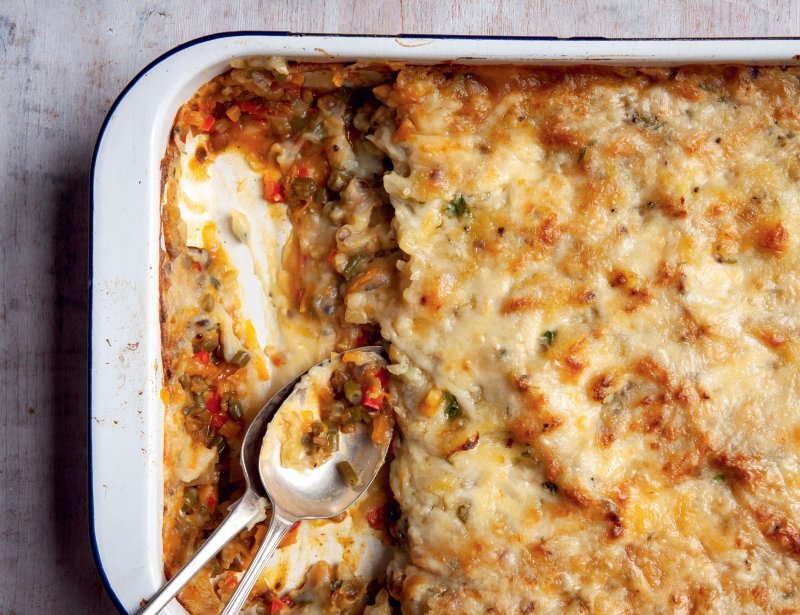 Ingredients
For the filling
1 tbsp oil
1 large onion, very finely chopped
1 large carrot, coarsely grated
1 stick celery, very finely diced
1 green or red pepper, very finely diced
100g celeriac, turnip or swede, very finely diced
100g butternut squash, very finely diced
200g green beans, sliced into rounds
25g piece ginger, finely chopped
2 garlic cloves, finely chopped
1 tbsp mild curry powder
500ml vegetable stock made from Knorr vegetable stock pots
100g cooked brown lentils
1 tsp tamarind paste
2 tsp pickapeppa sauce or mushroom ketchup
1 tbsp cornflour or arrowroot
For the masala potato topping
1kg potatoes, peeled and cut into chunks
2 tbsp neutral tasting oil
1 tsp cumin seeds
1 tsp mustard seeds
1 onion, finely chopped
1 green chilli, finely chopped
100ml plant based or regular milk
25g butter (optional)
A small bunch of coriander
100g vegetarian cheddar cheese (optional)
A little oil to drizzle or butter to dot (optional)
Method
First make the filling. Heat the oil in a large saucepan and add all the vegetables. Sauté on a medium high heat, stirring regularly, until they start to brown and soften, then add the ginger, garlic and curry powder. Cook for a further 2-3 minutes, stirring constantly, until everything is well combined. Season with salt and pepper.

Pour in the stock or water, along with the lentils, tamarind paste and pickapeppa sauce or mushroom ketchup. Bring to the boil, then cover and turn down the heat. Simmer, partially covered, until the vegetables are completely tender – this will take up to half an hour. Mix the cornflour or arrowroot with cold water until you have a smooth, runny paste, then stir this into the vegetables. Simmer, stirring constantly, until the sauce thickens.

To make the topping, bring a large saucepan of water to the boil. Add the potatoes and plenty of salt. Simmer until the potatoes are knife tender – between 10-15 minutes. Drain thoroughly and return to the pan. Leave on a low heat to steam off some of the excess water.

Meanwhile heat the oil in a frying pan. Add the cumin and mustard seeds. When the seeds start popping, add the onion and chilli. Cook on a medium to high heat until the onions are browned.

Mash the potatoes with the milk and add the butter if using. Add the onion and the coriander. Mix thoroughly.

To assemble, put the filling in a large oven proof dish. Spread the potato on top as evenly as possible, then sprinkle over the cheese if using. Rough the surface up with a fork. If not adding the cheese, drizzle over a little oil or dot over some small knobs of butter.

Bake in the oven for around 25-30 minutes until the top is browned and everything is piping hot.