Hotdog Hotpot
Wow – this is what we call a good supper. Frankfurters might have a slightly dodgy image but they are really nice and the ones in a jar are a great store cupboard item. This hotpot contains everything you need for hearty warming meal. There's plenty of flavour and fun and very little washing up.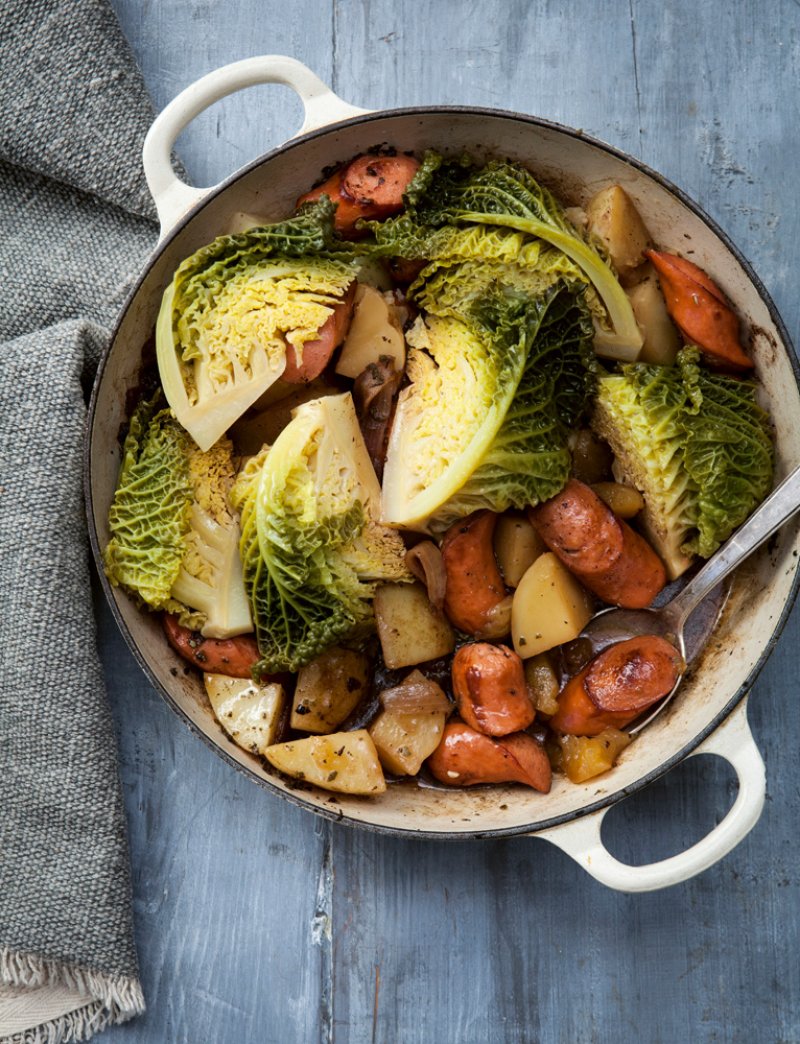 Info
PT2H
Serves

6
Prep time

10 minutes
Cooking time

1 hour 15 minutes
Calories

287 per serving
Ingredients
1 tsp olive oil
1 onion, cut into wedges
360g jumbo frankfurters, cut into 4cm lengths
400g floury potatoes, washed but unpeeled and cut into 3cm chunks
1 eating apple, peeled and cut into 8 wedges
1 tbsp dried sage
200ml cider
200ml chicken, beef or vegetable stock
300g savoy cabbage (about ½ medium-sized),cut into 8 wedges
sea salt and black pepper
Method
Heat the olive oil in a large flameproof casserole dish. Add the onion and frankfurters and cook them gently over a high heat until the frankfurters are lightly browned all over.

Cut the potatoes into 3cm chunks and add them to the dish with the apple wedges and sage, then season with salt and pepper. Pour over the cider and bring it to the boil. Cook until the cider has reduced by half, then add the stock – it should just cover the potatoes.

Put the wedges of savoy cabbage on top so they will steam, then bring the liquid back to the boil. Turn down the heat and cover the dish, then leave the hotpot to cook for 45 minutes.

By this point the potatoes should have started to break down and thicken the stock. Leave the hotpot to simmer uncovered for a further 15 minutes to concentrate the cooking liquid, then serve it piping hot.