Hot and spicy squid salad (Yam pra-muek)
This delicious spicy seafood salad combines the four elements of Thai cooking: salt, sweet, bitter and sour.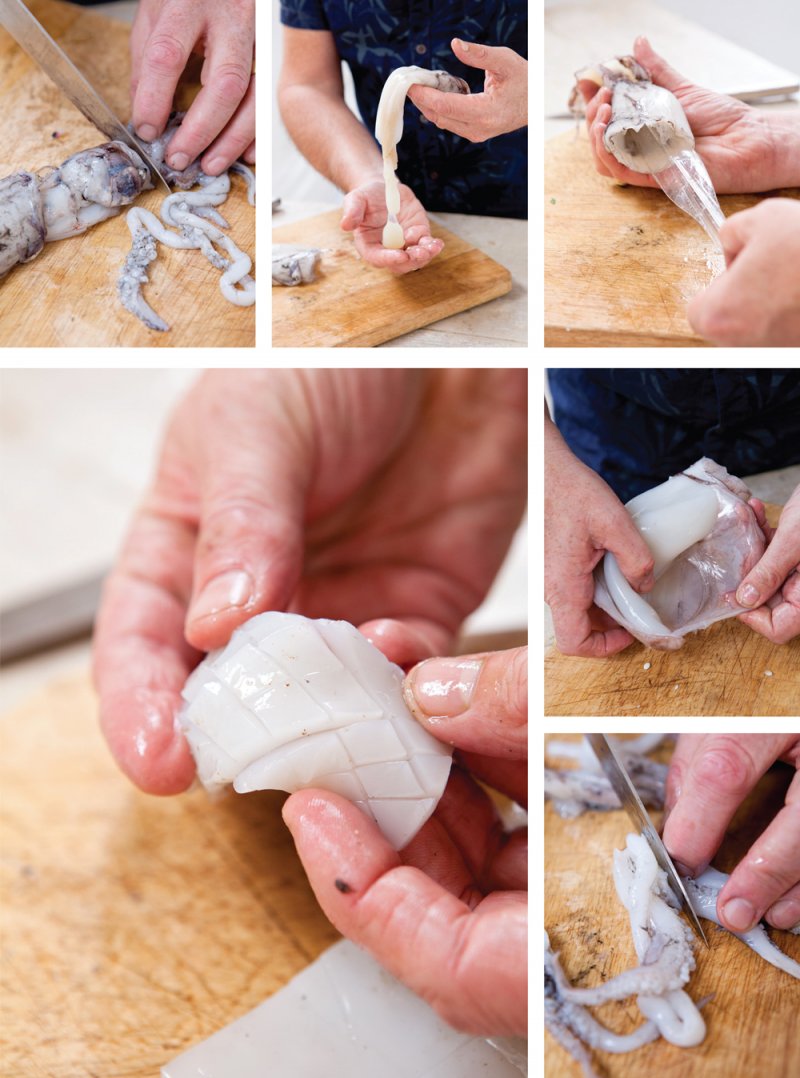 Ingredients
For the salad:
400g small squid (including tentacles)
1/2 cucumber
1 large garlic clove, finely chopped
20 garlic chives with flowers or a bunch of chives, cut into 2.5cm lengths
5 spring onions, trimmed, cut in half and quartered lengthways
5 Thai shallots (or 1–2 banana shallots), finely sliced 20 cherry tomatoes, halved
20 cherry tomatoes, halved
20g fresh mint, leaves picked from the stems
handful of Thai basil
2 tbsp vegetable oil
1 tbsp sesame oil
30g fresh root ginger, peeled and cut into matchstick strips
lime wedges, for serving
For the dressing:
3 red bird's-eye chillies, deseeded and finely chopped
1 garlic clove, finely chopped
2 heaped tbsp grated palm sugar
2 tbsp Thai fish sauce
juice of 1/2 lime
Method
To make the dressing, put all the ingredients in a pestle and mortar and pound to incorporate all the flavours. Set aside until needed.

If you're cleaning the squid yourself, cut off the tentacles, then pull the innards out of the body. Make sure you remove the quill, which looks like a bit of plastic, then discard the innards and the quill. Pull the purplish membrane off the body and chuck it away. Rinse the tentacles and pull out the little hard beak from the centre, then cut the tentacles into halves or quarters.

Slit the body cones along one side and open them out. Rinse them well to remove any remaining innards. Score the inside in a criss-cross pattern with the tip of a knife, working diagonally across the flesh without cutting all the way through – always cut from the inside, as this will allow the squid to curl during cooking. Cut each cone in half and pat all the squid dry with kitchen paper.

Cut the cucumber in half lengthways. Using a spoon, scrap the seeds out of the centre and chuck them away, then cut the cucumber into 5mm slices. Put the slices in a large bowl with the garlic, chives, spring onions, shallots and tomatoes, then add the mint leaves and basil.

Place a wok or a large frying pan on the heat and add the vegetable and sesame oils. Once the oils are hot, add the ginger and fry until it is just turning golden brown. Add the squid and tentacles and cook for another 1 1/2 minutes, until the squid has curled up and is just cooked. Add the dressing to the hot squid and toss well, then tip the contents of the wok into the bowl with the salad. Mix thoroughly and serve straight away with lime wedges.