Frutti di mare with saffron fregola
Fregola (pellet-shaped pasta) is cooked into something resembling a risotto in this delicious seafood recipe, but with a little more sauce.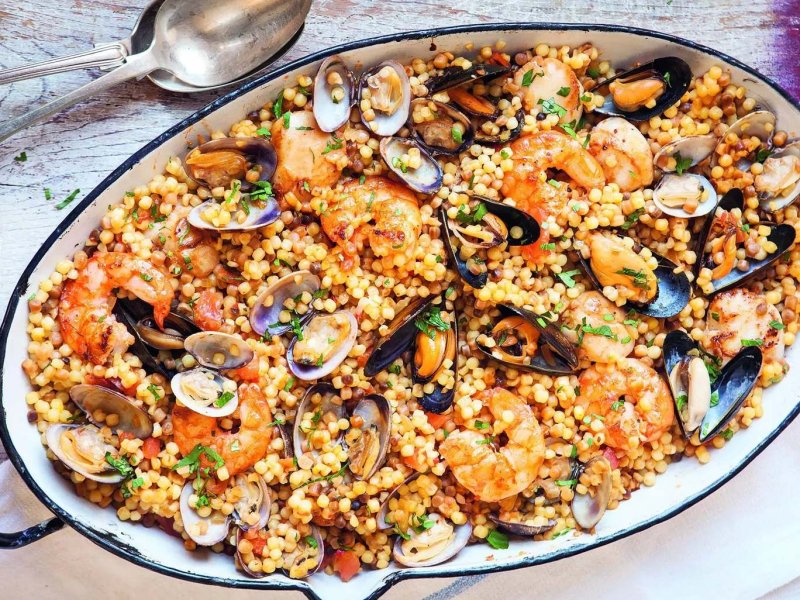 Ingredients
600g/1lb 5oz shell-on prawns
4 tbsp olive oil
300ml/10fl oz fish stock
500g/1lb 2oz fregola
1 onion, finely chopped
2 garlic, finely chopped
1 red chilli, finely chopped or ½ tsp dried red chilli flakes
sprig thyme
1 tsp dried oregano
pinch ground saffron
100ml/3½fl oz white wine or vermouth
4 medium tomatoes, skinned and roughly chopped
200g/7oz clams, cleaned
200g/7oz mussels, cleaned and beards removed
12 small scallops
to serve
small bunch basil, leaves only
small bunch parsley, leaves only
lemon wedges
Method
Take the heads and shells off the prawns and devein them. Set aside the peeled prawns.

Heat a tablespoon of olive oil in a large, lidded frying pan and add the prawn shells and heads. Fry for 1–2 minutes until they have turned pink, then pour in the fish stock. Allow it to bubble up, stirring vigorously, then simmer for 5 minutes.

Remove from the heat and strain. Discard the prawn shells and heads and reserve the liquor.

Bring a large pot of water to the boil and add plenty of salt and the fregola. Simmer until just al dente – around 10 minutes. Drain and set aside.

While you are cooking the fregola, heat two tablespoons of olive oil in the frying pan. Add the onion and fry until softened. Add the garlic, chilli, herbs and saffron, then pour in the white wine.

Cook for a couple of minutes until reduced in volume, then add the reserved stock and the tomatoes. Simmer for 5 minutes.

Gently tap any clams and mussels with open shells against the counter top. Discard any that do not close their shells within a few minutes or that have cracked or chipped shells.

Stir the fregola into the tomato mixture. Put the clams and mussels on top and cover. Cook for a further 2–3 minutes or until the clams and mussels have opened – discard any shellfish that don't open.

In a separate frying pan, heat the remaining tablespoon of olive oil. Fry the reserved prawns on both sides very quickly, then add them to the fregola. Repeat with the scallops.

To serve, stir in the basil and parsley and serve immediately with lemon wedges on the side.